Ersan Ilyasova's struggles: Absence of Joel Embiid or regression to career averages?
Updated: Saturday, February 11, 2017 08:17 AM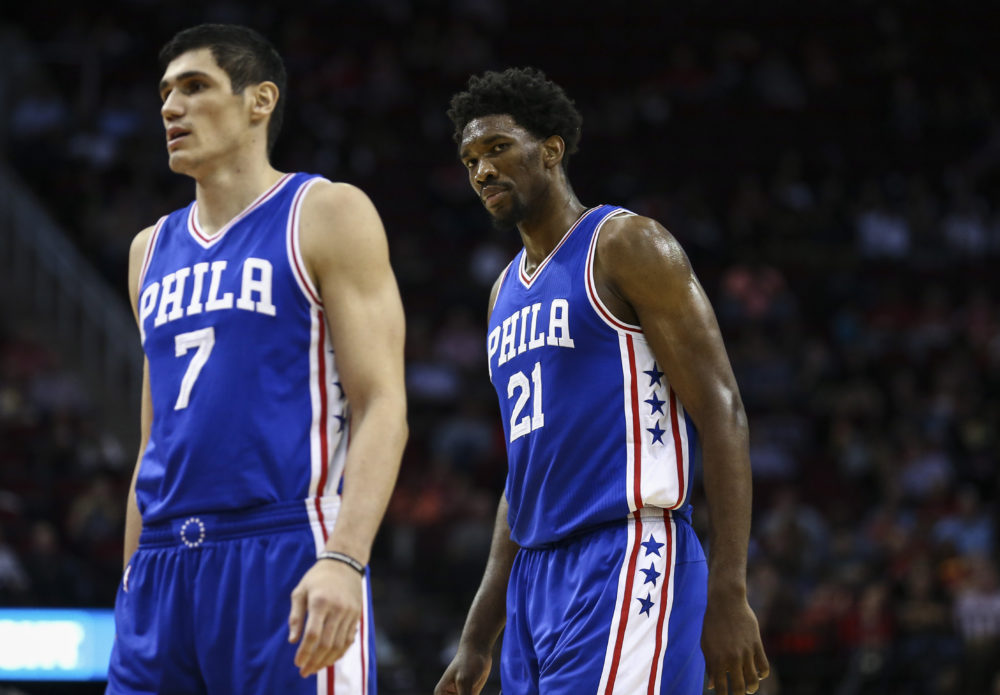 After being acquired from the Oklahoma City Thunder in early November, power forward Ersan Ilyasova fit in perfectly with what the Sixers were lacking, providing a power forward capable of bombing away from the perimeter and spacing for the floor for rookie phenom Joel Embiid.
Over the first 38 games of his Sixers career Ilyasova was having, by most accounts, a career season, averaging 15.3 points and 6.1 rebounds per game while shooting nearly 46% from the field and 39% from three-point range.
More important than Ilyasova's play was how he helped the team. Over the first 38 games of his Sixers career the Sixers went from scoring 95.6 points per 100 possessions with Ilyasova on the bench to 101.8 with him on the court. That's an even bigger drop in offensive performance than what happened when Joel Embiid went to the bench, as the Sixers still managed 97.1 points per 100 possessions during that time with Embiid out of the game.
In fact, from Ilyasova's first game with the Sixers on November 2nd up until January 20th, the Sixers offense suffered the most when he was on the bench.
Sixers Offensive Performance
| Player | Off Rtg Without | Drop in Off Rtg |
| --- | --- | --- |
| Ersan Ilyasova | 95.6 | -6.2 |
| Joel Embiid | 97.1 | -5.6 |
| T.J. McConnell | 97.4 | -3.9 |
| Richaun Holmes | 98.7 | -3.3 |
| Team Offensive Rating | 99.2 | n/a |
(How the Sixers offense performed when certain players were on the bench, on games played from November 2nd, Ersan Ilyasova's first game with the Sixers, until January 20th. Drop in offensive rating is how many points per 100 possession fewer the team scored when the player was on the bench. The listed players are those with the biggest drops in team performance over that time. In short, this is an estimation of the most essential players to the Sixers' offense.)
Then something changed. Over the Sixers' last 12 games Ilyasova is still averaging 15.2 points per game, but his efficiency has taken a big hit. He's shooting just 41.2% from the field over that span and just 29.9% from three-point range. The offense, which prior to this stretch had come to a halt when Ilyasova was on the bench, has actually been worse, significantly, with Ilyasova on the court over the last 12 games.
As the Sixers approach the trade deadline, and perhaps a decision to make in free agency come July 1st if Ilyasova is still on the roster, they're left answering a tough question: is Ilyasova's recent play a result of Embiid's absence, or a simple regression to his career averages? Was Ilyasova's hot play to start his Sixers' career because he fit in so well with Embiid, or an unsustainable hot stretch?
One might surmise that Ilyasova's recent struggles are due to the fact that he hasn't gotten as many open looks because Embiid has been sidelined with a left knee contusion. That would be a good assumption, but it hasn't exactly held up.
During those 38 games between Ilyasova's acquisition (November 2nd) and Embiid's injury (January 20th), 76.4% of Ilyasova's three-point attempts came with at least 4 feet of space. That dropped, but only slightly, to 72.6% in the 12 games since. Wide open shots (6+ feet of space) paint a similar picture, with Ilyasova getting slightly more wide open looks prior to Embiid's injury, but only ever-so-slightly so.
In addition to that, Ilyasova's two-point field goal percentage is roughly the the same over the last 12 games (50.6%) as it was prior to that (51.9%).
Ersan Ilyasova Shooting - Before and After Embiid's injury
| Time period | % 3pta w/6'+ of space | 3pt% with 6'+ of space | 2-pt FG% |
| --- | --- | --- | --- |
| Nov 2nd to Jan 20th | 33.2% | 52.1% | 51.9% |
| Jan 21st to now | 31.5% | 26.3% | 50.6% |
(What percenage of Ersan Ilyasova's three-point attempts came with 6+ feet of space between the defender and Ilyasova, what percentage of those looks he connected on, and how frequently he converted from inside the three-point line. Comparing his performance with the Sixers before and after Embiid's knee injury on January 20th)
The real change is that Ilyasova was making those uncontested three-point shots at a nearly unsustainable rate prior to Embiid's injury.
To put in perspective just how absurd that 52.1% is on shots with 6+ feet of space, it was the 3rd best rate in the league among players with at least 50 attempts over that span. Klay Thompson, one of the best shooters in the league, was at 50.4%.
This is the 4th season that NBA.com/stats has tracked the closest defender when a shot is taken. Ilyasova has connected on 42.0% of his 257 three-point attempts with 6+ feet of space in the three years prior to this one.
Judging by the fact that Ilyasova's shot distribution hasn't changed drastically since Embiid went down with his injury, and that he was connecting on open shots at a rate much higher than his career averages, it's probably safe to say that the career year Ilyasova was having with the Sixers was more the result of low sample size, and unsustainable, variance than it was a reflection of his perfect fit with Embiid's. It's also safe to say that his struggles since, where he's missed open shots at a rate way down from his career norms, are likely temporary in nature.
That's not to say that, as Embiid continues to draw double teams and gets better at navigating his way out of them, and as Simmons comes back and generates open looks in transition for all, that Ilyasova won't get more open looks, perhaps even at a higher rate than his career norms. This is a team built to make use of high-volume three-point shooters, especially as their young core continues to get healthy and mature, and that growth has to be factored into Ilyasova's potential fit down the line.
But as to what has happened thus far, the theory that Ilyasova's individual success, his career-best start to his Sixers career, was the result of his incredible fit with Embiid, that's a little bit harder of a conclusion to reach with any degree of certainty.