Sixers select Washington guard Markelle Fultz with 1st overall pick
Updated: Thursday, June 22, 2017 07:40 PM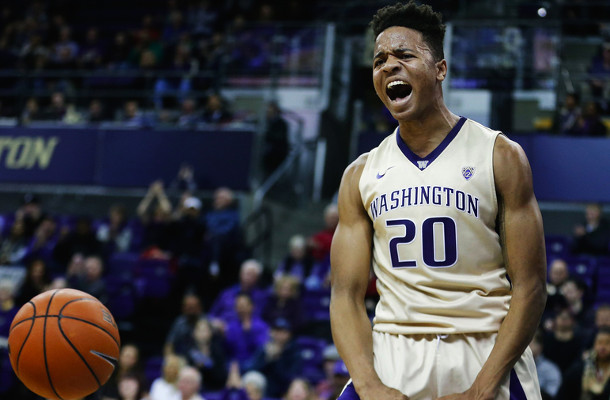 The Philadelphia 76ers did what was expected – selecting Washington guard Markelle Fultz with the #1 overall pick in the 2017 NBA draft.
The Sixers put themselves in position to acquire Fultz when they completed a trade on Monday afternoon, sending the #3 pick and a conditional future first round pick to Boston for the #1 pick.
Fultz averaged 23.2 points, 5.7 rebounds, 5.9 assists, 1.6 steals, and 1.2 blocks per game during his standout freshman season at Washington, making him just one of just three players in college basketball over the past 24 years to record averages of at least 23 points, 5 rebounds, and 5 assists per game.
Fultz was a late bloomer in high school, being cut from his DeMatha High School Varsity team as a sophomore. After a late growth spurt, dynamic junior and senior seasons, as well as strong performances at the 2016 FIBA U18's and 2016 Hoop Summit put him on the map as one of the most compelling players in the upcoming freshman class.
"It would be pretty cool [to be selected by Philadelphia]," Fultz said on Saturday when he arrived in Philadelphia for a last-minute workout. "Just being with a young team. The upside of it would be crazy."
Fultz would be joining an emerging young core that includes Joel Embiid (20.2 points, 7.8 rebounds, 2.5 blocks, 2.1 assists as a rookie), Dario Saric (12.8 points, 6.3 rebounds, 2.2 assists as a rookie), and Ben Simmons (19.2 points, 11.8 rebounds, 4.8 assists, 2.0 steals per game as a freshman at LSU).
Philadelphia improved from 10 wins to 28 wins this past year.
"I'm excited for our fans and for the 76ers organization that we were able to select the top player in the NBA Draft," Sixers managing owner Joshua Harris said. "By adding a player of Markelle's caliber to our promising roster, we believe we're incredibly well positioned for the future. This is a tremendous night for the Sixers and our great fans."
Part of the appeal of Fultz, outside of being considered the best overall talent by most analysts, is his ability to play both on the ball and off, connecting on 41.3% of his 126 three-point attempts on the season.  30.4% of Fultz's possessions came off the pick and roll, where he shot 51.5% from the field and with an effective field goal percentage of nearly 59%, one of the best marks in the country. He was also effective shooting off the catch, with an effective field goal percentage of nearly 57%, and with an eFG% of nearly 82% on the limited open catch-and-shoot shot opportunities he had, according to Synergy Sports.
That, along with his shooting off the dribble, good passing, and ability to use ball screens to get into the paint make Fultz one of the more diversified guards to enter the league in some time, despite the fact that he just turned 19 last month.
Fultz brings considerable defensive tools as well, having been measured at the 2016 Nike Hoop Summit standing over 6'4" with a 6'9" wingspan. Fultz showed defensive potential, but also inconsistency, at Washington, and improving his defensive fundamentals and focus will likely be one of head coach Brett Brown's primary focuses at the start of his career.