Notes from the Jordan Bell, Tyler Dorsey, Thomas Bryant draft workout
Updated: Thursday, June 8, 2017 12:39 PM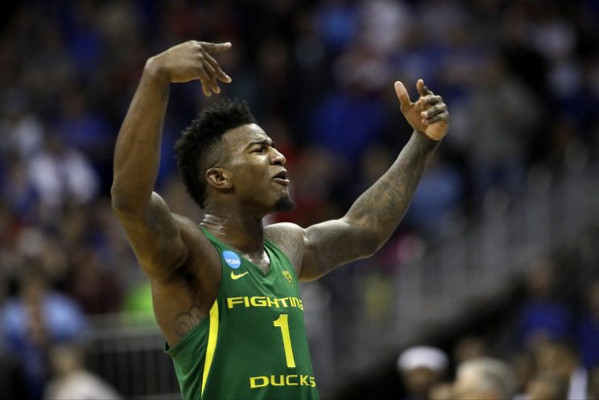 On Wednesday the Philadelphia 76ers hosted their second group workout at their training complex in Camden, bringing in a group that included Jordan Bell (Oregon), Thomas Bryant (Indiana), Tyler Dorsey (Oregon), Eli Okobo (Elan Bearnais Pau-Orthez, France), L.J. Peak (Georgetown), and Steve Vasturia (Note Dame).
While Monday's workout included Derrick White, a Colorado combo guard who might end up sneaking into the first round, yesterday's workout had more depth, with Bell, Bryant, and Dorsey all likely to be drafted.
Who are they? Do they have a shot to stick in the NBA? How would they fit with the Sixers? I'll answer these questions in three sections for each prospect: my take on those questions, what the team said on the record at the draft workout, and what the player said at the workout.
The majority of the focus will be on the players likely to be drafted. We'll have time in the summer to cover undrafted free agents.
Tyler Dorsey, sophomore, shooting guard, Oregon
Stats: 14.6 points, 3.5 rebounds, 1.7 assists, and 0.8 steals in 30 minutes per game. Shot 46.7% from the field, 42.3% from three-point range (on 208 attempts), and 75.5% from the free-throw line (on 139 attempts).
Advanced stats: 3.5 offensive win shares, 1.7 defensive win shares. 5.7 offensive box plus-minus, 0.6 defensive box plus-minus. 60.6% true shooting percentage.
Measurements: 6'4.5″ in shoes, 6'5.25″ wingspan, 8'3.5″ standing reach, 36″ max vertical. Measured at the 2017 NBA Draft Combine.
My thoughts:
Dorsey's a really good shooter, making 41.6% of his 373 three-point attempts during his two-year career at Oregon, including 42.3% this past season. He has a quick release and maintains his effectiveness when contested off the catch (59.6% effective field goal percentage on contested catch-and-shoot jumpers), an important attribute when looking to space the floor for Joel Embiid and Ben Simmons.
He's not nearly as skilled creating off the bounce, either for his own teammates or for himself. He doesn't have the speed or quickness to create much separation off the dribble, and he doesn't have elite shiftiness necessary to make up for that. When he gets into the paint his physical limitations come to the forefront. He has some touch around the hoop, but lacks the length, strength, or explosive leaping ability necessary to consistently finish over and through NBA length.
His size might suggest some two-position defensive versatility, but his slender build and shorter than average wingspan bring significant doubt over that. He also struggles to fight through contact and over screens on the perimeter. He can move his feet well on the perimeter when he's engaged, but that engagement is inconsistent at this point.
Dorsey's sort of a one trick pony at this stage of his career, without either the ability to consistently force defensive rotations against NBA defenders or the vision and passing instincts to take advantage of these rotations even if he did. Still, that one trick (shooting) has a role in the league, and specifically on this team, and Simmons' ability to facilitate from the frontcourt might make the Sixers more willing to live with his deficiencies.
What Dorsey said:
"I would fit in good [With Simmons]. He's a willing passer, and a pass first guy on the court. So I would love to play with him and spot up, and knock those shots down," Dorsey said about playing with Simmons. "I'm a combo guard. I can play off the ball and on the ball. I can show that I'm a two way player, [that] I can guard the 1 and the 2."
---
Jordan Bell, junior, power forward, Oregon
Stats: 10.9 points, 8.8 rebounds, 1.8 assists, 1.3 steals, 2.2 blocks in 28.8 minutes per game. Shot 63.6% from the field and 70.1% from the free-throw line (117 attempts).
Advanced stats: 3.2 offensive win shares, 3.0 defensive win shares, 4.6 offensive box plus-minus, 9.0 defensive box plus-minus. 65.8% true shooting percentage.
Measurements: 6'8.5″ in shoes, 6'11.75″ wingspan, 8'8.5″ standing reach, 38″ max vertical jump. Measured at the 2017 NBA Draft Combine.
My thoughts:
One of the more versatile defenders in this draft, with the rare combination to hold his ground down low, rotate from the weakside to block shots and control the paint, and with quick enough feet to both close out under control and also switch pick and rolls on the perimeter. Good, but not great defensive rebounder who will compete on the glass and has the strength to hold his ground, but will occasionally find himself out of position due to rotations.
Offensively, his contributions mostly come around the rim thanks to his quickness and leaping ability, both of which are well above average for his position. This creates offense in the form of rim running, lob threats off the pick and roll, and offensive rebounds. Improvement in his free throw shooting, and occasionally flashes in game, suggest a midrange jump shot isn't off the table down the line. He doesn't have much in the way of ball handling or creativity offensively, but he also does a good job of staying within his game and making good decisions.
That lack of a jump shot might make him a tough fit sharing time in a frontcourt with Ben Simmons, but if you have confidence he'll be able to make continued progress in his jumper, Bell absolutely has a role to fill in the NBA with his defensive versatility and efficient offensive role. I think he's worth an early 2nd round gamble to see if that jumper can continue to come around.
What the Sixers said:
"[He's] got the ability to play across a few positions, mainly defensively," Sixers VP of Basketball Administration Brandon Williams told reporters. "Coaches always want players that can guard pick and roll and guys who can switch, and I think he's going to give somebody a great asset and versatile defensive player.
"One of the fascinating things is he's a volleyball player. If you pick up some little nuances, he blocks a lot of shots with two hands. It's very interesting, and odd, that you can almost see the volleyball player, like blocking at the net," Williams continued.
What Bell said:
"I think they have some good scorers here already, so I think if I were to come here and just do all the dirty work: rebound, defend, make the right passes, and make the right reads," Bell said about his role.
"The person who does whatever needs to be done on the floor during that game," Bell said about his style of play. "Change up from game to game. I can go off for 20 [points], I can have somebody have their season low, [collect] 16 rebounds, whatever it is I need to do.
"I'm not trying to be somebody different. What I did in college is exactly what they were asking me to do if I came here," Bell concluded about his role.
---
Thomas Bryant, sophomore, center, Indiana
Stats: 12.6 points, 6.6 rebounds, 1.5 blocks, 1.5 assists in 28.1 minutes per game. Shot 51.9% from the field, 38.3% from three (on 60 attempts), and 73% from the free-throw line (148 attempts).
Advanced stats: 2.4 offensive win shares, 1.4 defensive win shares, 3.6 offensive box plus-minus, 3.9 defensive box plus-minus. 60.1% true shooting percentage.
Measurements: 6'10.75″ in shoes, 7'6″ wingspan, 9'4.5″ standing reach, 33″ vertical jump. Measured at the 2017 NBA Draft Combine.
My thoughts:
Elite size and length, which combined with the quick improvement in his outside shot and the strength to finish inside creates an intriguing, and rare, combination of skills. Created a lot of his offense in the post at Indiana, but I'm not sure how much of that translates as he's neither the most physically dominant or naturally gifted post scorer around.
He's a hard worker who gives consistent effort, but didn't quite make the jump many expected in terms of feel, fundamentals, or skill level (outside of that shot) during his sophomore season. The game can sometimes look like it's going too fast for Bryant, and he can find himself out of position, and he isn't the kind of quick, explosive athlete to recover. He will need to make correct, quick reads to consistently be in proper position to impact plays to the best of his ability at the next level, and that's where the focus on his development would be from me going forward.
What the Sixers said:
"His increased confidence in shooting the ball [stood out]," Brandon Williams said after the workout. "He's six [feet] eleven and a half [inches] in shoes with a seven and a half foot wingspan. He's a large person who can guard 5's I think in the NBA. Add to that the ability to shoot the 3, he can be a weapon."