Jaron Blossomgame, V.J. Beachem, and Kyle Kuzma work out for Sixers
Updated: Monday, June 12, 2017 12:44 PM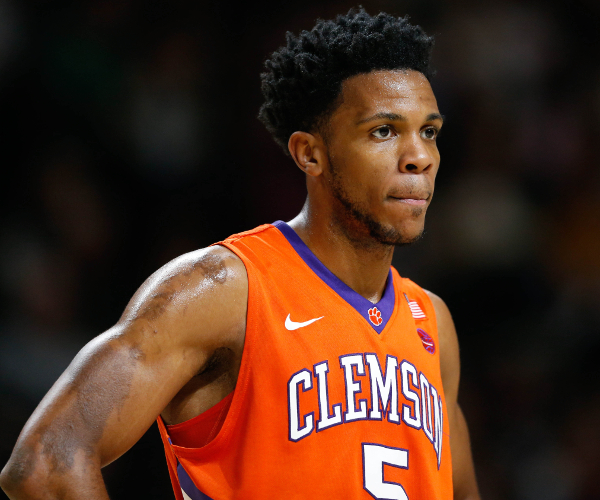 The Philadelphia 76ers brought in six more potential draftees to their training facility in Camden today as the team continues to prepare for June 22nd's NBA Draft.
The group includes forward Jaron Blossomgame (Clemson), small forward V.J. Beachem (Notre Dame), power forward Kyle Kuzma (Utah), small forward Jalen Moore (Utah State), and guards Billy Garrett Jr (DePaul) and Dominique Hawkins (Kentucky).
I'll continue the coverage of the 76ers draft workouts by focusing in on the players with a decent chance of being drafted, breaking each one down into three categories: my thoughts on them as a prospect, what the Sixers are saying about them on the record, and what the prospect said about his workout and/or fit with the team.
Jaron Blossomgame, senior, forward, Clemson
Stats: 17.6 points, 6.3 rebounds, 1.5 assists, 0.8 steals, and 0.9 blocks in 34.3 minutes per game. Shot 49.8% from the field, 25.5% from three-point range (on 94 attempts), and 71.3% from the free-throw line (on 167 attempts).
Advanced stats: Win Shares: 3.2 offensive, 1.1 defensive. Box plus-minus: 4.1 offensive, 1.5 defensive.  55.9% true shooting percentage.
Measurements: 6'6.75″ in shoes, 6'10" wingspan, 8'8.5″ standing reach, 35.5″ max vertical jump measured at the 2017 NBA Draft Combine.
My thoughts:
Blossomgame broke out during his junior season, when his scoring averaged jump from 13.1 points per game to 18.7, and more importantly when he found a consistent perimeter shot for the first time in his career. After shooting 51.3%/44.1%/78.2% from the field/three/free throw line it looked as if Blossomgame had finally found the spot-up shooting to comfortably project a role for him at the next level, and he had the chance of sneaking into the late first round if he was able to reproduce that success from the perimeter this year.
Unfortunately for Blossomgame, that didn't happen. Not even close. His three-point shooting fell to just 25.5% as a senior, as he reverted almost entirely back to the poor perimeter shooter he was during his first two seasons at Clemson, with his red-hot junior season now clearly looking like the outlier. On the whole he shot just 31.5% on 305 three-point attempts in college, and that's not going to get it done.
If that shot isn't a reliable weapon for Blossomgame it's hard to comfortably project a real role for him offensively. His ball handling isn't much more than a straight line drive with an occasional spin move, without much ability to turn the corner off the dribble and without any real misdirection to keep defenders guessing. He's the kind of guy who might be able to attack a closeout, except he's not likely to draw many defenders into closing out aggressively to contest his shot. He's not a great athlete and doesn't have great touch at the rim, either, and he's likely going to struggle against NBA defenders at the rim.
Which is a shame, because he competes defensively and has some versatility on that side of the court. He also has some value as an off-the-ball cutter, but he really needed to add something else reliable to his role player offensive game to give confidence in that transition to the NBA, and I just don't see it.
What the Sixers said:
"What stands out always is energy," Sixers' senior director of basketball operations Vince Rozman said when describing Blossomgame. "He just plays hard. He's active defensively, he's all over the glass, [and] he's improving skill wise."
"Some of the sample sizes from year to year are so small you're just kind of trying to look at form, [and] consistency with that," Rozman said when discussing Blossomgame's shooting struggles this year.
What Blossomgame said:
"One thing I really wanted to work on by going back to school is showing my defensive versatility. Being able to guard multiple positions — 1's, 2's and 3's — and at Clemson we switched ball screens 1 through 4, so I got a good opportunity to present myself as an elite defender."
---
V.J. Beachem, senior, small forward, Notre Dame
Stats: 14.5 points, 4.1 rebounds, 0.9 assists, 0.9 steals, 1.1 blocks in 34.2 minutes per game. Shot 42.2% from the field, 36.1% from three-point range (on 241 attempts), and 83.6% from the line (on 73 attempts).
Advanced stats: Win Shares: 2.0 offensive, 1.4 defensive. Box plus-minus: 3.1 offensive, 2.0 defensive. 54.6% true shooting percentage.
Measurements: 6'8″ in shoes, 6'10.25″ wingspan, 8'8.5″ standing reach, 37″ max vertical jump measured at the 2017 NBA Draft Combine.
My thoughts:
After connecting on 43.5% on his 299 three-point attempts during his sophomore and junior seasons at Notre Dame, V.J. Beachem took a little bit of a step back as a senior, shooting just 36.1% from deep. That's kind of a big deal because that's about all Beachem does reliably in the half court, with nearly 75% of his half court field goal attempts coming on jumpers. He has a little bit of a cutter game off the ball as well, but he's not going to create his own shot very often at all and he becomes significantly less useful if his jumper is only "okay" rather than "good". On an off day, he's a huge net negative on offense if he's not spacing the floor.
He does have some intrigue defensively, thanks to his 6'10" wingspan and quick feet on the perimeter. He needs to add quite a bit of strength, though, and you can certainly see how it impacts his game and cuts down on his positional versatility, even at the college level. Right now his defense is more theoretical than it is actually good. Still, the frame and tools are there.
Beachem has the tools to be a 3-and-D type of player, which always attracts interest. His defense needs work, but there might be some reason for optimism when he gets out of Notre Dame's system in that regard. The three-point shot is a tricky question. On the one hand, if Beachem had the ability to go back for a 5th season of college I have confidence he'd hit 40% of his three-point attempts. On the other hand, his shot is a little bit of a line drive, and I worry whether he's going to have to tweak his release to consistently make shots from NBA three-point range, and any kind of tweak adds just a little bit more uncertainty to a projection. Right now, Beachem is a 3-and-D prospect who brings little else to the table and has questions whether either the three or the defense will translate.
---
Kyle Kuzma, junior, power forward, Utah
Stats: 16.4 points, 9.3 rebounds, 2.4 assists, 0.6 steals, 0.5 blocks in 30.8 minutes per game. Shot 50.4% from the field, 32.1% from three-point range (on 84 attempts), and 66.9% from the free-throw line (on 127 attempts).
Advanced stats: Win Shares: 2.8 offensive, 1.8 defensive. Box plus-minus: 4.6 offensive, 2.0 defensive. 56.5% true shooting percentage.
Measurements: 6'9.5″ in shoes, 7'0.25″ wingspan, 8'11.5″ standing reach, 34″ max vertical jump measured at the 2017 NBA Draft Combine.
My thoughts:
Kuzma has shown improvement in his jump shot, and I think he still has some improvement left in him. He had some success in the post over his three seasons, but I'd be surprised if that translated to the NBA in a meaningful way (i.e. on anything other than switches). He can attack a closeout and make decent reads as a passer when the defense rotates, which makes that shot translating even more important. He didn't look comfortable shooting off the dribble, but had the ability to make tough contested spot-up 3's with a hand in his face, which is likely more important given his expected role at the next level.
He can move his feet well enough on the perimeter to potentially have some value defensively, but his stance and effort are wildly inconsistent and he gives you nothing in the form of rim protection, which makes him a pretty big net negative defensively on most nights.
Big men who can compete on the glass, show potential as a floor spacer, and can make simple reads when attacking closeouts tend to draw attention, and I expect Kuzma to go in the early 2nd round as well. I'm intrigued by his improved shooting and hopeful that can continue, but I would have expected more consistency in his defensive effort and decision making by his 3rd season. There were nights I really liked what I saw, then way too many nights where it seemed like his focus just wasn't there.
What Kuzma said:
"For me, it's kind of huge," Kuzma said about the importance of his perimeter shot jump. "Teams have really been raving about my improved shooting, from even the combine until now. That's a pretty big emphasis [in these workouts]."