76ers announce deal to acquire #1 overall pick in the 2017 NBA Draft
Updated: Monday, June 19, 2017 02:15 PM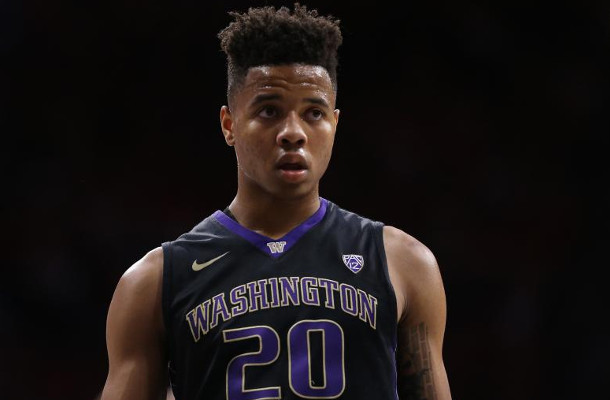 The 76ers have traded the #3 overall pick and a future first round pick in order to move up to #1 to select Washington guard Markelle Fultz.
The deal, first reported as agreed upon Saturday night, has been finalized with the league office.
"We are very pleased with the outcome of this trade, which puts us in the enviable position of selecting first overall in consecutive draft years," Sixers president of basketball operations Bryan Colangelo said via press release. "History suggests that No. 1 has the greatest odds of producing franchise-level talent and we are confident that this year's draft class has that very potential. "
The future pick the 76ers will send to Boston has complicated protections on it.
If the draft pick the Lakers owe the Sixers falls between #2 and #5 in the 2018 draft, Philadelphia will send that pick to Boston to complete the trade. This much was known Saturday night.
However, if the Lakers pick ends up either #1 overall or #6+, the Sixers will send Boston a 2019 first round pick instead. That pick will be the better of the Kings pick or the Sixers pick, as long as the pick isn't #1 overall. If either the Kings pick or the Sixers pick does wind up at #1 overall in 2019, the Celtics will instead receive the lesser 2019 pick.
This means that the Sixers can never give up a #1 overall pick as part of this trade.
The Sixers acquired the Lakers pick in a three-team trade with the Phoenix Suns and the Milwaukee Bucks in February 2015, a trade in which the Sixers gave up reigning Rookie of the year Michael Carter-Williams. The Sixers acquired the Kings pick by allowing Sacramento to dump the salaries of Carl Landry, Jason Thompson, and Nik Stauskas in order to free up salary cap space to use in free agency later that summer.
In that Sacramento deal, the Sixers also received the right to swap picks with the Kings in both 2016 and 2017 if Sacramento's pick was better. This resulted in the Sixers having the 3rd pick in this year's draft rather than 5th.