Amir Johnson, Robert Covington, and the Sixers' remaining cap space
Updated: Monday, July 3, 2017 05:47 PM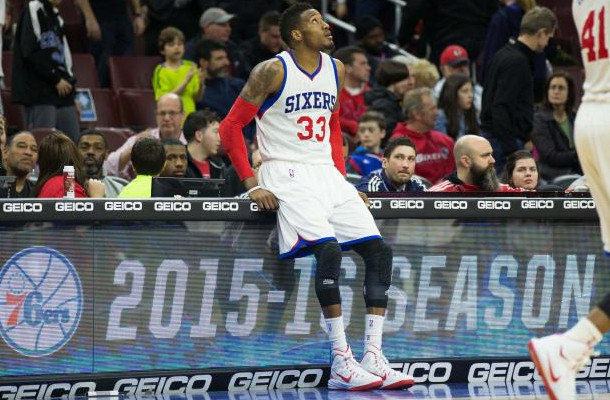 Over the weekend the Philadelphia 76ers agreed to terms with veteran free agents J.J. Redick (1 year, $23 million) and Amir Johnson (1 year, $11 million). The moves improved the Sixers' depth both on the perimeter and in the frontcourt, provided much-needed shooting to surround Ben Simmons, Joel Embiid, and Markelle Fultz with, and gave Brett Brown a couple of veterans in the locker room.
Along with the just over $7 million cap hold for #1 overall pick Markelle Fultz1, that leaves the Sixers with just about $15 million left under the $99 million salary cap.
Next up on the Sixers' agenda could very well be a renegotiated (and extended) contract for small forward Robert Covington, something which I've written about in the past (subscribers), and something which Zach Lowe of ESPN said was likely to happen.
What exactly can the Sixers offer? What is the benefit to doing this? And how do the Redick and Johnson signings impact the Sixers' ability to get that done?
Some dates:
* July 1st: Robert Covington's contract can be extended.
* November 15th: Robert Covington's 2017-18 contract can be renegotiated.
These have to be done at the same time. So, if you want to renegotiate *and* extend, that has to wait until November 15th.
* February 28th: Last day the Sixers can renegotiate.
* June 30th: Last day the Sixers can extend.
Note: The deadline for Covington's extension will occasionally be listed as the end of October, but that is only the deadline for players on a rookie scale contract. Covington is entering his 5th season in the NBA and was undrafted, and thus not operating under a rookie scale contract, so his rules are different. 
Renegotiation – The Math
The Sixers are in a unique situation because they still, even after the Redick and Johnson signings, have upwards of $15 million in salary cap space remaining, and few options left to use that money responsibly. Heck, they still have more than $5 million to spend before reaching the cap floor, a completely overblown "requirement"2, but still something that effectively sets a team baseline for spending. Using that room to renegotiate Covington's contract for 2017-18, to essentially give him a "bonus", makes sense if it can be used to sign him to a below market deal for an extension.
Let's say that Covington and his agent have their eyes set on a 4 year, $60 million contract when he becomes an unrestricted free agent next summer. Whether or not he will get that contract is besides the point, in part because you're not paying what he'll get but what will prevent them from giving up the chance to become an unrestricted free agent, and in part because this is only a dollar figure created in my head to illustrate a point.
With a 4 year, $60 million contract3 as a completely made up goal, that means that, when you add in his current $1.57 million deal for the 2017-18 season, Covington's earnings over the next 5 years would hypothetically be $61.57 million. Renegotiating his 2017-18 salary can help the Sixers reach this 5-year payout at a far cheaper rate in subsequent years.
The Sixers can renegotiate Covington's 2017-18 salary up to the amount of salary cap space they have available, meaning right now they can bump his 2017-18 pay up to $16.57 million. They can then drop the salary from the renegotiated year (2017-18) to the first year of the extension (2018-19) far more than the typical 8% max decline. In fact, they can drop the salary by up to 40% between those two years4.
This means that the Sixers can take a significant portion of the cap hit this year, when they can't responsibly use their remaining cap space anyway.
To get Covington his money without a renegotiation, the Sixers could sign him as a free agent with a potential payout over the next 5 years could look like this:
2017-18: $1.57 million
2018-19: $15.0 million
2019-20: $15.0 million
2020-21: $15.0 million
2021-22: $15.0 million
Total: $61.57 million
Using the $15 million in cap space they have remaining, a renegotiated and extended contract can instead look like this:
2017-18: $16.57 million
2018-19: $12.8 million
2019-20: $11.8 million
2020-21: $10.8 million
2021-22: $9.7 million
Total: $61.6 million
Did the signings of Redick and Johnson have an impact on this? The Sixers can still work out a renegotiate and extend contract with Covington when November 15th5 rolls around, and they can still do so on a deal that is relatively advantageous to them.
However, the signings did have an impact, albeit small. The more the Sixers can offer Covington as a bonus this year, the cheaper they can make the backend of that contract while still getting Covington to the hypothetically desired $61.57 million mark.
For example, if the Sixers had an extra $5 million in cap space available to them they could instead offer a renegotiate and extend deal like this:
2017-18: $20.0 million
2018-19: $12.0 million
2019-20: $11.0 million
2020-21: $10.1 million
2021-22: $9.1 million
Total: $62.2 million
That's not a huge difference, as we're only talking roughly $700k to $1 million per year difference, or less than 1% of future salary caps. You also can't go too far beyond $20 million this year, since you can only drop the 2018-19 salary by 40% off that renegotiated season. Where that becomes a factor is if Covington's actual asking price for an extension is beyond the 4 year, $60 million hypothetical I offered up.
The exact amount Covington will earn on the open market is an interesting debate in itself. The market for wings dried up considerably this year, as was expected when the abnormal $24 million salary cap spike heading into the 2016 free agency period created a spending spree that wasn't going to be replicated by the relatively small $5 million jump the cap will see this year. The funny money that guys like Allen Crabbe and Evan Turner received last year is out the window, thank goodness.
(Note: There are a couple of other example "targets" listed at the bottom of this article. This was mostly meant to illustrate the benefits of renegotiating this year, not to debate whether Covington will get, or warrants,  a 4 year, $60 million extension). 
Still, when convincing Covington to extend now before he even gets to free agency, you're not just dealing with equaling whatever Covington would get in free agency next year, but paying a price that would make Covington and his agent willing to forgo the process altogether. That's not always easy to do, which is why extensions are typically done for guys who are max contract worthy, the types of guys that the NBA has made extension decisions no-brainers for.
Yet it makes sense to offer Covington a huge boost in 2017-18 pay in the hopes that it can get him at a lower per-year contract than if they waited until next summer to lock him up. They can, essentially, turn what would have been a $15 million per year contract into an $11.2 million per year contract6 thanks to the flexibility their cap space provides. Doing so would give Covington the same amount of money in the end, but much of it far sooner than he otherwise would have received. There's substantial benefits for both sides.
With Redick (and, to a lesser degree, Johnson) now in the fold, locking Covington into a long-term deal at a below market rate should be the Sixers' top priority. And, luckily, the Amir Johnson contract shouldn't be too big of an impediment to getting that done.
Other Examples:
If Covington is targeting a 4 year, $55 million extension:
(No renegotiation -> with renegotiation)
2017-18: $1.57m -> $16.57m
2018-19: $13.75m -> $11.4m
2019-20: $13.75m -> $10.5m
2020-21: $13.75m -> $9.6m
2021-22: $13.75m -> $8.6m
4 year, $50 million extension:
(No renegotiation -> with renegotiation)
2017-18: $1.57m -> $16.57m
2018-19: $12.5m -> $10.0m
2019-20: $12.5m -> $9.2m
2020-21: $12.5m -> $8.4m
2021-22: $12.5m -> $7.6m
4 year, $48 million extension:
(No renegotiation -> with renegotiation)
2017-18: $1.57m -> $16.0m
2018-19: $12.5m -> $9.6m
2019-20: $12.5m -> $8.8m
2020-21: $12.5m -> $8.1m
2021-22: $12.5m -> $7.3m
4 year, $44 million extension:
(No renegotiation -> with renegotiation)
2017-18: $1.57m -> $14.5m
2018-19: $11.0m -> $8.7m
2019-20: $11.0m -> $8.0m
2020-21: $11.0m -> $7.3m
2021-22: $11.0m -> $6.6m
4 year, $40 million extension:
(No renegotiation -> with renegotiation)
2017-18: $1.57m -> $13.5m
2018-19: $12.5m -> $8.1m
2019-20: $12.5m -> $7.5m
2020-21: $12.5m -> $6.8m
2021-22: $12.5m -> $6.2m