Sixers strong play overshadows reunion with Noel, trounce Mavs 116-74
Updated: Saturday, March 18, 2017 08:00 AM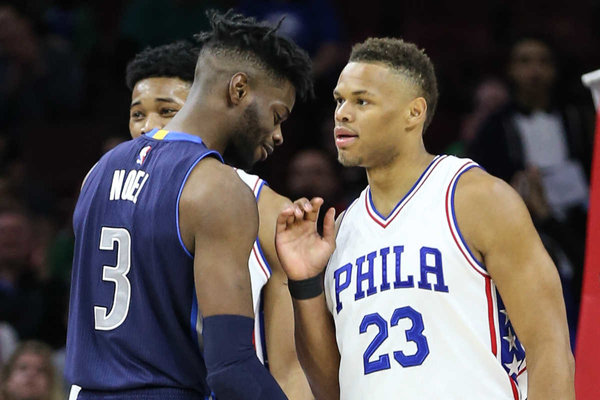 Last night's game against the Dallas Mavericks started off a battle of the big men, morphed into a defensive clinic on the perimeter, and finished as the most complete win during the Brett Brown era.
Nerlens Noel's return to Philadelphia, his first since being traded last month, was always going to be a prominent storyline in this matchup, and for good reason. Noel was the first key piece acquired in Sam Hinkie's rebuild, the 6th overall selection in the 2013 draft, and a popular player among fans, teammates, and head coach Brett Brown.
"I have a soft spot, as we all know, for him," Brown said about Noelafter the game. "It is very different to see him in a Dallas uniform."
And for the first half, the matchup between Nerlens Noel, Jahlil Okafor, and Richuan Holmes figured to factor prominently into the post game discussion. After 24 minutes of play Holmes led the Sixers with 15 points and 5 rebounds and Noel led the Mavs with 8 points, 2 rebounds, 3 assists, a steal, and a block in a 12-minute run, with both Holmes and Noel electrifying the crowd with impressive dunk after impressive dunk.
Holmes got the surprise start at center last night, with Brown indicating before the game it was because he thought Holmes would fare better chasing Dirk Nowitzki around on the perimeter. Holmes responded by making his first 7 shots of the game.
"It was more TJ [McConnell] than me. TJ did a great job penetrating in the first half finding me," Holmes said about his hot start offensively. "He did the hard work, I just had to stand there and finish."
Both players took a backseat in the second half, with Noel limited to just 1 point and 3 rebounds in a 6 minute second-half run, and Holmes collecting just 2 points and 2 rebounds in his 6 second-half minutes. What started off as a battle between former teammates turned into the most impressive team effort in quite some time as the Sixers outscored the Mavs 95-51 in the final three quarters of play.
For as impressive as the Sixers' offense was — and scoring 95 points on 56 field goal attempts over the final 36 minutes of play is insanely efficient basketball — the Sixers' defense was equally up for the task, and according to Brett Brown ignited the surge. The Sixers held the Mavs to just 29.9% shooting from the field over the game's final 36 minutes, including just 3-19 from three-point range over that time.
The defensive effort was spearheaded by T.J. McConnell, Timothe Luwawu-Cabarrot, and Robert Covington, the trio of defensive stalwarts Brown has turned to as his starting lineup over the last 4 games, a lineup which is likely to continue going forward as Brown hopes to grow them into core pieces of the next era of Sixers basketball. Seth Curry, Wesley Matthews, and Yogi Ferrell combined for just 14 points on 5-17 shooting from the field.
Curry and Ferrell had been averaging 16.0 and 11.9 points per game since January 30th, respectively, with both shooting over 40% from three-point range during that time.
The other aspect of the game which really kickstarted the Sixers' defensive effort was the defensive glass, where the Sixers gave up just 5 offensive rebounds on 57 missed shots by the Mavericks. The 90.2% defensive rebounding rate was the Sixers' 4th best of the season.
"We attacked the boards with a purpose tonight. All of our guys, that was…a focal point we were looking to do, and we did a good job of that tonight," Holmes said.
Part of that was due to the nature of the Mavs' gameplan, as they traditionally eschew pursuing offensive rebounds to get back in transition. Dallas' 18.1% offensive rebounding rate ranks last in the league, and they've ranked 23rd or worst in the league in offensive rebounding in each of the past 8 seasons.
Yet the tactic didn't work last night, as the Sixers recorded 29 fast break points despite Dallas' indifference to offensive rebounds. The attack in transition was led by Justin Anderson, who recorded 9 of his 19 in on the break. The 19 points matches Anderson's career high, the 3rd time he's reached that mark since joining the Sixers on February 23rd.
The Sixers' 11 point halftime lead ballooned to 31 after three quarters of play, eventually reaching a high-water mark of 43. The 42 point win is the highest margin of victory during the Brett Brown era, the Sixers on the opposite end of a second half blowout that they've been on the other end of so many times during the last few years. What started off as a reunion, as a battle of former teammates, eventually morphed into an outright celebration.
Sixers continue to draw high praise
Before the game, Dallas coach Rick Carlisle gave the Sixers a healthy amount of praise, something which is starting to become a trend for opposing coaches.
"Philadelphia has been one of the most fun teams to watch this year for me. I love the way they move the ball. I love how hard they play," Carlisle said before the game. "Brett's [Brown] done, over this 4 year period, just an amazing job positioning this franchise to keep moving ahead, and it's pretty clear next year they're going to take an even bigger quantum leap."
Noel reflects on his Sixers career
"It's a little odd. Obviously I called this place home for a few years, and getting to know everybody in the 76ers organization was a great time," Noel said about the reunion the other day at practice. "The love I've constantly received here through the ups and downs has been something unforgettable for me.
"I just want to thank [The fans] for everything. You guys have been there for it. It's been a long process, but I'm only wishing the best for the city of Philadelphia and the fans, and continue on with success," Noel continued.
The Sixers played a tribute video for Noel before the game.
Sixers made a thank you video for Nerlens Noel in his first return to Philadelphia. pic.twitter.com/eQawZfzmlO

— Jessica Camerato (@JCameratoCSN) March 17, 2017
Quick thoughts:
Timothe Luwawu-Cabarrot's continued development is one of the main storylines to follow as this season unwinds, and last night was a good showing for the rookie. Luwawu-Cabarrot started the game off 2-6 from the field in the first half but was making a steady impact, helping create a lockdown perimeter rotation for the Sixers. He slides his feet so well on the perimeter that he's fun to watch.
Richaun Holmes was on fire to start the game, throwing down every time he had the opportunity to do so. While Okafor and Noel were the main event in terms of the big men, a Holmes vs Noel debate sprung up as a side event. There's no question Holmes has more offensive talent than Noel, although Noel is a significantly better passer, but there's still a wide gap defensively that makes me unwilling to say Holmes is a better player, like many currently are. Still, he was an absolutely terrific find with the 37th overall pick and there is absolutely zero doubt his floor is as a quality backup big in this league, with plenty of room to grow. Is there a middle ground between being excited about Holmes but not going as far as to saying he's better than Noel? That's where I'm at.
On merit, Holmes should start over Okafor for the rest of the season. It's, of course, more complicated than that, especially when contemplating potential trades.
That Sergio Rodriguez bounce pass, between his legs, to a trailer on the fast break was "holy bleep" worthy. Sergio's been a disappointment this season, and with Simmons and Bayless coming back, along with McConnell's continued development and Rodriguez being in the final year of his deal, it seems unlikely he's brought back next season. I hope the rest of the season is the entertaining variety of Sergio, at least.
There was a play in the second half where McConnell dove into the stands to save a ball, landed perfectly on a chair in the front row, then watched as a spectator as Robert Covington finished off the fast break. Great sequence.
Justin Anderson was a huge spark off the bench, and making 2 of his 5 three-point attempts certainly helps. The jump shot has still been very hit or miss during his brief time with the Sixers — he's at just 28.6% from 3 since the trade, 28.8% on his career — but when it's going in, and he's running out in transition and attacking the rim like he was, it's easy to project a clearly defined role for him going forward.
Dirk looks like he's wearing cement shoes and that it's actually painful for him to run around and play NBA basketball. But man, I can watch that dude hit one-footed, stepback jumpers with a hand in his face until he's 50.
Next up: Sunday, 1 pm, at home against the Celtics.