Morning Sixers – Tuesday, April 4th, 2017
Updated: Tuesday, April 4, 2017 10:30 AM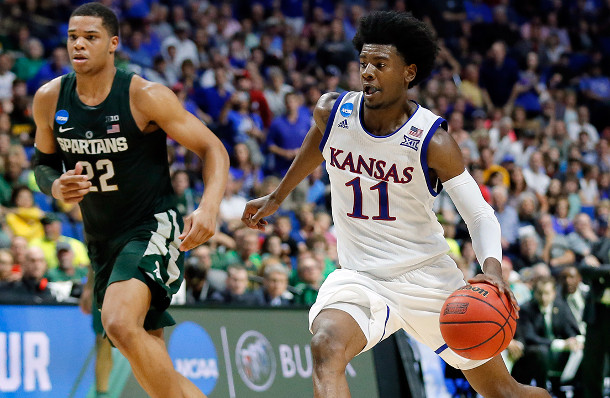 "What do you think the chances are of the Sixers attempting to move up if their pick conveys at, say, 6 or 7? Would a move to 3 seem realistic and what could that cost them? Is there anyone in that range that you feel they're high on? Isaac and Monk would both seem to be good value and fit in that range."
— Kevin
That would be an interesting spot for the Sixers, because:
1) They clearly have the resources to move up, if they wish.
2) I'm not sure if the guys that "fit" might not fall to 6 or 7 anyway.
It would be one thing if we were talking about moving up to #1, as getting a 3rd building block like Markelle Fultz would be worth quite a bit. But at 3, with Fultz and Ball gone (hypothetical), how much are you willing to give up to get Josh Jackson or Jayson Tatum (not necessarily fits) instead of  Jonathan Isaac or Malik Monk?
This is one year where I'm hemming and hawing quite a bit on how much I care about fit at the top of the draft. In years past I've been staunchly in the "draft the player with the best chance of being great" camp. If you hit on that once or twice, it's worth burning a player or two who doesn't fit in the process. And it seems that's very much where we're out, with Noel (gone, fit), Okafor (likely gone, miss) out of the long-term equation, but with Embiid (mainstay), Simmons (mainstay), and Saric long-term fixtures.
As such, you would have to be very, very confident in the poor fit's elite talent level to take that risk. And Jonathan Isaac throws a wrench into that equation since I think he might be a top-5 talent in his own right, but also one that can plug and play nicely with Embiid and Simmons. So while I think Josh Jackson is a better overall talent than Isaac, is it enough for me to be willing to give up assets to trade up to get him?
Get the rest of this answer, as well as a collection of Sixers links over the past 24 hours, over at patreon.com (subscribers only).