Pursuing Kyle Lowry, extending Robert Covington, and the Sixers cap situation
Updated: Wednesday, May 10, 2017 11:09 AM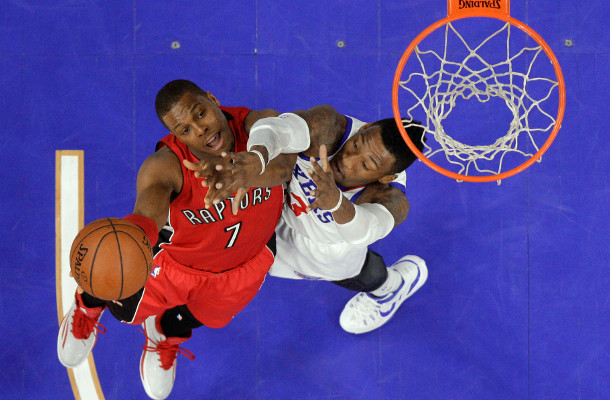 Note: This article goes in-depth on the details of the Sixers' salary cap flexibility going forward, the details on how they can use their cap space this summer to renegotiate and extend Robert Covington's contract, and whether they can still pursue another star in free agency even if they would sign Kyle Lowry this summer. The full version of this article is available exclusively to Patreon subscribers.
The question of whether the 76ers should pursue Kyle Lowry in free agency has been a source of debate Philadelphia of late, in large part because Lowry announced his intention to opt out of the final year of his contract, which would make him a free agent on July 1st.
The actual impact of this announcement is virtually meaningless, if for no other reason than anybody who gave the situation an even passing thought knew Lowry would do so. Lowry is on the final year of the 4 year, $48 million contract he signed in the summer of 2014, when at that time he had just had a career year, at the age of 28, with averages of 17.9 points, 7.4 assists, and 4.7 rebounds per game.
Lowry's case was unique in how late he peaked. Heading into that contract year Lowry had averages of just 10.6 points, 3.7 rebounds, and 5.0 assists per game, and had averaged just 11.6 points, 4.7 rebounds, and 6.4 assists the previous season. Whether or not the new and improved Lowry was the one you could count on going forward was still in question, and this depressed his value on the market.
Because Lowry continued to improve so deep into his career his contract became one of the better contracts in the NBA, drastically underpaid under the previous CBA and downright criminal when the cap jumped as a result of the new national television deals. Lowry's new contract will likely start around $35 million for 2017-18. Opting out of his $12 million was the most obvious decision in the NBA.
More important than Lowry's announcement are the persistent rumors that the Sixers will have interest in Lowry when he does in fact become an unrestricted free agent, rumors in his interest in coming home, and of the relationship between Bryan Colangelo and the point guard who almost single-handedly saved his reputation in Toronto. Whether or not the Raptors would offer him their version of the max (~5 years, $200+ million), and whether he would give that up to accept the Sixers offer, which would be $50 million or so less, is another discussion. This question is simpler: should the Sixers pursue Lowry?
The 31-year-old Lowry being on another timeline than the Sixers is a very real concern. Lowry is likely to begin his decline as an NBA player during the course of this contract, a span in which Joel Embiid and Ben Simmons are just beginning their ascension. There's also the fact that there are a handful of highly touted point guard prospects available in a strong draft class the Sixers could have two top-7 picks in.
The desire, outside of the Sixers' desire to improve quickly, is peculiar. There are two real justifications I can see: the Sixers' young core "learning how to win" and "experiencing the playoffs", and using Lowry to help catapult the Sixers into NBA legitimacy in order to attract another star through trade and/or free agency.
The "learning how to win" argument is one we'll shelve for another time. I think there is value to be had in playing competitive basketball deep into April and May, but there are better ways to do that than to commit to a point guard before you really figure out how to deploy Ben Simmons in the half court. There's almost this sense that if the Sixers don't give all their money to the first big name free agent who will have an honest to goodness sitdown with them, then they're kicking the can down the road. Calm down and jump when you're in a position of strength, and that comes when you have the full read on what to do with Ben Simmons long term.
Basically, there are better times to go all-in to push for the playoffs.
No, in order to pursue Lowry, there has to be the hope that he can legitimize the team into a force capable of attracting more star talent. That Lowry + Simmons + Embiid + Covington + others can get the Sixers to 45 wins, a playoff appearance, and become a legitimate draw for free agents next year, or to increase the chances that a star acquired via trade will stay. To answer that question, we have to really look at the Sixers' salary cap situation.
Sixers 2017-18 salary cap overview:
Salary cap projection: $101,000,000
Guaranteed salaries: $36,595,973*
Likely options / non-guaranteed salary picked up: $4,519,994**
Filler contracts: $5,090,040***
That totals $46,206,007 in likely salary commitments, leaving roughly $54.8 million in cap space left.
The rest of this content is available exclusively to Patreon subscribers. If you're already a Patreon subscriber, you can either login and reload this page to view the article here, or read the article directly on Patreon. Not a subscriber? Sign up today and get full access!