Morning Sixers – Monday, May 15th, 2017
Updated: Monday, May 15, 2017 11:15 AM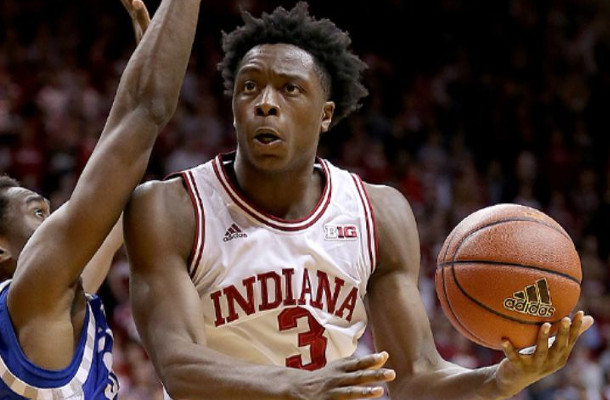 "If we trade into the middle of the first round, who would you like to see the 76ers pick?"
— Noah
(Note: this is just one of three questions answered in today's mailbag. To get thoughts on where Brandon Ingram would go in this year's draft, adding veterans to help develop the young core, and to get a collection of Sixers content published in the last 24 hours, subscribe at Patreon.com).
I'm not entirely sure how likely this is, as I'm not sure how interested Colangelo is in adding *more* rookies to the squad. But I wanted to address the topic, in part, because it's something fresh to talk about, but also because crazy and unexpected stuff does happen on draft night.
Part of the problem with the middle portion of this draft is that it's very big man heavy. Others, like Terrance Ferguson, would be relatively underwhelming perimeter prospects because of the path they've chosen, and the limited data we have on them. So some of the players mentioned here might be considered reaches, and it probably makes sense to target picks later in the draft that would be easier to acquire because of that.
Anunoby is going to get a mention, mostly because of his defensive versatility and potential. I was a little bit disappointed in his decision making this year, especially at the beginning of the season when he didn't seem like he knew exactly what he was offensively on that Indiana squad. He struggled with his perimeter shot this year, but I have some faith that the shooting will come around in time. He can cut and finish around the basket offensively, I thought his passing improved considerably, and he can switch everything and rotate defensively with the best of them. He'd be near the top of the list for sheer defensive upside.
If the Sixers were to get another pick in that range, Luke Kennard would justifiably get some talk there as well, mostly because of his fit. His spot-up shooting is a very legitimate weapon, which fits the Sixers perfectly. You could make a clinic off of his pre-shot footwork, he moves well and finds open areas, and he has a very quick release. I'm not sure how much the rest of the game translates to the NBA level, and his defense will clearly be a concern, but that skill alone would put him in play for the Sixers.
Final guy I'll mention here is Jawun Evans, whose name I would spend at least 2 years misspelling. He takes a little bit more midrange shots than you'd like, in large part because how much the pick and roll set is a staple of his game, but you wonder how much that equation would change as he plays alongside Ben Simmons. He can certainly shoot off the catch, it's more that he was asked to create so much. I'm a little bit concerned whether his size could limit the effectiveness of the drive and dish game he was so effective at in college, but I think he's a willing gamble later on in the first round.
To read the other mailbag questions, as well as get a collection of Sixers links over the past 24 hours delivered to your mailbox every morning, become a patreon subscriber.