Morning Sixers – Tuesday, May 16th, 2017 – LOTTERY DAY
Updated: Tuesday, May 16, 2017 06:28 AM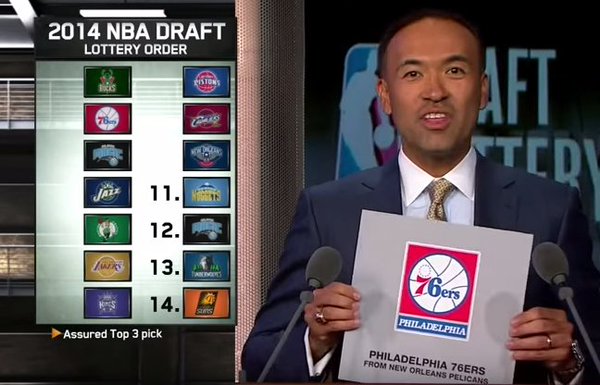 "If the lottery goes according to form and the sixers picked fourth, would it be appealing to trade that pick to SAC for 8 and 10 to get any combination of players that might inevitably fall to those spots, i.e. Tatum, Smith, Isaac, Monk, Fox, Ntilikina, Markkanen and/or Collins?
It seems like after Fultz, Ball and Jackson, there is a lot of fluidity between 4-10 and all of these players could "fit" for the Sixers. Is this reasonable, even if Colangelo would probably not be inclined to do it?"
— Jonathan
(Note: this is just one of three questions answered in today's mailbag. To get thoughts on selecting two forwards in the 2017 draft, an explanation of how traded picks will be displayed at the lottery, and to get a collection of Sixers content published in the last 24 hours, subscribe at Patreon.com).
In the past I talked about being willing to trade multiple picks to move up to #1, but that was very much based on the value and (relative) certainty with that specific pick. Something like trading down from 4th to get 2 picks, on the other hand, I would certainly entertain.
My goal in this scenario would be to target Jonathan Isaac and Frank Ntilikina, but Dennis Smith Jr and Malik Monk are possibilities to consider as well as fallback plans.
(I wouldn't expect Tatum or Fox to last that far, and I'm pretty out on Markkanen).
In this range, my rankings are much more fluid than they are at the top. And while I might have preferences between the prospects, I think at some times a little bit of humility can go a long way. Maybe my confidence in <player x> is a 40% chance at being a good starter, but the guy 3 slots down is a 30% confidence level. We sometimes trick ourselves into thinking that gap is much greater than it really is, and this is where it makes sense to play the odds.
Besides, Isaac is a guy who I think is extremely underrated, and Ntilikina's skill set is the right fit for the Sixers, if he develops. I think it's the right situation to consider that.
I would be relatively surprised if Colangelo considered it, though.
To read the other mailbag questions, as well as get a collection of Sixers links over the past 24 hours delivered to your mailbox every morning, become a patreon subscriber.