Sixers Mailbag – Saturday, June 3rd, 2017
Updated: Saturday, June 3, 2017 01:28 PM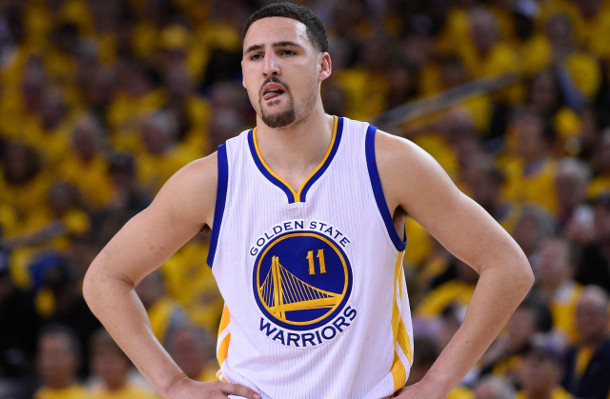 "With all this Klay Thompson talk in terms of being a guy teams may try to trade for/Warriors could eventually move, can you walk us through the DPE max as it relates to the Warriors specifically? Let's assume all 4 Warriors stars meet the ALL-NBA criteria, is each player eligible for that super max when they reach UFA? Or is it limited to only two players on a given team at a given time?"
— Marty
Teams are only allowed to have two Designated Veteran Player contracts/extensions on the roster at a given time. 1
* Note: This doesn't not include Designated Rookie Scale Players, or the 5 year, 30% max guys. Those fall under a separate quota. Not that it applies to the Warriors anyway in this case. 
Now, technically Durant wouldn't be eligible for the DPE, since he changed teams, but he already has 10 years of experience, so he's 35% eligible regardless.
The Warriors are going to have to make some moves to give Durant his max ($35.4 million). Since he was signed last offseason to a 1 year deal the W's don't have bird rights for him. That makes offering him the 35% max a little bit more difficult. The W's have just Klay ($17.8 million), Draymond ($16.4m), Looney ($1.47m), Damian Jones ($1.31m), and Pat McCaw ($1.31m) under contract this summer, with cap holds for Steph ($18.17m), Iguodala ($16.7m), Livingston (just under $11m), and McAdoo ($1.724m), with a stretched contract for Jason Thompson ($945k) also eating up some space.
Add all that up and it basically means the Warriors only have the Veteran Free Agent exception to offer Durant. That still lets them offer Durant upwards of $32 million, but in order to get to the 35% max rate they'd have to renounce the rights to guys like Iguodala and Livingston to get Durant the extra $3+ million other teams under the cap can offer. There's been some talk Durant might be willing to accept the $32m in order to keep as much of the team together as possible, but it will be interesting to watch that unfold.
If Curry and Durant do command $35 million this season, the Warriors are obviously going to have some interesting decisions to make. That means the Warriors big 4 of Curry, Durant, Klay, and Draymond would earn ~$105 million next season combined, already over the cap and that's while Klay and Draymond are on well below market deals from the last CBA. When those guys come up for contracts (Klay following the 2018-19 season, and Draymond following 2019-20), 3 of them on 35% max's (2 DPE, Durant by experience) would put them at the salary cap limit alone. Even with the 4th of the Steph/KD/Klay/Dray at the 30% max they'd be over the luxury tax limit, and that's not even accounting for the remaining 11 roster spots.
In theory, the fact that the Warriors will only be able to have 3 of their 4 stars on 35% max contracts (KD by experience, Steph and one of Klay or Dray on the DPE) isn't what's going to prevent them from keeping the core together beyond their current contracts, since no other team is going to be able to offer them the 35% max anyway. It's the sheer cost of them.
So clearly that doesn't seem tenable long term, but the question is whether Klay would realistically become available via trade this summer. That I'm not sure will happen, not with 2 years left on a below-market deal. I understand the thought process of "get something for him while you can", but if the Warriors are coming off winning 2 championships in a 3 year span, and have 2 more seasons where they can realistically keep their top 4 together before Dray and Klay need new deals, is it worth maximizing the return on Klay for a diminished shot at one of the greatest dynasties of the modern era? If they feel like they can realistically compete for 2 more titles, while pushing for one of the greatest teams of all time in each of those years, would you trade Klay? I know he's struggling in these playoffs, but he's a terrific defender who could get hot and steal you a game even while he's struggling. My gut says the absolute earliest they'd entertain something along the lines of a major trade is after next season, and even then they might just say "let's keep the Durant/Steph/Dray/Klay/Iguodala/Livingston core as long as we can, win as many titles as we can, and figure it out after that".
Now, there is one new wrinkle in all of this, which is that Klay becomes extension eligible this summer, the moment the new CBA takes effect on July 1st. If the Warriors determine they can't carry all these contracts, and thus don't want to negotiate an extension with Klay, could Klay become disgruntled and force the Warriors hands? Maybe. But I have to see an indication of that happening before I really consider Klay a realistic option at this point.
There's more! To read the other mailbag questions in today's post, as well as get a collection of Sixers links over the past 24 hours delivered to your mailbox every morning, become a patreon subscriber by clicking on the "Read more" image below.

---
Article 1, Section 1(q) of the 2017 CBA.↩