Avoiding Mediocrity Not Necessary For Sixers
Updated: Saturday, April 11, 2015 10:12 AM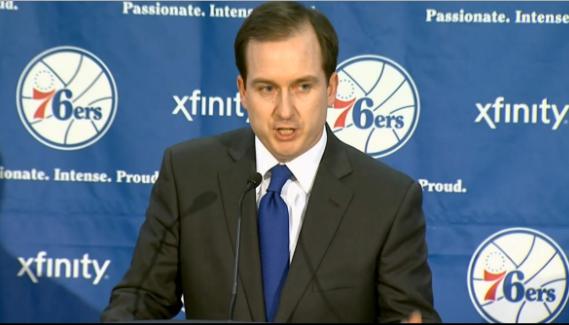 "Mediocrity is bad" has become a rallying cry for many Sixers fans who support what Sam Hinkie and the Sixers front office are doing. The general sentiment is true, as getting to great without salary cap flexibility and with mediocre draft picks is a tough proposition.
This has led some to write that the Sixers plan is to catapult from bad to great, skipping that middle ground entirely. If NBA relevancy is measured on a 1-to-5 scale, with 1 beind horrible and 5 being title contender, Sam Hinkie intends to skip levels 2 and 3 entirely. According to some, at least.
The latest to speculate that is marketplace.org, arriving at that conclusion after interviewing Michael Sokolove, who wrote a nice article on the Sixers for NY Times Magazine. There's a part that I don't necessarily agree with (well, there are many parts, including the rant about ethics in sports. But that's been covered extensively in the past, and this is what I want to focus on).
"It's a gamble designed to — eventually — propel the Sixers directly from the lowest ranks to a championship team"
Sure, there are instances of teams going from bad to great, the Oklahoma City Thunder being the prime example. The Thunder, who cared less about wins during Durant's first two seasons than they did about player development, won 20 games in Durant's first year, 23 during his second year, and 50 in his 3rd.
If the Sixers do such a great job of hitting on their draft picks that multiple young players develop into superstars sooner rather than later, that quick jump from also-ran to contender could happen instantly. But, like most things when discussing the Thunder, they're the exception, not the rule.
Being bad certainly helps ignite the process. Until they get their franchise level player, being bad, and having the most valuable draft picks they can have, is beneficial. And the Sixers are showing no signs of having pressure to reach mediocre, which allows them to look beyond immediate wins and remain focused on talent collection and player development. The Sixers are not going to pass on a great player because he won't immediately contribute, nor are they going to let a young centerpiece warm the bench because a veteran can get them closer to mediocre. And getting a better draft pick, giving them more chances of landing great players, is a byproduct of that.
But mediocrity itself isn't a bad thing. As usual, context is key.
In fact, for most teams mediocrity a natural part of their life cycle, and something that legitimately shows progress. As recently drafted guys with franchise potential start to show their dominance, but aren't yet experienced or developed enough to reach superstar status, and don't yet have all the supporting pieces in place to be a great team, mediocrity is usually a legitimate and welcome part of the path to greatness.
As long as you believe that you have future greatness on your roster.
Where mediocre is bad, and where it should be avoided, is when it's reached without the potential for greatness on the roster. When Jrue Holiday and Thaddeus Young are the best players on your roster, mediocre is bad. Neither Jrue Holiday nor Thaddeus Young will ever be dominant, and thus the goal is to get those dominant players. Being in the middle impedes that.
But the Sixers are not trying to skip the middle ground forever. On the 1-to-5 scale, levels 2 and 3 may very well come, and it's not a bad thing. Having young players who can dominate the league and push a team to immediate contention is extremely rare. But being horrible while young players show legitimate signs of dominance is tough as well, as you're seeing with the Sixers this year. Nearly every pundit thought the Sixers would be historically bad this year. But, due to a defense anchored by Nerlens Noel, they won't even be the worst (or 2nd worst) team in the league this season, much less in NBA history.
If young players show legitimate signs of dominance, especially in the Eastern Conference, especially if the Sixers hit on not only Nerlens Noel but also Joel Embiid and their 2015 draft pick, mediocre is virtually unavoidable.
But the Sixers "skipping steps" or trying to "rush the process", signing veterans and using up their cap space in an effort just to reach mediocre quicker, to appease the fan base and national pundits, is what they're avoiding. Reaching the middle ground organically, through the development of their own players, is a natural step in the process.