Brett Brown thanks former general manager Sam Hinkie
Updated: Thursday, June 22, 2017 08:58 PM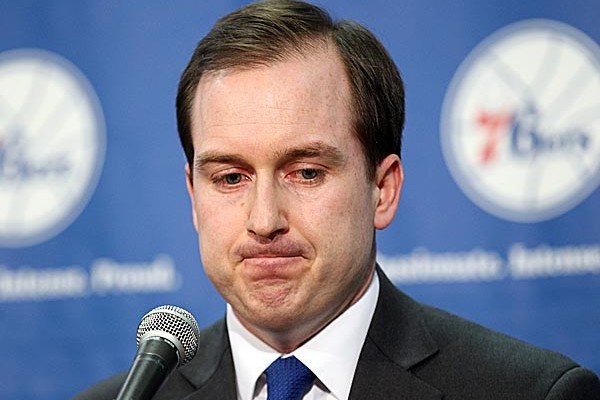 Brett Brown spoke with members of the media after the team selected Markelle Fultz with the #1 pick in the draft. Brown spoke on a number of topics, from how Fultz fits with Ben Simmons and Joel Embiid, to improving the defensive play of Fultz, to…the fact that Brown got in contact with former general manager Sam Hinkie to thank him for the position the team is in.
"Just a random text, basically saying thank you," Brown said about his exchange with Hinkie. "Sam was excellent at what he did."
The Philadelphia 76ers would have had the 5th pick in this year's draft after the results of May 16th's lottery, but were able to swap picks with the Sacramento Kings, who jumped in the lottery to 3rd, thanks to a trade made by Hinkie.
The Sixers then used that third pick along with a future first round pick to acquire the first overall pick from the Boston Celtics. The future 1st round pick the Sixers owe the Celtics will be the Lakers 2018 pick if it falls between #2 and #5 in the draft. If not, the Celtics will get the better of the Sixers or Kings 2019 1st round pick, unless that pick winds up at #1 overall, then the Celtics will get the lesser of the two picks.
The Lakers pick potentially included in the deal was acquired by Hinkie when he traded guard Michael Carter-Williams in February 2015. The 2019 Kings pick, along with the right to swap picks in 2016 and 2017, was also acquired by Hinkie, this time by helping the Kings unload short-term salary for an ill-fated free agency run in the summer of 2015.
"You can't help but go back and recognize how we arrived at the picks that we had this year," Brown said. "You can't dismiss the position that the club and Sam helped put us in to get to this level."
The Sixers will now build their team around Joel Embiid (3rd overall pick in 2014), Ben Simmons (1st pick in 2016), Markelle Fultz (1st pick in 2017), and Dario Saric (12th pick in 2014)
Brown was sure to credit Colangelo for making good use of the assets left to him by the Sixers' former general manager.
"I think that you have to step back and really acknowledge the great work that Bryan did getting it over the line," Brown continued. "I think that Bryan took [Hinkie's] work and brought it forward."