Sixers Mailbag Volume 1 – Emmanuel Mudiay, Joel and Noel, and more
Updated: Monday, April 20, 2015 06:39 AM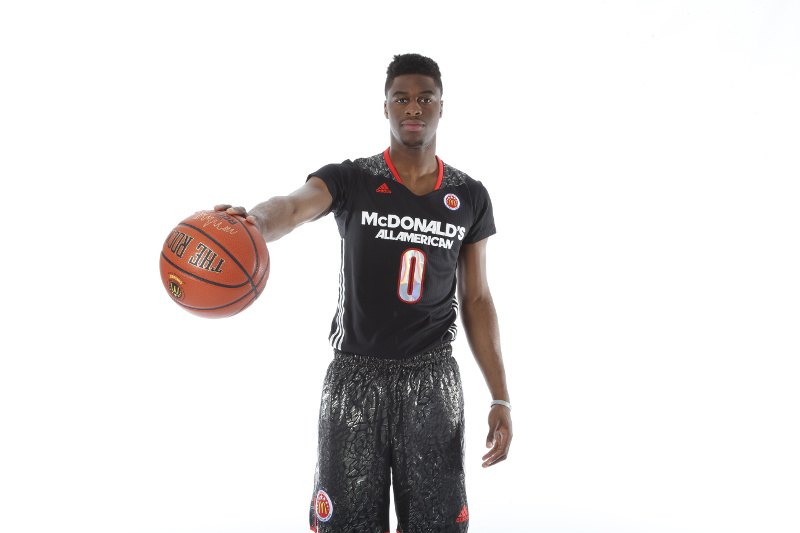 Welcome (back?) to volume 1 of my 76ers mailbag.
(Note, this is a continuation of the series I did over at LibertyBallers).
We'll jump right into the questions. If you want to send me a question for a future mailbag, either hit me up on twitter (include #sixersmailbag in the tweet) or send me an email.
Chris:
"With the trade of MCW, and the emergence of Noel in a system with more spacing and shooters, doesn't it seem like Mudiay is not really a great fit going forward (especially with 2 bigs)?"
I think the MCW trade, and the arrival of Ish Smith and Isaiah Canaan, have shown two things:
The value of floor spacing, which isn't really just the replacement of MCW (as Smith isn't exactly the greatest shooter in the world), but also Hollis Thompson getting healthy, Jason Richardson returning, Robert Covington finding his stroke again, and, of course, Canaan's arrival.
The value in having a point guard who is a great passer once he gets into the paint and draws a defense.
While the value of A is obviously important, and one that Mudiay will struggle to provide early on in his career (and one that I question whether he'll ever really provide), B is something that Mudiay is good at.
For some reason, Mudiay has gotten this label as more of a scorer than a point. Certainly, Mudiay has the potential to score, and he has too much strength and athletic ability to just play the Ish Smith role of facilitator once he gets into the paint. But he's also a good passer off of dribble penetration and off the pick and roll, something which will help Joel Embiid and Nerlens Noel.
It's really his play when Ish Smith has been on the court, and the chemistry that those two have shown, that has been impressive. Getting into the paint, forcing men to rotate, and being able to make those passes when they do is a great trait for a point guard.
Nerlens Noel - Since the break
| Nerlens Noel | pts/48 | FG% | TS% |
| --- | --- | --- | --- |
| With Ish on court | 22.6 | 53.4% | 56.1% |
| With Ish on Bench | 15.5 | 40.4% | 47.3% |
Nerlens Noel's production with Ish Smith on the floor.
*Note: both figures are only since after the trade deadline. So "with Ish on bench" does not include any of the time before the trade, playing with either MCW or Wroten".
Now, don't take this the wrong way: shooting is tremendously valuable from the point guard position, and it's a factor in deciding whether Mudiay is the best player available when the Sixers pick. But I think if you're going to make a case with shooting being a necessity from the point guard spot, it's with Joel Embiid, who you're going to want to use in the post and off the pick and roll. But for Nerlens, and how he's played since the trade deadline, I think it shows as much how great a penetrator and a passer have helped his game as it does the increased floor spacing has.
---
Paul:
"First, you seem to think Highly of Hezonja. Do you have an inkling if the sixers like him do you think there is a chance they might scarifice a pick to get him? What I mean would be the lakers pick, and maybe the OKC pick? Giving up two pick for one is not really in Sam's game plan, but if he was available at say 6,7,8 or 9, maybe they make a hard move for him?"
I don't have a particularly great gauge on how the Sixers feel towards Hezonja. He seems like a player the Sixers would have interest in, but that's speculation.
I think Hezonja is a top 5 player in this draft. Again, I have no idea if Sam Hinkie values him the same. But assuming he does, then yes, I would think he might be willing to trade a future pick, even one like the Lakers, to be in position to grab Hezonja. If the upside of the Lakers is a pick in the 4-5 range (and that's absolute best case scenario), then trading it for a guy who I have rated in the top-5 would make sense.
If they have to give up the OKC pick for that certainty? Yeah, no problem with me. The OKC pick is likely to be in the 25+ range next year, unless they are just devastated by injuries once again. It's a nice chip to have, but if there's a guy I really like, I don't let it get in the way.
---
Noah:
"Do you think Thomas Robinson will be back next year? If so, what type of contract do you think he would be looking at?"
I don't think it's anything approaching a lock.
I am a believer that they're going to want as many big men who can space the floor as possible in their rotation to play next to Joel Embiid.
That puts them in a little bit of a bind because they drafted Nerlens Noel before they drafted Joel Embiid. Noel doesn't space the floor, but he's too good to give up.
So the remaining 2-3 big men in their regular rotation I think they're going to prioritize shooting, which Robinson doesn't do. It becomes especially tricky if they draft Towns or Okafor at the top of the draft, as you're then simply starting to run out of minutes in the front court, and Robinson may not have much interest in going to a team that may not have minutes for him.
(Reminder: Robinson, because the 4th year option on his rookie scale contract wasn't picked up, is an unrestricted free agent).
Now, does that mean they won't have interest in him? No. While I do think they start to take fit into account, he does still fit their mold of guys with natural talent who are available for pennies, and Brown seemed to like him.
In fact, Robinson might be a decent test case to determine whether or not the team is beginning to shift in their philosophy. In the past, they've taken on cheap, underrated talent with little regard to fit. But if they're looking to surround Embiid, Noel, and their 2015 pick with players who complement their them, Robinson might not be the best target.
Cost? $3-$4 million per year over 2-3 years? I think this summer will be interesting. As everybody knows, the national TV deal is going to change spending behavior. The main focus will be on unrestricted guys (Rajon Rondo, Kevin Love). But with so many of the top names on the free agent market being restricted (Kawhi Leonard, Draymond Green, Jimmy Butler, etc), some might target cheap, young guys instead. The next few offseasons are going to be fascinating for NBA fans.
---
Joseph:
"I read in an ESPN article that the Boston Celtics have potentially nine draft picks through 2016. That is a staggering number. Is Philly going to still be better in the future or is Boston's rebuilding plan better than the tanking Sixers?"
I think, as Sixers fans, we tend to focus on quantity over quality.
It makes sense: the best way to avoid being reliant on an uncertain outcome is to have as many options to get it right. If you *have* to hit on one draft pick, you're left to the luck of availability, plus the inherent difficulty in the draft.
But there's also a pretty drastic (and provable) difference in expected value between a top-5 pick and a 20+ pick.  The goal isn't just to maximize the quantity of picks that, relative to their draft position, have been hits, but to get a superstar.
Boston has a couple of good picks (looking at you, 2016 Brooklyn 1st rounder, 2017 rights to swap 1st round picks with Brooklyn, and 2018 Brooklyn 1st rounder), but a whole lot of not-so-great 1st round picks (Clippers, Dallas, a Minnesota pick which will turn into 2 2nd round picks, Memphis, etc).
In that regard, I like the Sixers approach better. Between Noel, Embiid, their 2015 1st, their 2016 1st, and the Lakers pick, I think the Sixers have a better chance of walking away with a true superstar. Not an Isaiah Thomas, "I am a good offensive player, get killed defensively, and my team tends to get sick of me" superstar, but a real, top-10 in the game type of talent.
Boston's approach has a lower floor (Isaiah Thomas already has them semi-relevant, at least in the East), but the Sixers approach has a higher ceiling.
Now, what I will give the Boston plan credit for is that they have a lot of "optionality". Those Brooklyn picks, while maybe never getting as high as the Sixers picks the last two years or the Lakers pick (although they have the chance to, as Brooklyn could/shoud? be dreadful), are good assets that the Celtics can use to package, either to get a star in a trade or to move up in the draft. So I do like their approach as well. That KG/Pierce trade was masterful. It's amazing what a GM can do when he finds desperation (Billy King, or the Sixers trade with Orlando on draft night 2014).
---
Alex:
"Who would have a higher trade value on draft day 2015, Noel or Embiid?"
That's a great question.
Heading into their respective drafts, even after Embiid's foot injury, it's Embiid, no question. He has more upside.
After Noel's rookie season, it's closer. Embiid still clearly has more upside, to me, but Noel's successful return from injury, his great play, and Embiid's still uncertain status might make it easier to get value for Noel than it would be for Embiid. Guys who just missed an entire season just don't get traded very much, in part because trading them at such an obvious low point in their value would be insane.
Now, if you're asking me which one I absolutely would not trade, it's Embiid. Embiid is the type of player who has the chance to make the Sixers relevant for a decade. He's the hardest type of asset you can get your hands on: a true franchise player.
---
Carter:
"Considering what you know about the team's philosophy, its ideal personnel, and potential acquisitions, What current teams might we look at for an analogue to what the Sixers might be in 2017 and beyond?"
The Spurs are an obvious example, because of Brett Brown's history with the club. The combination of defense and offensive precision is a great model to follow, and the twin-tower (and eventual stretch 4 next to Duncan) styles of team building are obviously easy to draw parallels to.
I think the Hawks are another good example, with Horford's all-around excellence, Korver's incredible off the ball scoring helping to keep the offense clicking, and point guards who can both play off the pick and roll and also penetrate.
And Houston's the other obvious one, with their crazy shot chart, and the personnel that they've pursued.
---
Joseph:
"Is it safe now for kids to buy a Nerlens jersey?"
No.
Honestly, I would say no.
I think there's a good chance Noel will be here for the long term. I think he's a tremendous prospect. Heck, he's already a tremendous defensive player. He's a guy that you should have in your long term plans.
But it's not impossible he's traded. If Joel Embiid stays healthy and asserts himself, I think Noel's fit with Embiid is a real, legitimate question mark.
Here was Brown on the subject last week:
"I think that the challenge of playing Nerlens and Joel is ever present. The spacing, you hear me talk all the time about pace, space, and pass. I think it's the 3 cornerstones to building any successful offense."
I think they're going to give the pairing every chance possible to see that they'll work together. The defensive potential is just too staggering not to. I also think there's a chance (although I hope it doesn't happen) that injuries prevent Embiid from becoming who we hope he is. But if Embiid does stay healthy, and if Embiid/Noel don't fit, Noel's going to have a ton of trade value on the open market. Nothing is impossible. I would wait 2-3 years to see how Embiid, and Noel's fit with Embiid, pan out before I go buying any jerseys.
---
Anthony (with a similar question from Carlo):
"If Lakers fall to 6 we probably fall to 5. Would you rather ours be top 3 this year and no Lakers pick, or 5 & 6?"
I look at it two ways:
I'd rather have #1, and have the Lakers pick next year, than #5 and #6 in this draft.
I'd rather have #5 and #6 this year than #3 this year and the Lakers pick next year.
Reasoning: I want Towns. I think Towns is the best prospect in the draft, and a great fit next to Noel and Embiid. I don't pass up on the opportunity to draft him if I have it.
Beyond that, I really like Hezonja, and he might (probably?) be available at #5. So there's not much consequence to moving down from #3 to #5, and getting #6 as well in a draft where I really like the prospects in the 6-10 range would be great.
The wildcard would be how much other teams would pay for the chance to draft Okafor. Landing #2 this year, then trading it for a kings ransom, could make it worth waiting until next year to pocket the Lakers pick. It's hard to really know what teams would give up, but that would determine my answer on whether I'd rather have #2 this year and the Lakers pick next year, or #5 and #6 this year.
That will wrap it up. Thanks to everybody who submitted questions, and my apologies if I didn't answer yours. If you want to submit a question for next week, either hit me up on twitter (include #sixersmailbag in the tweet) or send me an email.