Dillon Brooks, Josh Hart work out for the 76ers
Updated: Thursday, June 15, 2017 12:03 PM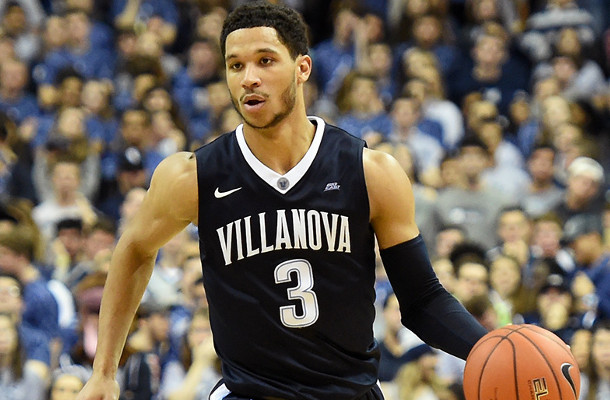 The Philadelphia 76ers had another group workout this morning at their training facility in Camden, hosting a group of six that includes Josh Hart and Darryl Reynolds from Villanova, Dillon Brooks and Dylan Ennis from Oregon, Jack Gibbs from Davidson, and Tidjan Keita of Thetford Academy in Vermont.
As always, we'll focus on the players who have a likely chance to hear their names called during June 22nd's NBA draft.
(Note: Malik Monk will work out for the team in an individual workout this afternoon. No member of the 76ers front office addressed the media after the morning workout, so that section of this series has been removed from this entry.)
Josh Hart, senior, shooting guard, Villanova
Stats: 18.7 points, 6.4 rebounds, 2.9 assists, and 1.5 steals in 33.1 minutes per game. Shot 40.4% from three (183 attempts), 74.7% from the line (170 attempts), and 51% from the field.
Advanced stats: Win Shares: 5.1 offensive, 2.6 defensive. Box Plus-minus: 8.2 offensive, 4.0 defensive. 61.9% true shooting percentage.
Measurements: 6'5″ in shoes, 6'8.25″ wingspan, 8'5″ standing reach, 35.5″ max vertical jump measured at the 2017 NBA Draft Combine.
My thoughts:
Hart doesn't need much introduction in the Philadelphia area, so I'll keep this short. I love just about everything abut his game, from his defensive intensity to his ability to draw fouls to his ability to know how and when to pick his spots. He has the length to defend despite not having optimal size at his position, and does a really good job of both pressuring the ball handler and playing the passing lanes with good instincts and quick reflexes. He's going to need to be a much more selective scorer at the next level and I worry about how frequently he'll be able to get past the first level of defenders, but I think he has the mentality to make that transition seamlessly.
The key for Hart is going to be his jumper. He's developed into an absolutely money college three-point shooter over time, connecting on 40.3% of his 449 three-point attempts over his last 3 years at Nova. But he still has a tendency to release the ball on the way down (albeit less often than he has in the past), and I worry whether the extra distance on the NBA 3 is going to be tougher because of that. Still, he's a shooter whose motion has never been picture perfect, but the ball has always found twine regardless. If that continues he could have a long career as a role player in the NBA.
What Hart said:
"Show a change in my jump shot," Josh Hart said when asked what he's trying to show in these workouts. "Just being more fluid, more consistent with that, [and having] better range."
"I didn't shoot the ball too well today, but that comes with the territory. Definitely changing a shot, you go through growing pains and today was a little bit of a growing pain," Hart said about his performance. "But even if you miss shots, you're showing that my jump shot's different, it's like a said more fluid, smoother."
"When I decided to come back to school [last year], everything about the NBA went out the window and I didn't think about that at all," Hart said about his decision to return to school. "I knew if I decided to back to Nova it had to be all Villanova and not worried about 'what do these scouts think, or what do the head coaches think?' or anything like that. It had to be keeping my head down and focus on every day and every task at hand at Nova, and I felt like I did that well. It's something that the NBA never crawled into my mind until the end of the year, and then that's when I started working towards this goal."
---
Dillon Brooks, junior, small forward, Oregon
Stats: 16.1 points, 3.2 rebounds, 2.7 assists, and 1.1 steals in 25.3 minutes per game. Shot 40.1% from three (142 attempts), 75.4% from the line (126 attempts), and 48.8% from the field.
Advanced stats: Win Shares: 3.1 offensive, 1.6 defensive. Box plus-minus: 6.6 offensive, 2.1 defensive. 58.5% true shooting percentage.
Measurements: 6'6″ in shoes, 6'6″ wingspan, 8'4.5″ standing reach, 37.5″ max vertical jump measured at the 2017 NBA Draft Combine.
My thoughts:
In comparison to Hart, I have more confidence in Brooks' shot translating to NBA range. He shot extremely well both off the catch (54.8% eFG%) and off the dribble (50% eFG%), with very deep range and a nice stepback game. He can elevate over defenders, which is going to help at the next level. He's probably a better shooter than his pure numbers indicate, but they were brought down by questionable shot selection. But that questionable shot selection is a legitimate concern for his transition to his future NBA role, especially since I don't think he has the athleticism or shake to get into the paint with any kind of regularity against NBA defenders.
Brooks doesn't have the greatest physical tools on defense, with only a 6'6″ wingspan and average-at-best lateral mobility, which he makes worse by inconsistent effort and poor technique, which could have looked worse if not for Oregon's frequent use of the zone. The Sixers need shooters, but his shot selection, tendency to have the ball stick despite being a good spot-up shooter, and poor defense make me believe there will be better options available in the early to mid 2nd round.
What Brooks said:
"Scoring off the bench. A high motor guy. High motor guys can fit in a lot of places," Brooks said about his potential role with the Sixers.
"Coach told us about Philly. A hard, tough place to play. They're going to boo you if you lose and love you if you win," Brooks said about playing in Philly. "At Oregon I was there as a freshman and we had nobody in the stands, and towards the end of my [career] we were selling out every game. That's what I love."