Stanley Johnson, Mario Hezonja Declare For Draft
Updated: Friday, April 24, 2015 08:47 AM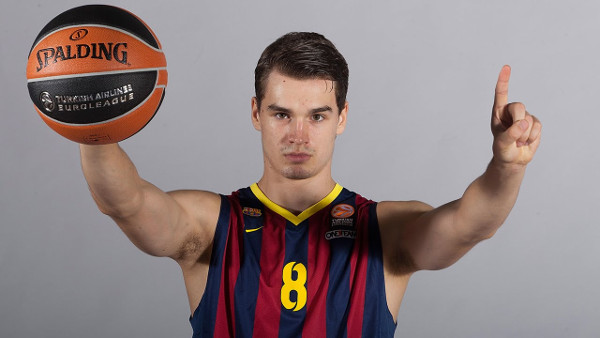 With the deadline for underclassman to declare for the draft only 2 days away, what prospects will be available in June 25th's NBA draft is starting to come into focus.
Two such names who waited until relatively late in the process to declare are Mario Hezonja and Stanley Johnson.
Hezonja's club, FC Barcelona, was eliminated from Euroleague play yesterday, losing on a last-second three pointer. Barcelona lost their quarter-final series against Olympiacos 3-1.
Hezonja has signed with Wasserman Media Group agent Arn Tellem, who also represents Joel Embiid, among others. Stanley Johnson, who announced his intention to declare via twitter, has not yet signed with an agency, although he has long been linked to Rob Pelinka, Kobe Bryant's agent.
The announcements were positive news for Sixers fans, especially in the case of Hezonja. Mario is an incredible wing talent, possessing a rare combination of size, athleticism, and perimeter shooting that could be an incredibly tough matchup down the line, while also playing a position (and with a skill set) the Sixers have a dire need for.
Hezonja is a very real option if the Sixers fall to 4 or 5 in the draft, but he could also be an option at 3, depending on Sam Hinkie's evaluation. I have him at #3 in my own personal Sixers Big Board.
Stanley Johnson is less likely to be in play for where the Sixers will be drafting, as he's likely to fall in the 6-10 range of the draft. A great, versatile defender, who can defend 3 positions at the collegiate level, with a (surprisingly) reliable outside shot and pretty good playmaking ability, I have little doubt that Johnson is going to be a very valuable NBA player.
Johnson could come into play if either the Lakers pick (17.2% chance of it happening) or the Miami pick (9.1% chance, with a 3.7% chance of getting both) conveys, if the Sixers trade some of their future assets to get another pick in the lottery, or if the Sixers trade down in the draft.
I do think Johnson would be a valuable piece to on a team centered around Joel Embiid, with his combination of defensive versatility, perimeter shot making, and passing. I just don't think he has the potential to be the top perimeter scorer on a team. So, while I don't see him being in play with the Sixers pick, if they do get another pick in the lottery, he absolutely becomes an option.
Returning to school
In other draft news, Kris Dunn, an ultra-athletic point guard from Providence, Jakob Poeltl, and Caris LeVert have all reportedly decided to return to school.
Poeltl, from Austria, really came on for the Utah late in the season, playing well for the Utes in both the Pac 12 and NCAA tournaments.
His highlight moment came in his game against Duke, as Poeltl, a good post and team defender with a 15.8% offensive rebounding rate and a 20.1% defensive rebounding rate, played Jahlil Okafor about as well as any big man has played him this season. Poeltl, who gives up nearly 40 pound to Okafor, played good positional defense, keeping Okafor away from his comfort areas and holding his ground long enough for Utah's help defense to arrive. He was a potential lottery pick if he declared this year.
Next year will be an interesting one for Poeltl, as he'll have much more room to grow as an offensive option for Utah, but he'll also be relied upon more with the departure of Delon Wright.
I like Poeltl as a prospect, but I'm not sure I saw much fit with him in the Sixers front court. Poeltl was more of an opportunistic scorer at Utah, with most of his buckets coming off of offensive rebounds, cuts, and his developing post game. With the Sixers spacing already in question by pairing Embiid and Noel, while also possibly mixing in some combination of Thomas Robinson and Furkan Aldemir, Poeltl likely needed to show more ability to space the floor to really be an option for the Sixers. Perhaps that's an area of his game that he can expand with a second year in college.
Dunn and LeVert's decisions to return likely had a bigger impact on 76ers fans. Again, neither of these guys were really options for the Sixers first pick, and they were also not likely to be around when the Sixers pick in the second round, so there would have had to have been some draft day movement in order for either to be in play.
That being said, both fit various needs for the Sixers. LeVert, who suffered a season-ending foot injury in January, was a skilled scorer at the shooting guard spot who shot 40.8% and 40.5% from the collegiate three point line the past two seasons. Dunn's an ultra-athletic point guard who plays very good defense at the point of attack and is an incredible ball thief, with a 4.9% steal rate this past season. To put that in perspective, that steal rate was better than the 4.7% steal rate that Michael Carter-Williams he had during his sophomore season at Syracuse.
Like LeVert, Dunn has had his share of injury problems, with a pair of shoulder injuries on the same shoulder limiting him to 29 games during his first two seasons at Providence. Despite that, Dunn returned in a big way this past season, averaging 15.6 points, 5.5 rebounds, 7.5 assists, and 2.7 steals per game for the Friars. Because of that, I was slightly surprised that he elected to return to school, especially since he had a fair chance to move into the lottery, and was almost certainly a top-20 pick.
You can view the full list of who is in and who is out of the 2015 NBA draft over at DraftExpress.