Best case scenario: Okafor falling to 3?
Updated: Wednesday, May 20, 2015 06:52 AM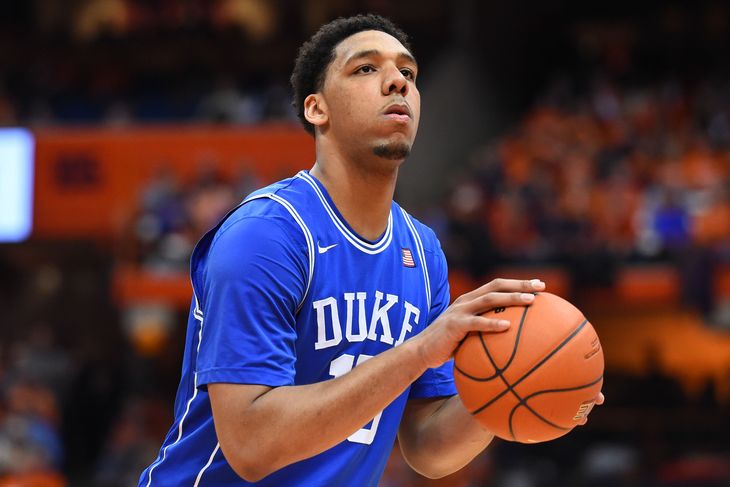 After last night's NBA lottery results were announced, the immediate assumption was that Karl-Anthony Towns and Jahlil Okafor would go 1st and 2nd in the draft, in some order. The logical pick for Minnesota seems to be Towns, as they could really use his rim protection on that front line, but Flip Saunders is reportedly an Okafor fan, so the order of those two could still be somewhat in flux.
However, there has been speculation, perhaps spurred on by the logical conclusion that Julius Randle and Jahlil Okafor would be a questionable fit together, that the Lakers could pass on Okafor if Karl-Anthony Towns goes #1.
Would that be a bad scenario for the Sixers?
Perhaps not.
Despite Okafor's defensive concerns, which I think are more than legitimate, I still have Okafor rated as the #2 prospect in my team-agnostic mock draft. His post scoring, and passing out of the post, are as advanced as any 19 year old you'll find. If he's able to get into better shape, improve his lateral mobility and quickness off his feet just a tad, and somebody can work on improving his defensive instincts just a bit, he still has a world of potential, and is as unique of a prospect as you'll find.
But that's not why Okafor falling might be a good thing for the Sixers.
Okafor's fit with either Joel Embiid and Nerlens Noel is highly questionable, at best. He doesn't move his feet well enough to defend power forwards. He cannot hit from 17′ to open up the paint for Joel Embiid post-ups or pick and dives. Long term, if both Okafor and Embiid work out, I think you likely have to decide which one you want to build around and move the other.
Because of this, because I have so much confidence in Embiid (if he's healthy), and because there are other prospects that I like, Okafor has mostly been afterthought when thinking about the Sixers' plans.
However, Okafor became interesting last night when you started to look at the way the lottery played out. The Knicks, who are practically desperate to get a guy who can make an immediate impact, had a very bad night. While Justise Winslow, Mario Hezonja, or Emmanuel Mudiay could probably make more of an immediate impact than many will give them credit for, the Knicks reportedly had their eyes set on the two big men.
If Okafor falls, could Sam Hinkie put the pick up for auction and prompt a ridiculous bid from the Knicks to get the guy they want?
The Knicks are in a weird spot in that they actually have draft picks to trade. Their 2016 1st round pick is owed, first in a pick swap with Denver then with the Knicks sending out whichever one of the two they get to Toronto, but they can trade their 2018 first round pick. Could Sam Hinkie walk away with an additional first round pick to move back one spot, giving up the right to draft a guy he may not have had interest in drafting anyway? It seems possible, at least.
The downside is that if Towns/Okafor don't go #1 and #2, it means that D'Angelo Russell likely does. Still, having the ability to select from Mario Hezonja, Emmanuel Mudiay, Justise Winslow, or Kristaps Porzingis at #4, and picking up an additional first round pick, isn't a bad outcome.
All the draft picks next year
With none of the Lakers, Heat, or Thunder picks conveying this season that means the Sixers are likely to have 4 1st round draft picks in the 2016 draft. It's very likely that the Lakers pick (top-3 protected), Heat pick (top-10 protected), and Thunder pick (top-15 protected) all fall outside of their protected ranges.
Is that optimal? Not necessarily. It puts a lot of eggs in one basket, hoping that the 2016 draft class will be a strong one. It also creates for an interesting situation in 2020, when all of those players will be coming off of their rookie deals, in need of new contracts and with enormous cap holds until that happens.
What it does give the Sixers, however, is some very interesting trade pieces. With 4 first round draft picks, all likely to convey, the Sixers have a lot of "assets" if a situation comes up that they can capitalize on. After drafting Noel, Saric, Embiid, and <2015 #3 pick>, Sam Hinkie pushing some of these assets to the center of the table to acquire an established player to complement the young core that he's assembled may be a route that's in play, and this rebuild could get going very quickly.