Potential return in a Jahlil Okafor to New Orleans trade
Updated: Tuesday, February 7, 2017 09:18 AM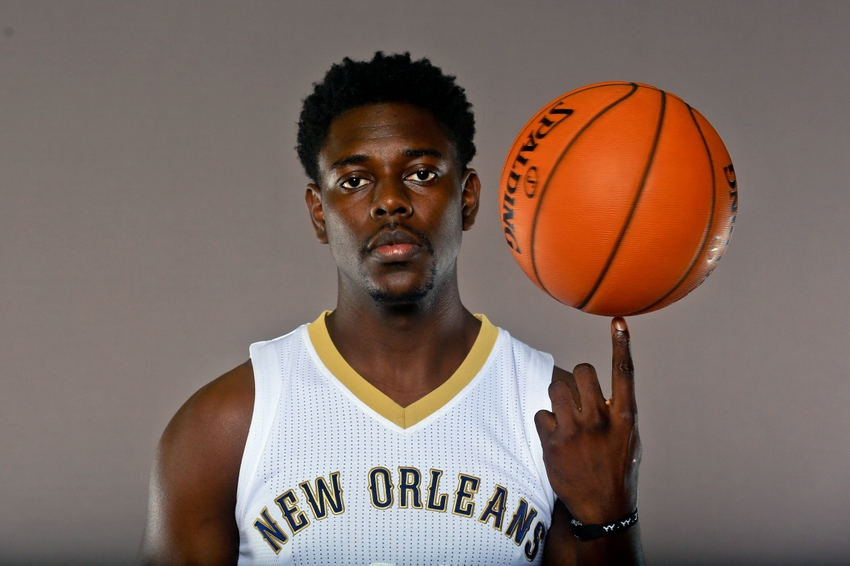 The internet was flooded yesterday with reports over the Pelicans interest in Sixers' center Jahlil Okafor, with most variations of the reported discussions revolving around Okafor for Alexis Ajinca and a protected 1st round pick.
Because something seems to almost always come out of left field in these negotiations, and because there are rumors of potentially expanding the framework of a deal, let's take a look at what assets the Pelicans have at their disposal.
New Orleans' draft pick situation
This is one area where the Pelicans are flexible, as they still own all of their future 1st round picks. They technically have one potential debit in their 2nd round picks, which is their 2nd round pick this year would go to Minnesota if it falls between 56-60, but that's not happening. In addition to that the Pelicans get the Sixers 2nd round pick in this year's draft as part of the Ish Smith trade.
Young(ish) players
(Note: contract details are what remains after this season)
* Cheick Diallo (20 – 3 years, $4.8m remaining): Probably not somebody the Sixers would target, because he's an interior big man. Also probably not somebody that the Pelicans would be looking to include. Has 1 guaranteed season remaining.
* Buddy Hield (23 – 3 years, $12.4m remaining): If you followed me at the time of the draft last year, you know I wasn't really the biggest Buddy fan. He can make 3's, but not yet at a high enough level to overcome the rest of his limited game. Still, he's playing consistent minutes for the Pelicans and once players are drafted there's usually a very high friction to them being moved early in their careers, unless there's extenuating circumstances (see Okafor, Jahlil). Don't expect Hield to be a part of the package.
* Terrence Jones (25 – UFA after this year): Jones signed a small, 1-year deal with the Pelicans to try to prove himself and hopefully get a good pay day this upcoming offseason. He's played well, averaging 11.3 points and 5.9 rebounds, mostly off the bench. His three-point shooting is down, however, connecting on just 25.7% on the season, and the Sixers are already overcrowded at the power forward spot.
* Langston Galloway (25 – 1 year, $5.4m remaining): Scorer, with a (streaky) outside shot. Undersized, but could defend point guards with Simmons here. One of those guys you could see being targeted, but too inefficient and too expensive for my tastes. I'd look for a cheaper option elsewhere if I wanted a scoring punch off the bench.
* Solomon Hill (25 – 3 years, $36.8m remaining): Hill's an active defender who has the ability to defend multiple spots, but his inconsistent outside shot makes him a better 4 than a 3. That makes him a tough fit with the Sixers, especially when justifying that big contract he just signed last summer.
Veterans
* Jrue Holiday (26 – UFA after this year): This is the interesting one. Holiday looks like he's *finally* healthy, can shoot from 3 (39.6% on the year, 37.1% for his career), is a good passer off the pick and roll, has cut down on his turnovers, and can pressure on the perimeter defensively. He'd be a really good fit with Simmons and Embiid as both an off-the-ball scorer and a secondary playmaker, and he's still just 26. But man, his injury history makes his upcoming contract scary, and giving up major assets without a guarantee he'll re-sign, and with potentially having multiple high lottery picks in a strong point guard draft is a big risk. I also can't see the Pelicans giving him up cheaply, since he fits well with Anthony Davis, is still young, is playing well, and they reportedly want to keep him around long term. The details would be key here, but his inclusion seems like somewhat of a long shot.
* Tim Frazier (26 – 1 year, $2m remaining): Has turned himself into a real, legitimate NBA player, with averages of 8.9 points and 6 assists in 25.6 minutes per game this year, while shooting 35.4% from downtown. Still, he's a backup, and with Jerryd Bayless and T.J. McConnell under contract for next year I'm not sure the Sixers are looking to add more depth at the position, more so a legitimate starter.
* Donatas Motiejunas (26 – UFA after this year): I like Motiejunas' ability to score the basketball, but his UFA status and the fact that the Sixers have 3,721 big men means he's very unlikely to be targeted by the Sixers.
* E'Twaun Moore (27 – 3 years, $25.9m remaining): Moore's made a big jump the last two seasons, turning himself into a reliable (if low volume) three-point shooter. He's also a pretty good defender who can stick either backcourt position, despite being slightly undersized at 6-foot-4. Those two qualities make him a really good fit. I don't think the Pelicans are looking to move him, but I'd certainly have interest if he could be pried away relatively cheaply.
* Tyreke Evans (27 – UFA after this year): 29% career three-point shooter, including just 32.3% this year. Bad fit. Injury concerns. Coming home concerns. UFA at the end of the year. Hard pass.
* Dante Cunningham (29 – 1 year, $3.1m remaining): Has extended his range out to the three-point line the past two years, which helps his value. Still, the Sixers have a logjam at power forward as is.
Negative value
* Alexis Ajinca (28 – 2 years, $10.2m remaining): His contract isn't that bad, and he's tall (7-foot-2) and mobile. He's obviously the preferable big man to absorb the contract of.
* Omer Asik (30 – 3 years, $33.9m remaining): Old, ineffective, and doesn't fit with Embiid, and with a huge salary. That means hard pass, *unless* it means the Pelicans are willing to drastically reduce the protections on the pick that is coming back. If you can essentially buy an unprotected pick from a bad team, considering the rising cap and the sheer amount of cap space the Sixers have, it almost always makes sense. Those picks don't change hands all that often. But unless it's virtually unprotected (or has the ability to drop protections year-over-year until it becomes unprotected), then avoid Asik's contract.
Conclusion
The rumors that are out there are the logical conclusions to reach. The draft pick is the centerpiece of the deal, Asik is who the Pelicans would want to include, and Ajinca is probably the compromise that will be reached. Young guys like Hield are players the Pelicans are almost guaranteed to be unwilling to include, and a point guard like Holiday one Colangelo is likely to pursue, but the cost would probably be too high considering the Pelicans desire to keep him and the uncertainty in his contract status. The only other wildcard I'd really throw out there as a possibility for the Sixers to target is Moore, although that may not really be feasible if the Pelicans aren't willing to include him.