Does pursuing Jrue Holiday at the trade deadline make sense for the 76ers?
Updated: Wednesday, February 8, 2017 09:23 AM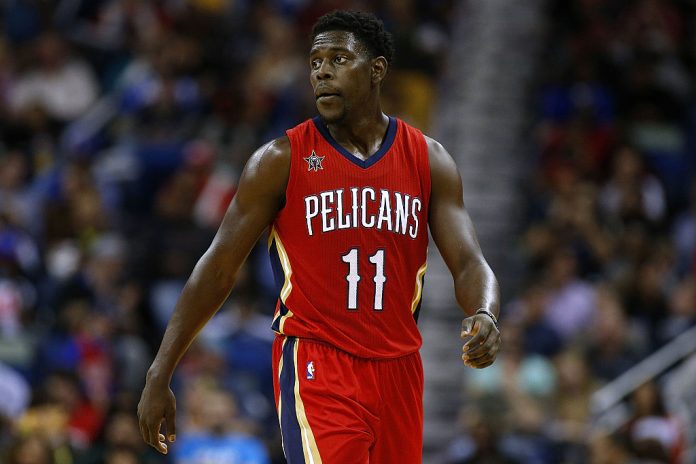 When the calendar flips to February, you're liable to be surprised at some of the rumors that inevitably come up.
The Sixers being the focal point of a rumor is anything but surprising, with most  expecting that a deal was on the horizon ever since the Sixers landed the #1 pick in last year's lottery. Jahlil Okafor, who has only appeared in 8 of the Sixers' last 20 games, having been relegated to a "break in case of emergency" center for the games that Joel Embiid sits, either by design (back-to-backs) or in the case of his most recent injury (knee contusion), isn't a rotation many expect to see stick around long term.
Something has to give, and moving Okafor seems as likely as any resolution to this big man glut.
The interesting part of the rumors that came to light Monday night was the Sixers' reported pursuit of Jrue Holiday.
The surprising part isn't that the Sixers would be interested in Holiday's services. The former-Sixer is young (26), productive (16 points, 7.4 assists, 39.6% from three), healthy (for the first time in years), and has the skill sets that would fit in really well with Joel Embiid and Ben Simmons. Let's start off there.
Holiday's fit with Simmons and Embiid
One of the most important aspects in pursuing a sub-superstar point guard is how well he fits with the Sixers' two mainstays, and this is one area where Holiday holds up well.
Holiday's always been able to score off the pick and roll, and this year is no exception, with over 50% of his scoring possessions coming off of pick and roll sets, according to NBA.com's Play Type data. Holiday doesn't get to the line enough (just 7.9% of his scoring possessions off the pick and roll) and settles for pull-up jumpers a little bit too frequently to be among the game's most efficient scorers off of these sets, but it is an area of his games that opponents have to game plan against..
That being said, Holiday has done a good job over the last 3 years turning more of these long two point shots into threes, which has helped his efficiency.
Holiday has always been a good passer out of pick and rolls, particularly to big men diving to the hoop, where his timing, vision, and creativity is a real asset. This has been especially true this year, where roll men are shooting nearly 54% on shots after receiving passes from Holiday out of the pick and roll. Holiday's assists have generally come in two areas: in transition, where Holiday maintains a 4.5-to-1 assist-to-turnover ratio, and out of pick and rolls, which account for nearly 65% of his half-court assists.
Holiday is also a solid catch and shoot player, which gives him the ability to play off the ball and use his threat as a shooter to pull his man out of the paint, creating driving lanes for Ben Simmons and space for Joel Embiid, either to post up or roll to the hoop off Simmons/Embiid pick and rolls. He's also a good perimeter defender, with the length, foot speed, and attention to detail to defend his man, the ability to fight over screens, and the size to switch positions from time to time as needed.
That combination — ability to create in the pick and roll, ability to shoot off the ball and spread the floor, ability to attack a closeout and create if a defender strays too far off of him, perimeter defense, and defensive versatility — is exactly what you want, skill set wise, from the point guard spot going forward.
Jrue Holiday - Catch and Shoot
| Season | FG% | 3PTA% | eFG% |
| --- | --- | --- | --- |
| 2016-17 | 38.5% | 94.9% | 55.1% |
| 2015-16 | 37.5% | 88.9% | 53.5% |
| 2014-15 | 39.4% | 83.3% | 55.3% |
| 2013-14 | 42.4% | 69.7% | 57.6% |
(Jrue Holiday's effectiveness off of catch and shoot opportunities. Data courtesy stats.nba.com and valid through February 7th, 2017. 3pta% is the % of field goal attempts from three-point range. eFG% is effective field goal percentage, which takes into account the extra value of three-point shots)
This is exactly why Holiday is a name you'll likely hear associated with the Sixers in the offseason. When targeting these non-superstar point guards, guys who are clearly talented but not dominant, how they fit with Embiid and Simmons will go a long way in determining how much success they have in Philadelphia. Jrue Holiday passes this test. But there are a couple of questions that remain.
Injury concern
Since being traded by the Sixers in Sam Hinkie's first major move as general manager, Holiday's been in and out of the lineup with a myriad of injuries, appearing in only 139 out of a possible 246 games during his first three seasons in New Orleans.
Those problems started off as a stress fracture in his right tibia, which limited Holiday to just 34 games during his first season in New Orleans. Nearly a year later to the day Holiday was diagnosed with a stress reaction in the same leg, keeping him out for nearly three months late in the season. Holiday would return with just 4 games left in the regular season as New Orleans prepared for a playoff run.
Holiday's 2015-16 season started off well, appearing in 58 of New Orleans' first 64 games before a right interior orbital wall fracture once again ended his season prematurely.
The 2016-17 season has been a healthy one for Holiday thus far, as his missed time at the beginning of the season was on a leave of absence, taking care of his pregnant wife, Lauren Holiday, who needed to have a brain tumor surgically removed.
Those injury concerns will be at the forefront over any debate about what to offer Holiday in July, when he will become an unrestricted free agent for the first time in his career and be due a big pay raise. When on the court Holiday's been productive, and when paired with Anthony Davis the Pelicans have consistently performed at the level of a playoff team, and sometimes far better than that. That time together has just been far too infrequent, but it's a good indicator of how he might fit with Embiid.
Anthony Davis - Jrue Holiday Performance
| Season | Net Rating | Minutes |
| --- | --- | --- |
| 2016-17 | +0.6 | 971 |
| 2015-16 | -0.9 | 1,128 |
| 2014-15 | +5.7 | 1,109 |
| 2013-14 | +4.1 | 752 |
(How the Pelicans have performed with both Anthony Davis and Jrue Holiday on the court).
But why now?
Whether the Sixers should be interested in Jrue Holiday (they should, at the right price) and whether the Sixers should be scared of his injury history (how could you not be?) are both interesting questions, and ones we'll have leading up to free agency.
There really interesting question, though, is why now?
Holiday will be an unrestricted free agent in July, with the ability to go to any team he wishes, and without the Sixers (or whichever team he finishes the season with) having any say over it.
There's also June's draft to consider, a draft in which the Sixers could very possibly hold two top-7 selections in a point guard dominated draft. As of right now DraftExpress projects 5 of the top 10 picks to play the position, and committing major resources to acquire Holiday now when a younger, cheaper, and less injury prone option may be the best player available when you pick could be very risky.
So, why now?
First, and perhaps most obvious, is the ability to offer a longer contract and a higher annual raise when Holiday becomes a free agent. With the new CBA that means a 5-year deal with 8% annual raises rather than a 4-year deal at 5% raises. This only really becomes a consideration if Holiday is able to command a maximum salary, but it is a small consideration nonetheless.
The second reason the Sixers could look to acquire Holiday now, rather than wait for free agency, is to see how he fits in with Ben Simmons and Joel Embiid, with two months of time to collect crucial data to verify whether the hypotheses stated above hold out to be true. Getting that data before having to make a major, major financial commitment in July would be a huge benefit, and one that has potentially been overlooked in this discussion. As stated above, Holiday is the type of good-but-not-great player whose value will be highly dependent on how well he fits with Simmons and Embiid, and having the chance to confirm the hypothesis that he'd fit in well, or at least increase the degree of confidence in that projection, is very valuable.
There's also a (small) chance that Holiday, with Embiid and Simmons returning, could help lead a playoff push. The Sixers are currently 5.5 out with 31 games left to play, which is unlikely to recover from, but the East is the East so it could be in the back of Colangelo's mind considering the talent he's about to get back.
The final reason I could come up with is a simple overture to Holiday's agent, letting him know, through leaked reports, that the Sixers will be very interested in his client's services come July 1st. This could be Colangelo's version of playing the margins to get a July 1 meeting with Holiday.
I suppose there is one final possibility, which is to offer a veteran extension. Veteran's (i.e. guys not coming off of rookie deals) who have been under their existing contract for at least three years can have their contract extended prior to hitting free agency, and this can be done up to the last possible day, June 30th. This very, very rarely happens, however, because such extensions are extremely limiting, including being limited to just three (new) seasons in total. For a player like Holiday, who has had that kind of injury history and wants to capitalize on an injury-free season, it seems incredibly unlikely he would accept such a deal.
There are valid reasons why the Sixers might want to add Holiday to the team prior to deadline, even if he'll be an unrestricted free agent come July 1st. The most beneficial of which may be to see how he fits with Embiid and Simmons down the stretch.
That has value, but with the Pelicans wanting to keep Holiday around long term and in a "playoff race" as well, the cost of acquisition seems like it would be far too high for the reward, even if the reward is legitimate.