76ers Musings: Timothe Luwawu-Cabarrot helps reinvigorate Sixers' perimeter defense
Updated: Sunday, March 26, 2017 08:30 AM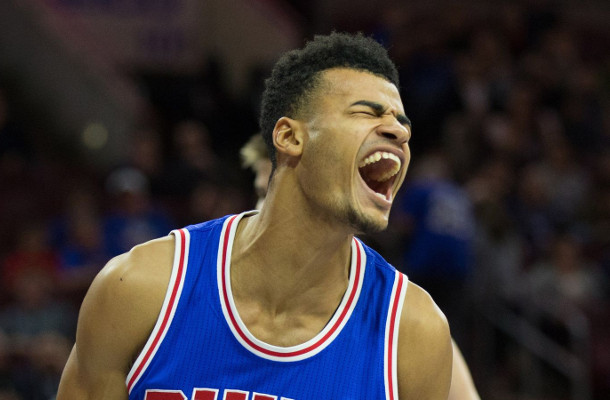 For much of the season the Philadelphia 76ers were reliant on Joel Embiid to keep them relevant defensively. Remove Embiid from the lineup and the team failed to compete.
Over the last few months that's changed as the team learned to live without their shot blocking force, in large part because of changes made to the team's rotations and the quicker-than-expected development of Brett Brown's young athletes.
The first change happened in late December (December 30th, to be exact) when T.J. McConnell was inserted into the starting lineup ahead of Sergio Rodriguez. The defensive upgrade was immediately evident and the team won 10 of their next 13 games on the backs of an at times dominant defense. They held opponents to an average of 102.1 points per 100 possessions, the 3rd best rating in the league over that stretch. Only the Golden State Warriors and Utah Jazz did better defensively.
That run ended with the game against the Houston Rockets on January 27th, the last game Embiid appeared in this season. The Sixers, predictably, lost their defensive swagger, and their defensive rating ballooned to 110.7 over the next 18 games, good for just 27th in the league.
Over the last few weeks they've regained that defensive edge. In fact, over their last 8 games, the Sixers' 100.1 defensive rating ranks third in the league. Sure, they've played some poor offensive teams, with the Lakers, Mavs, and Magic immediately coming to mind. But they've also played the Clippers, Warriors, and Celtics during that run.
Central to this improvement has been rookie Timothe Luwawu-Cabarrot, inserted into the starting lineup on March 11th, receiving 26.6 minutes per game since. His numbers over that span don't jump off the page, with just 9.1 points and 2.9 rebounds per game over that run, shooting of 43.3% from the field and 35.7% from three-point range. The 21-year-old Frenchman is still raw, inconsistent offensively, and with an underdeveloped frame. But he has quickness, effort, and closing speed defensively, and the combination of Luwawu-Cabarrot, McConnell,and Robert Covington has helped elevate a team that lost a potential Defensive Player of the Year caliber player.
In fact, over the last 8 games McConnell, Luwawu-Cabarrot, and Covington have been on the court for a combined 95 minutes, a relatively small sample size in total but something to at least be able to grab an initial impression or two off of. The Sixers have held opponents to just 90.7 points per 100 possessions. For context, and context only, the Spurs have the best defensive rating in the league this season at 101.0.
A large part of the success of that group has been their perimeter defense, as they've held opponents to just 26.5% shooting on three-point attempts while they've been on the court together during that run. Three-point efficiency is a notoriously fickle stat (as Robert Covington's last 2 seasons can attest to), so that could certainly be noisy. Even a full season is sometimes not enough to strip noise and variance out of the equation when talking about three-point shooting, so 8 games certainly doesn't meet that threshold.
Yet what's perhaps the most encouraging aspect of the way they've played is that teams are attempting just 22.6 three-point attempts per 100 possessions while that trio has been on the court, a figure which ranks as the 3rd fewest in the NBA over that stretch. They've been very stingy from deep despite going up against teams that like to let it fly from deep, teams like the Celtics (39.2 three-point attempts per 100 possessions on the season, 3rd highest in the league), Mavs (31.3, 4th), Warriors (30.3, 6th), and Clippers (27.8, 10th) during that run.
The combination of those two — fewer three-point attempts given up and at a much lower percentage — suggests that, even if holding opponents to 26.5% from deep is completely unsustainable and includes a high degree of luck, the degree of difficulty has at least been amped up on those attempts, something which the Sixers' perimeter defenders do have a say in.
It's been mentioned many times before, but the defensive brilliance of Robert Covington needs to be pointed out once again. He's been incredible. His 4.21 defensive real plus-minus ranks 5th in the entire NBA, and tops for any perimeter player. His 1.9 steals per game tie him for 3rd in the NBA. Opponents shoot just 42.2% when defended by Covington, a full 3.3% lower than their season averages, including 2.4% lower from three-point range. The Sixers' defense collapses from a top-5 defense in the 2,050 minutes he's been on the court to a bottom 3 defense in the 1,436 minutes he's been on the bench.
He's been fantastic, and versatile, and fantastically versatile. The defensive core this team will have with Covington, Simmons, and Embiid next year could be something to watch.
Yet Luwawu-Cabarrot has really grown into his own over the last few weeks as well, and has given the Sixers' another strong defender on the wings. Opponents have made just 5 of their 29 three-point attempts when defended by TLC over the last 8 games, a completely unsustainable rate (of course) in a high-variance stat. But it's something which has been trending in the positive manner all season, as opponents connect on just 31.8% against the rookie on the season, and which is backed up by game tape as he's been closing out under control and contesting shots. The insane degree to which opponents are missing shots will never hold up, but that doesn't mean the defense hasn't been exceptional as well. Both can be true.
Luwawu-Cabarrot's athleticism and defensive potential have always made him an interesting prospect, to the point where I had him in the top-10 on my big board heading into last year's draft. He's exceptionally quick moving his feet on the perimeter, closes out more under control than you would expect a young kid to, and is always engaged. The defensive base he has to build upon is intriguing, and the progress he's made in converting that potential into production has been one of the real positive takeaways from the second half of this season.
What exactly Luwawu-Cabarrot will develop into is still very much in the air. Three-and-D starter? First wing off the bench? Deeper reserve? None of those outcomes seem especially off the wall, which is part of what makes the development of young players so interesting to follow.
Yet what should be known is that Sixers fans should have more confidence in Luwawu-Cabarrot now than they did at the draft last year. He very much looks to be a piece going forward, and the Sixers' growing collection of perimeter defenders could be a real strength for the next step of the rebuild. The switching, the turnovers, the pressure D to disrupt a team's rhythm. It could be really fun to watch when anchored by an elite rim protector.
Kentucky vs UCLA thoughts
Over the weekend Kentucky beat UCLA in a game featuring high profile draft prospect such as De'Aaron Fox, Lonzo Ball, and Malik Monk, all projected to be top-10 selections in June's draft.
That's of particular interest to Sixers fans because of the team's need for perimeter players.
The Fox vs Ball matchup was particularly fantastic theater, with two highly touted point guard prospects squaring off against each other. While Ball was rated higher as a draft prospect heading in (and remains higher rated by most), Fox absolutely killed this matchup, finishing with 39 points on 13-20 shooting compared to Balls' 10.
The game highlighted some of Ball's weaknesses. He struggled to create shots in the paint, instead settling for step-back 24 footers, of which he made just 1 of his 6 attempts. He was attacked mercilessly on the pick and roll and had little chance to stay in front of the speedy Fox, showing that, while he has some value as an off-the-ball playmaker on D, his on-the-ball defense is a real issue. These are all real concerns for whichever team drafts him.
Yet the Sixers are in a pretty unique spot as a team. They're not looking for the first "the guy", as most teams vying for a top-3 pick are. They're looking for a high end prospect who can complement Ben Simmons and Joel Embiid, a player who can help accentuate Simmons' and Embiid's strengths, and whose weaknesses Embiid and Simmons can help overcome. That changes the perspective in a meaningful way, especially when debating between similarly talented, but flawed, prospects.
For as talented as this point guard class is, it's very much a "pick your poison" situation, whether that poison is Dennis Smith's defense and turnovers, Josh Jackson and De'Aaron Fox's shooting, or Lonzo Ball's ability to get to the paint. The question is, in part, which poison would be a fatal flaw in the role they'll be asked to perform.
In this respect, there are a couple of more subtle aspects to Lonzo Ball's game that are important when considering a team built around the Sixers' two mainstays. First is that, while Ball absolutely does struggle defensively on the ball, his ability to force turnovers off the ball, and crash the defensive glass, would be great for the team the Sixers are trying to build.
| Player | Stl% | DRB% |
| --- | --- | --- |
| Lonzo Ball | 2.8% | 14.3% |
| De'Aaron Fox | 2.6% | 12.1% |
| Dennis Smith Jr. | 3.1% | 11.5% |
| Markelle Fultz | 2.4% | 13.9% |
| Malik Monk | 1.6% | 7.3% |
The thought of Ball, Robert Covington, and Ben Simmons on the perimeter forcing turnovers, with Joel Embiid behind them to clean up their gambles, is fun to think about, especially when you consider the wizardry of Simmons, Ball, and Dario Saric in transition. That transition skill is further enhanced by a collection of capable defensive rebounders from all 5 positions, especially when many of them are capable of leading the break themselves.
The second skill set of Ball's which makes him a good fit is his ability to cut off the ball, which he is surprisingly adept at for a point guard. Ball has a real knack for lulling his defender to sleep off the ball, setting up a backdoor cut where his size and athleticism jumping off two feet shine. In this sense, playing alongside Aaron Holiday (Jrue's younger brother) helps, as UCLA was frequently in two point guard sets because of that team dynamic. It will also help playing in a system where Ben Simmons is going to handle the ball quite a bit in the half court, and be a very useful skill considering the attention Embiid is going to attract wherever he is on the court.
Finally, and most importantly, is Ball's ability to shoot off the catch, something which you may not have noticed judging by either Ball's effectiveness Friday night or by his you'll-never-teach-anyone-to-shoot-like-that form. Yet Ball made 41.2% of his 194 three-point attempts on the season, almost all either catch and shoot or stepbacks J's. If you had to pick THE skill which is necessary to play alongside Embiid and Simmons, that's it. Ball already having that in his arsenal gives him a leg up on the De'Aaron Fox's of the world.
Ball's catch and shoot shot and cutting off the ball are key skills when projecting a shift in role from UCLA to a Ben Simmons world. His passing a huge benefit both in transition and when attacking defensive rotations caused by Simmons and Embiid. And his ability to force turnovers, grab defensive boards, and lead the break would help enhance the strengths of the potential superstars already on the team.
I'm not trying to talk you into drafting Lonzo Ball — we have months to debate that — my only real comment is yes, Lonzo Ball has weaknesses, and they were put on display on a national stage against Kentucky. The question is how important those weaknesses are in the Sixers' situation, and how well his strengths can fit into the foundation set by Ben Simmons and Joel Embiid.