Philadelphia 76ers pick up 2017-18 option on Covington's contract; The move has no real impact
Updated: Wednesday, June 14, 2017 11:17 AM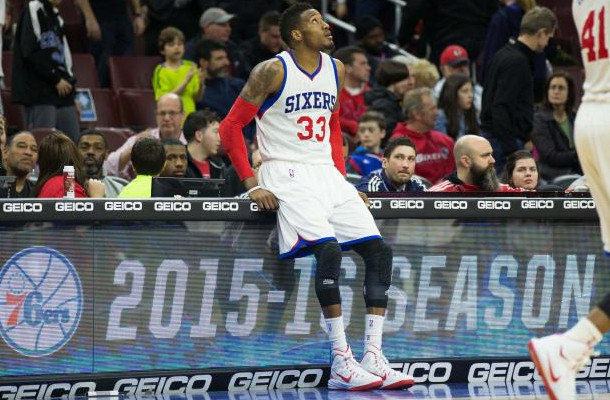 The Philadelphia 76ers announced today that they have picked up the 2017-18 option on small forward Robert Covington's contract. The Sixers had until June 24th to make that decision.
The move has little actual impact on the Sixers, as Covington is still playing on a non-guaranteed contract. Covington will receive a small guarantee of approximately $53,547 if he's still under contract on August 9th (he will be), with the rest of his contract becoming guaranteed on January 10th, according to BasketballInsiders.com. Picking up the option did not make the contract become guaranteed at this point.
In essence, the Sixers needed to pick up the option so that Covington didn't accidentally become an unrestricted free agent next month.
Covington signed a 4 year, $4.5 million contract with the 76ers in November 2014 which has become one of the best bargains in the NBA. Covington started 165 games for the Sixers over the last three seasons, connecting on 35.4% of his 860 three-point attempts while developing into one of the best wing defenders in the NBA.
The 76ers will be able to extend Covington's contract when the new CBA takes effect this July, and would be able to renegotiate and extend Covington in November, the three-year anniversary of when he signed his current contract. I detailed the Sixers' options with regards to renegotiating Covington's contract in a column last month.
During his end of season press conference, Sixers president of basketball operations Bryan Colangelo said that working on a new deal for Covington was a priority.
Covington is currently undergoing rehabilitation to return from a torn meniscus. He had surgery to address the injury on April 18th.
Full press release from the Sixers:
PHILADELPHIA, PA – 

JUNE 14, 2017

– Philadelphia 76ers President of Basketball Operations Bryan Colangelo announced today the team has exercised the contract option on forward Robert Covington for the 2017-18 season.

In 204 games (165 starts) over the course of three seasons with the Sixers, Covington holds averages of 13 points, six rebounds, two assists and two steals per game while shooting 35 percent from three-point range and 81 percent from the free-throw line. His 170 made three-pointers in 2015-16 were the fifth-most ever in a season by a Sixers player, and his 474 threes are already fifth-most in franchise history behind Allen Iverson, Kyle Korver, Andre Iguodala and Hersey Hawkins.

This past season, Covington finished fourth in the NBA with an average of 1.9 steals per game, while his total of 127 swipes on the year placed him 11th in the league. Covington, Houston's Trevor Ariza, Golden State's Stephen Curry, San Antonio's Kawhi Leonard and Oklahoma City's Russell Westbrook were the only NBA players with 125 threes and 125 steals in 2016-17.

Covington was originally signed by the Sixers on Nov. 15, 2014, after spending much of the 2013-14 season with the Rio Grande Valley Vipers, the Houston Rockets' D-League affiliate. He appeared in seven NBA games for Houston and was named D-League Rookie of the Year during an All-Star campaign.