Okafor, Covington to miss remainder of season
Updated: Friday, March 31, 2017 06:45 PM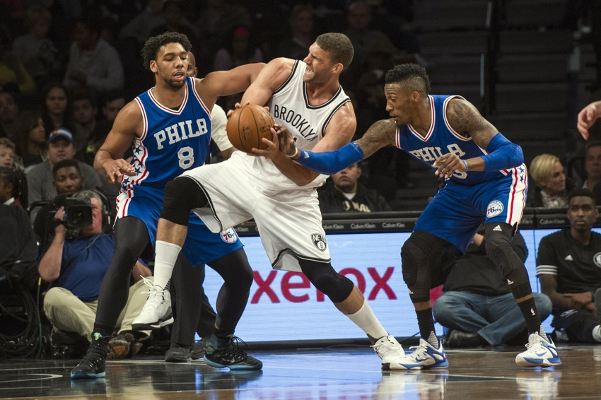 The Sixers will be without Jahlil Okafor and Robert Covington for the remainder of the season, the team announced Friday night.
Okafor will sit as a result of continued soreness in his right knee. The team says the problem, which has been lingering all season, was exacerbated in the Sixers' 122-97 loss to the Oklahoma City Thunder on March 22nd. Okafor, who played 16 minutes that night, has not appeared since.
Okafor had surgery to repair a torn meniscus in his right knee last March. At the time, the team expected him to resume basketball activities in about six weeks. Okafor, upon learning that it was his meniscus that was causing him the pain, called it a "sigh of relief".
The injury has proved to be problematic ever since.
Despite being cleared to resume on-court basketball activity last July, Okafor was limited to non-contact activity last summer as part of the USA Men's Select Team.
Okafor began experiencing pain in the knee last fall during training camp. The team, at the time, called it day-to-day. While Okafor was ready for opening night, the injury limited him to just one preseason appearance, and was on a minutes restriction to start the year.
That lasted for a little bit over a month, as Okafor began missing regular season action because of the knee on December 5th, when he missed three consecutive games against the Nuggets, Grizzlies, and Pelicans. He has been in and out of the lineup sporadically since.
In all, Okafor has appeared in just 50 games this season, averaging 11.8 points and 4.8 rebounds in 22.7 minutes per game.
Covington will miss the remainder of the season because of a slight tear of the lateral meniscus in his right knee.
Covington left the March 11th game against the Los Angeles Clippers with a limp, then sat out the game against the Los Angeles Lakers the following night with right knee soreness. He returned to play in the next 8 games, averaging 32.7 minutes per game over that stretch, then appeared to injury the knee on March 28th against the Nets. He did not play in Wednesday's game against the Hawks as the team awaited the results of an MRI on the knee.
Covington finished the season averaging 12.9 points, 6.5 rebounds, and 1.9 steals per game, while shooting 39.9% from the field and 33.3% from three-point range. Covington has been playing especially well of late, averaging 15.1 points, 7.2 rebounds, and 2.1 steals, while shooting 36.5% from three, since January 1st.