Joel Embiid, Ben Simmons won't play in Summer League
Updated: Monday, June 5, 2017 01:58 PM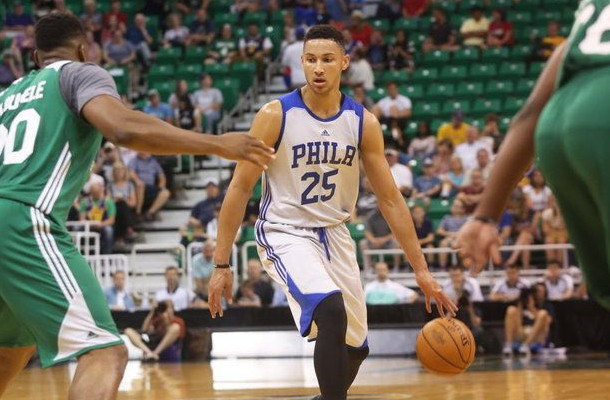 Sixers president of basketball operations Bryan Colangelo confirmed that Ben Simmons and Joel Embiid will not play for the Sixers in summer league.
"Summer League. Here we go again. They're not playing in summer league," Colangelo said when asked about their availability.
The 76ers are scheduled to compete in both the Utah Summer League, which runs from July 3rd to 6th, and the Las Vegas Summer League, from July 7th to 17th.
Simmons, the #1 overall pick in the 2016 NBA Draft, suffered a Jones fracture in his right foot on the final day of training camp last fall and did not appear in a game during what would have been his rookie season. Simmons averaged 19.2 points, 11.8 rebounds, 4.8 assists, and 2.0 steals per game during his lone season at LSU.
Embiid, who missed the previous two seasons recovering from surgeries to repair a fractured navicular bone in his foot, appeared in 31 games this year before requiring surgery to repair a torn meniscus in his left knee. Embiid averaged 20.2 points, 7.8 rebounds, 2.5 blocks, and 2.1 assists per game in his first taste of NBA action since being drafted 3rd overall by the Sixers in 2014.
Head coach Brett Brown warned fans not to expect Simmons to play in summer league during a radio interview last month, but this is the first time the team officially confirmed that neither would play.
Colangelo did say that there was a chance Furkan Korkmaz, the 26th overall pick in 2016, could make an appearance in summer league, although the details of that are still being ironed out. Korkmaz is still under contract with Anadolu Efes in Turkey, with a large ($2 million) buyout to get out of his contract.
Korkmaz has a desire to play in the NBA next year, according to Colangelo, but the buyout is difficult to navigate. The 76ers are limited to being able to contribute just $675,000 to the buyout, and the rest would have to come out of Korkmaz's post-tax player salary. With Korkmaz falling in last year's draft all the way down to the 26, the relatively low slotted salary for his draft spot ($1,026,300, with a maximum earning potential of just over $1.23 million) makes the buyout difficult for Korkmaz to reach unless Efes is willing to renegotiate the buyout.
To date there has been no indication whether Efes is or is not willing to renegotiate Korkmaz's buyout.
Still, Korkmaz is scheduled to be in Philadelphia over the next few days to meet with management, the coaching staff, and his future teammates.
"We want to get a better, closer look at him. Get him in the gym. I want the coaches to get a better feel for him before a decision is made as to what happens roster wise next year," Colangelo said. "He's athletic, agile. He's a good athlete, but he needs to put some weight on and get a little bit stronger. I think even just seeing him here working out with some of our guys will give him a better feel for where he is, and give us a better feel for how he rates right now with respect to those components of his game."
Even if a buyout isn't feasible this offseason, the 76ers would like to see him compete in the summer league.
"There's an under-20 competition that I know the Turkish National Team would like him to participate in. We would like him to participate in summer league. So that's another point of discussion that we're having," Colangelo said. "That's (summer league) not completely off the table.
"I think that Furkan should be willing to participate in the national team activity, but I would rather see it with the senior team rather than the under-20 group because I think he'll get more out of that, and that competition is later in the summer," Colangelo continued.
The FIBA U20 European Championship is scheduled to take place from July 15th through July 23rd in Crete, which would conflict with the Las Vegas Summer League (July 7th through 17th). The 2017 FIBA EuroBasket competition runs from August 31st to September 17.
"I have to call my old friend Hedo (Turkoglu), who runs the (Turkish) Federation now, to try to get that done," Colangelo joked.