Markelle Fultz highlights busy day for Colangelo, Sixers
Updated: Friday, June 23, 2017 09:35 AM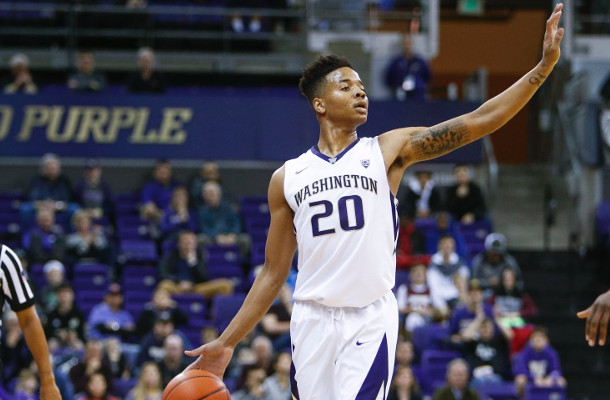 The selection of Washington guard Markelle Fultz with the first overall pick was little more than a mere formality by the time Thursday night rolled around. Ever since the trade talks surfaced a week ago, the Sixers' interest in Fultz was a surprise to nobody.
Some of the other moves, however, were, especially the decision to acquire an additional first round draft pick to select a 7'2″ center (Anzejs Pasecniks), followed by a pair of potential draft-and-stash candidates and a couple of collegiate prospects who may or may not be destined for another NBA franchise once July 1st rolls around.
We'll recap a busy night of Sixers transactions for you here, starting with the most  important: Markelle Fultz.
Markelle Fultz's offensive fit with Ben Simmons, Sixers
The Philadelphia 76ers would have had interest in Markelle Fultz based on little more than his talent level alone, as there aren't many kids capable of averaging 23 points and nearly 6 assists in major college basketball while playing at just 18 years of age. It's not as if the Sixers used the #1 pick to reach on fit. Far from it, in fact, as the majority of analysts rated Fultz as the most talented prospect in this draft.
Yet the great thing about the Sixers' ability to move up to the top pick is that this very much isn't an either/or. Fultz has the talent to lead a team offensively, while also having the diversity of skills to play off the ball to accommodate Ben Simmons. He can pick people apart in the pick and roll, or space the floor to allow Simmons to do the same. It's one thing to get three elite talents, it's another for them to be able to play well off of each other.
Brett Brown agrees.
"The study of Markelle Fultz really wasn't at a serious phase until very late [in the draft process]. And when it got discussed and you realize there's a significant chance we may end up with the first player, let's sort of pivot out of it and study Markelle's game a lot more," Brown described, discussing the shift in focus when the Celtics trade talks became substantial. "The thing that I realized is that there was no other player that I saw that was a better fit for [Joel Embiid and Ben Simmons] than Markelle.
"When you look at his ability to shoot, when you look at his ability to create on a catch-go or off a live ball, certainly in the early offense, that he can coexist with Ben and Joel the easiest out of all of the people," Brown continued. "He's a perfect complement to Joel Embiid and Ben Simmons."
Colangelo feels the same.
"He brings to the table great athleticism, he is a multi-talented in terms of his offensive skill-set, he gets to the basket, he penetrates, he's elusive, he can handle the ball," Colangelo described. "Not only with what he represents as a human being but what he represents as a basketball player, It could just not be a more ideal fit."
Over 38% of Fultz's half-court possessions came off of pick and rolls, where he was excellent both as a scorer and as a passer. Fultz shot 51.5% off of pick and roll possessions, while racking up nearly 45% of his half-court assists from the most used play type in the NBA, despite floor spacing at Washington that could only be described as horrid.  Fultz's ability to split the trap and get into the paint, combined with his ability to shoot off the dribble (42.1% fg%, 50.4% eFG%) creates a combination that is tough for teams to decide what to take away from the talented young guard.
On top of that, Fultz shot 38.3% on catch and shoot jumpers, which comes out to an eFG% of 56.7% since most of those shots are from three-point range. This is on a small sample size, since Washington didn't have many other players capable of creating open looks for their teammates, but it's a shot he should be able to improve upon with continued repetition in the NBA.
Defense an area Sixers hopeful Fultz can improve upon
Defense, on the other hand, is something the Sixers are going to have to work with Fultz to improve upon. It's a problem that's not at all unique for a 19-year-old kid, but something which will likely be a strong focus for Brett Brown and his staff early in Fultz's career.
"Most young players that come into the league need to learn a new system that the coach is teaching. Learn what it takes to guard an NBA basketball player," Sixers president of basketball operations Bryan Colangelo said. "We have a defensive minded coach who spends a lot of time talking and teaching and communicating what those objectives are. He's going to fit in just fine with that group."
It's a task Brown thinks Fultz can succeed in, thanks in large part to his physical attributes. Fultz stands 6'4″, with a 6'9″ wingpsan and quick feet that should prevent him from being physically overmatched on most nights.
"I learn the most when I can sit down in a room all by myself with the player and just talk," Brown said about the pre-draft process. "You take that experience, you weigh it up with all the intel that we now have available to us, and it points back to a high character person.
"I think that down deep he understands the knock against him," Brown continued. "If you take a high character person and you take an athlete, you have the foundation to coach him to be an elite defender."
Defense was a big reason for Washington's disappointing 9-22 record on the season. The Huskies gave up an average of 81.1 points per game, which ranked 332nd in the country, allowing teams to shoot 39.9% from three-point range (348th). Those rankings went far beyond Fultz's play, but his struggles did contribute. Opponents shot 47.2% against Fultz in the pick and roll and he allowed his man to shoot 39.8% (eFG% of 56%) on jump shots, per Synergy Sports.
Losing record at Washington not a concern
One of the frequent knocks against Fultz is that his team finished just 9-22 on the season, missing out on both the NCAA and NIT tournaments as the Huskies lost their final 13 games of the season, finishing just 2-16 in Pac-12 play.
That wasn't a major concern for Colangelo and crew.
"We've dug very deep on this and we feel that regardless of whatever the performance of the University of Washington Huskies was last year, it's not relevant to who Markelle represents, what he represents as a player, and how he is going to fit in and help us turn this program around," Colangelo said when asked about Washington's record.
When Fultz signed up to play at Washington, his expectation was to play alongside Dejounte Murray and Marquese Chriss, but both unexpectedly shot up draft boards last spring and ended up being first round picks. In addition to that, Fultz's decision to go to the undermanned team was influenced by loyalty to Washington's coaching staff, who were among the first major colleges to scout him before the then 5'9″ point guard hit a growth spurt.
The end result was a late-blooming elite prospect on a team without the talent level to even remotely compete. If De'Aaron Fox went to Washington he'd probably be labeled with the same "losing concerns" as Fultz currently is, and if Fultz was on Kentucky he'd likely be celebrated as a competitor and a leader. Situation is key here.
Getting to know Anzejs Pasecniks
The most surprising move of the day was the decision to trade back into the first round and select Latvian big man Anzejs Pasecniks.
Not that the decision to pursue another first round pick was all that surprising — Colangelo admitted to the possibility last week — but that they did so to take another big man.
Pasecniks, a native of Latvia, has played the last two seasons in the ACB of Spain, generally regarded as the toughest league in the world outside of the NBA. He averaged 7.8 points, 3.1 rebounds, and 0.7 blocks in 16 minutes per game in ACB play last year, emerging as one of the most improved players in Europe over that time. Pasecniks just turned 21 last spring.
Pasecniks' best attribute right now is as a roller in the pick and roll, where he uses his fluid athleticism, size, and emerging skill level to be a frequent roll threat. In fact, nearly a third of Pasecnik's half-court field goal attempts came as a roller, where he shot an astounding 76% from the field in such situations and shot 72.6% at the rim in the half-court overall.
Pasecniks biggest weaknesses at this stage are related to his strength and slender frame, as he struggled with physicality defensively and was pushed around on the defensive glass. He also needs to continue to develop his jump shot, where he began to show some potential this past year, but still only attempted a total of 27 jumpers on the season.
"He's a talented, 7'1 [or] 7'2 prospect, very athletic, very mobile, developing offensive game," Colangelo said when describing Pasecniks. "Just a good young talent that we've identified as a future center prospect in the game."
Colangelo said that Pasecniks is likely to stay overseas next year. Pasecniks does have a contract with his Spanish Club, Gran Canaria, for an additional two years, although there is thought to be a possibility of an NBA out at some point.
Korkmaz might come over?
Speaking of players still under contract with their international team, Bryan Colangelo spoke of the possibility that last year's 26th overall pick Furkan Korkmaz might come over, and he did so in terms far more optimistic than he ever has.
"There's the unknown of whether or not Furkan Korkmaz may come over or may not. That's appearing more and more likely based on our own desires as much as his," Colangelo said. '"We think it would be a good time for him to come, but we're working on that still."
Korkmaz, who sources say has always had a strong desire to come over to the NBA but has been restricted by a substantial buyout, is still under contract with Anadolu Efes in Turkey. With the low amount the Sixers can contribute ($675,000) and the relatively low contract Korkmaz would receive as the 26th pick, getting Korkmaz out of that contract would likely require the buyout to be renegotiated, hence Colangelo's subdued optimism.
Korkmaz averaged 10.8 points, 3.8 rebounds, and 2.2 assists per game during Turkish League play while on loan to Banvit this past season, while shooting 39.8% from three-point range.
What in the world happened in the second round? 
The Sixers ended up keeping all four of their second round picks — for now.
The team selected power forward Jonah Bolden (Radnicki Basket, Serbia) with the 36th pick, point guard Jawun Evans (sophomore, Oklahoma State) with the 39th pick, shooting guard Sterling Brown (senior, SMU) with the 46th pick, and center Mathias Lessort (Nanterre, France) at 50.
It does appear as if Bolden and Lessort will remain under 76ers control, although Colangelo said they're also likely to remain overseas for now as a rights-held player. Evans and Brown? Not quite as likely.
Milwaukee reportedly acquired the 46th pick from the Sixers, according to Shams Charania of Yahoo Sports' The Vertical. Charania also reported that the Clippers acquired the 39th pick.
Yet after the draft was complete, Colangelo spent time talking up the merits of both Evans and Brown.
"39th pick Jawun Evans from Oklahoma State. Just a really talented guard that some people thought would go even higher in this draft," Colangelo said. "46th we picked Sterling Brown, who went to SMU, and [we] had a chance to see him not only through some draft workouts but here in our own building he had a chance to come in and compete. Again, another guard prospect that brings a lot of aggression to the table, just finds ways to score, finds ways to defend. He's a big strong guard we had an interest in."
So what's the deal?
The problem could be one of finances. Heading into the day, the Sixers had reportedly already acquired $3.4 million in cash in trades earlier in the season, which put them right up against the maximum the NBA allows, which is $3.5 million for the 2016-17 season. The reason there could be a delay in announcing the trades? The NBA's financial year rolls over on July 1st, when the Sixers will have the entirety of the $3.6 million allowed for the 2017-18 season.
When asked whether Brown or Evans would be traded away, Colangelo dodged the question.
"Well, we've drafted a few players. We retain the rights to those players, and we'll see how the dust settles here in the coming weeks as to how this all plays out," Colangelo said when asked about the 39th and 46th picks. "We do own the draft rights to six players we took tonight, and we'll see how it all plays out."
Translation: don't get attached.