Sixers hope to work out Lonzo Ball, Markelle Fultz
Updated: Monday, June 5, 2017 01:02 PM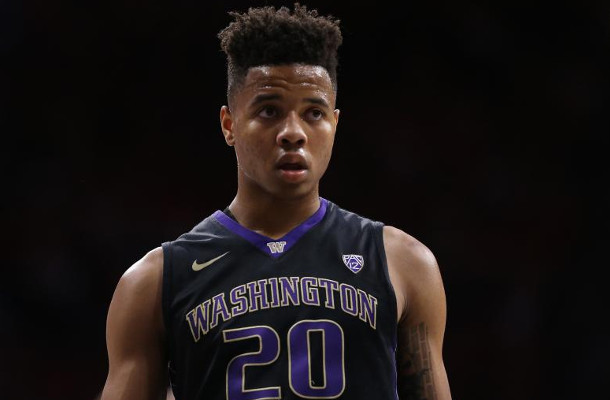 The Philadelphia 76ers hope to bring Markelle Fultz and Lonzo Ball in for workouts over the next few weeks, according the Sixers president of basketball operations Bryan Colangelo.
Philadelphia owns the #3 pick in June 22nd's draft.
"There's still ongoing discussions with his representatives as it relates to the possibility of stopping by here," Colangelo told members of the media about Fultz during a draft workout the team held this morning at their training complex in Camden, New Jersey. "We got into some conversation (earlier in the draft process) about just the what-if scenarios, and talked about reconvening some time in mid-June to discuss the possibility."
Fultz, who averaged 23.2 points, 5.7 rebounds, and 5.9 assists per game at Washington, is widely expected to be the #1 overall pick in a few weeks.
Colangelo hopes to bring Lonzo Ball in for a workout as well. While Ball is considered the favorite by some to be taken by the Lakers with the 2nd overall selection, there have been conflicting reports about the Lakers' interest level in the polarizing UCLA point guard. According to Chris Haynes of ESPN, Ball's camp is considering granting Philadelphia workout.
"It's certainly something that we would like to arrange with Lonzo," Colangelo said about a potential workout, while noting that a meeting hasn't yet happened. "We certainly have an interest in meeting and talking to all top-10 prospects. We had a chance to meet with several of them already."
Ball averaged 14.6 points, 6.0 rebounds, and 7.6 assists per game for UCLA this season, while shooting 41.2% from three-point range. He helped transform the Bruins into the best offensive team in the country.
This draft is generally regarded as having quality depth at the top, something which Colangelo agreed with. According to the Sixers' lead basketball decision maker, they're still in the process of narrowing down their exact with the third pick.
"I think that across the board you've got six or seven guys that we're still looking at and considering for [the third pick]," Colangelo said, noting the presence of both wings and guards which could fit what they're looking for. "This group is talented enough to say there's very few wrong decisions, it's just which one is the best decision."
BPA or fit?
A question that frequently comes up when discussing the Sixers' draft strategy is whether to stick to a strict adherence to best player available, or whether to heavily weigh whether a prospects fits in with the core of Joel Embiid and Ben Simmons into their decision making.
Colangelo seemed hesitant to tip his hand.
"I think we'll take the player that will best address some of the things that we want to do with our basketball team, and that fits the vision of where we want to take this basketball team," Colangelo answered. "The group of players that are available to us at #3, we're probably going to be able to address both [fit and talent] with the same decision."
Colangelo went into a little bit more detail when discussing what to look for to pair next to Simmons, last year's #1 overall pick. The LSU product is expected by many, including head coach Brett Brown, to initiate much of the Sixers' half-court offense, with Brown saying he intends to try him out in a traditional point guard role offensively.
"Whether or not Ben is the point guard of the future or whether it's an experiment or something that we go through for a time being, I think it's safe to say that his best attribute is ball handling, vision, and bringing the ball up the floor," Colangelo continued. "You probably want to put good pieces that will fit with him. And I think good basketball players, and good decision makers, and guys that get out and run and can finish in transition, and shooting, obviously, all of those things would be something that would complement Ben Simmons in that regard."
Improving jump shots in the NBA
Following up the discussion on fit, Colangelo also discussed whether shooting was something that could be improved upon once a player reaches the NBA.
"I think one thing that guys can do in the NBA is improve their shot, especially if their mechanics aren't completely broken," Colangelo discussed. "I think it's a scenario where there's time to develop their game. They don't have to run off to class or run off to some other obligation. Here they practice basketball [and] we've got a great development staff."
There are a number of players at the top of the draft who have concerns over their outside shot, whether that's Lonzo Ball and Josh Jackson's abnormal shooting mechanics, or De'Aaron Fox's ineffectiveness from the field. How the Sixers rate the likelihood of each player improving their shooting could be a major factor in which player the Sixers select at 3.
"Criticisms of shots is based primarily on what you can see from a fundamentals standpoint. Also, you can just look at the numbers and say a guy either shot the ball well or he didn't," Colangelo continued. "But we dive a little deeper with those things. We study and evaluate what the mechanics of a shot are. We take into context what a guy did across the season versus just in windows of time, and who he was playing against, and so those splits are sometimes more determinant.
"There's several players that supposedly aren't very good shooters that shot the ball very well down the stretch of the season," Colangelo went on to note.
The Sixers currently hold the 3rd, 36th, 39th, 46th, and 50th selection in June 22nd's draft.