The Curious Case Of Dante Exum
Updated: Friday, September 27, 2013 10:07 AM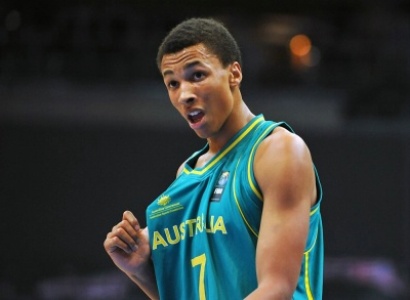 Dante Exum is an electric 6'6″ guard with incredible athleticism, ball handling, and intangibles.  The Australian has been rising up draft boards after impressive performances at the Nike Hoop Summit and the FIBA U19's. At DraftExpress, we currently have him rated 3rd in our top 100 rankings. Should the 76ers miss out on Andrew Wiggins next spring he's clearly an option, should he enter the draft.
The link between the 76ers and Exum is already established. With Exum being a native of Australia, having been in the Australian Institute of Sport that Brett Brown spoke so fondly of Wednesday, Brown has already worked with him.  Brown has already raved about him.
"He is highly skilled and he will represent Australia one day," Brown said, a year before Exum was on Australia's U17 team.  "He is a long, athletic wing with a high degree of skill. It's been a real plus for him and for us."
But there's a catch.  There's always a catch.
Because Exum won't finish high school until October, he could not enroll in college until December.  Exum has gone on record saying that if he decides to go to college, it won't be until 2014-2015 season.
So that leaves Sixers fans in a bit of a bind.  On the one hand, Brown's previous history with Exum should give the Sixers a competitive advantage, having more information on Exum the player, and person, than other teams possess, and you would want Exum to enter the draft in case the Sixers miss out on Wiggins.  But in order for that to happen. Sixers fans won't be able to see nearly as much of Exum as they would if he were to play in college.
Right now, if I had to guess, I would predict Exum will be in the 2014 NBA draft, and that's a good thing.  I just wish the situation was different and we could see him in a college setting.
(Note: this brings up a good discussion on how Michael Carter-Williams impacts your 2014 draft strategy, if at all.  But that's something I'll leave for another article).