What to look for in an effective sports owner?
Updated: Tuesday, October 1, 2013 08:00 AM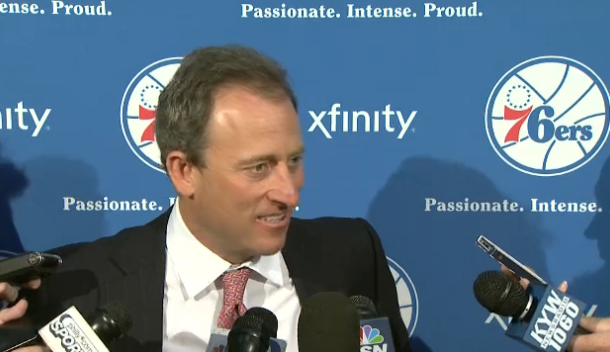 I mentioned yesterday how much confidence I have in Joshua Harris as an owner.  It's something I've mentioned before.
In the comments section of the article I wrote yesterday, a good question was raised: is it too early to have built up much trust in the new ownership group?
Why, exactly, do I have confidence in the ownership group?  The answer is impossible to come to without asking yourself exactly what you want the owner to be responsible for.
So, I started jotting down what qualities I think an effective ownership group has to have in order to be successful in owning a basketball franchise.  Note that this is coming from a fans perspective, not necessarily looking at what it would take for an owner of a basketball team to maximize his profit and return on investment.  Hopefully, those two goals are not mutually exclusive.
The financial stability to succeed
This one is perhaps the most obvious.  You have to look no further than right up the turnpike, to Joshua Harris's new baby, in order to find out why.
By all accounts, former Devils owner Jeffrey Vanderbeek had many qualities people typically look for in an owner.  A local guy and long time season ticket holder, Vanderbeek left the day-to-day operations in the capable hands of long time president and general manager Lou Lamoriello, a position that he was eventually inducted into the Hall of Fame for.
But he didn't have the assets necessary to run the team, and they lost talent because of that, eventually forcing him to sell the team this past summer.
Financial stability is very important for a franchise, particularly when they are about to enter some lean years in terms of their ability to draw fans and generate interest.  Besides cutting costs, not having the financial flexibility to withstand lean year(s) could cause rash decisions to try to revive interest and attendance, perhaps at odds with the long term success of the team.
Willingness to use spend that money
All the money in the world isn't necessarily going to guarantee that the team will be financially competitive, as fans of the Clippers well know.  Donald Sterling is valued at $1.9 billion, but that hasn't necessarily translated into a willingness to invest it in the team, at least not until recently.
But Harris and company have shown a willingness.  Sure, you could point to the Sixers being well under the salary cap as an argument for them being cheap, but that would ignore the financial flexibility the Sixers are setting themselves up to have next year.  It would also completely fly in the face of what they did in the 2012-13 season.
With the ability to use the amnesty provision, a team they thought was in contention and could use the cap flexibility to help contend, Harris was willing to bankroll a decision to pay Elton Brand over $16 million to go away.  By doing so, the Sixers had considerable salary cap room to operate with, allowing them to go out and sign players* they thought would be of more value on the basketball court.  But they still had to eat Brand's contract to do so.
(*Whether or not those players ended up working out, which they very clearly didn't, is beside the point.  Those player decisions were not his to make, the decision to eat Brand's contract was).
You want an owner who not only has the money, but is willing to spend it if he believes it can help the team.  Harris, so far, has shown he is willing to.
A disdain for mediocrity
The middle of the NBA is a quicksand, but it's a tempting quicksand.  Teams in this area of the NBA landscape may not be relevant in terms of determining the champion, but they can be relevant in the bottom line.  The stadium may not be full, but it will be significantly more filled than a last place team will be.  They'll usually have some semblance of a marketable player.
These Sixers?  They have to be a sales associates nightmare.
To avoid the mediocrity trap, you have to be willing to suffer through some incredibly lean years.  In order to suffer through those years, you have to have an incredible desire to win and a deep belief in the method of building a team.  It's a hard decision to come to.
But that's precisely what the team has done in both of the last two seasons.
After  the 2011-12 season, after having just played 6 home playoff games, the team determined it wasn't good enough.  They believed they had maxed out their talent, a refreshing realization that few teams often arrive at.  So they went out and took a risk.  We all knew Andrew Bynum's injury history, even if we thought it was somewhat mitigated by him just having played a healthy season.  You can be sure they knew there was some element of risk to it as well.  For me?  That was a risk worth taking 10 times out of 10.  But for an owner who has to foot the bill?
It's great that they're not risk averse.  Really, really great.  Because that's a trap many ownership and management groups fall into.
Not letting short term profits override long term team building
This overlaps a little bit with the previous point, but it's such a big one for me that I think it deserves its own section.
"When you own an investment, there's a lot of different stakeholders, but by and large the profit motivation is what drives you," Harris said the other day during his state of the team address.  "But when you own a sports team it's a public trust.  Winning is really important.  Winning is my primary goal."
But that wasn't necessarily the key part of his statement.  That would come next.
"I don't think [winning and profits are] necessarily inconsistent," Harris said.  "It certainly can be in the short run, [but]  I think in the long run it's not inconsistent."
That, to me, is key.  The willingness to lose money now with the belief in future rewards.
The owner nirvana is Mark Cuban, who will bankroll whatever payroll necessary for as long as necessary without much concern about ever making his money back.  And, for all we know, Harris may be willing to do that.  But expecting every owner to end up like Mark Cuban is a recipe for disappointment.
If there's one thing I've learned over my years it's that money is always a motivator.  Whether it's the guy making $40k/year wanting $60k, the guy making $3 million/year wanting $7 million, or the guy worth $2.1 billion wanting another billion, money motivates.
However, so many get caught up in the short term profit making potential that they lose sight of the long term potential, both in terms of making money and in the team.
Now, this is easy to say right now, as the $280 million investment Harris and company made has increased to an estimated worth of roughly $418 million, according to Forbes.  The philosophy of not caring about short term profit is easier to swallow when the value of the investment continues to climb.
That being said, the willingness for the ownership group to green light a series of transactions that will simply devastate them at the gate because they believe in its long term viability is a huge step.  Whether the long term goal is to make money or win a championship, or both, the willingness to take short term hits presents a general manager like Sam Hinkie the flexibility he needs.
Hiring the right people
Again, another skill that is absolutely critical.
It's also perhaps the hardest skill for a non-NBA person to have, especially when hiring a general manager.
That's not to say that business people such as Harris don't have the ability to identify many assets that make a successful general manager.  Work ethic, attention to detail, decision making process, and so on are all assets they would have valued in their day jobs.
But there ultimately has to be some level of basketball acumen to competently perform the job of being an NBA general manager.  This is the part where confidence in the ownership group could have fallen apart, even if everything else up to this point was an unqualified success.
I happen to have a lot of confidence in Sam Hinkie, and that assuages my concerns quite a bit.  If you do not, I can understand how you would question Harris's ability to hire somebody for this role. Ultimately, we'll only find out years down the road.
Be open to trying new things
The D-League is the perfect example of this, although it's becoming more and more conventional over time.
It's not so much that the owners need to be thinking up of new ways to gain a competitive edge, but they need to be willing to try the new ways that their basketball people suggest.
In Harris's case, he seems to be at the forefront for pushing much of this.  From the D-League, to advanced statistics, to a better training facility, Harris has been pushing for all of this long before Hinkie entered the equation.  These were all areas that I had been wishing the team would do more in long ago.  I'm not for them because Harris is pushing them, I'm happy that Harris is looking to correct what I had previously seen as organizational weaknesses.
The ability to know what you don't know
This is another thing Harris brought up the other day.
"Sam [Hinkie] runs the player side of the business," Harris explained.  "What you find is the way you get the best people is to empower them.  If I was meddling too much, someone like Sam or someone like Scott wouldn't really want to work for me.  They'd want to go somewhere else where they can have more flexibility and freedom."
You can hire the best people in the world, but if you're overriding their decisions, it's not going to end up working out, both because that talent will eventually leave and because the most informed person is not making the decisions.
It's one thing for Joshua Harris to say "we should use analytics more in our decision making process."  It would be an entirely different thing for Harris to tell Sam Hinkie what analytics he should be using.  As long as Harris falls in the former rather than the latter, and assuming that he has hired the right person in Sam Hinkie, his actual basketball pedigree is of little relevance.
I'm excited about Joshua Harris and his ownership team not because they're bringing in business philosophies, and not because I necessarily think that they will know the right metrics to look at in order to properly evaluate the production of a basketball player or a basketball team.
I'm excited because the direction they are taking is one that I have been a proponent of for a long time.  Because they value process over results, something that I believe in.  Because I believe they have made the right hire in Sam Hinkie.  Because I believe that Joshua Harris has deep pockets, and because I believe that he's willing to use them in order to build the best team he can.  I'm confident in the ownership group because I think they're willing to forgo immediate relevancy and money making potential for the long term health of the franchise.
I want an owner with resources, who hires the right people, and is willing to give the people he hires the freedom and resources needed to accomplish great things.  To date, everything I have seen from Joshua Harris points to him being able to do this, regardless of how much basketball knowledge he himself has.
Training Camp Notes
Moving over to the basketball court…
Spencer Hawes twisted his knee during warm-ups yesterday, resting for the remainder of practice with ice on his knee.  Coach Brett Brown thinks he's going to be fine, but it will be interesting to see how Hawes feels today and whether or not there are any lingering effects.
Lavoy Allen participated in scrimmages for the first time after missing the first two days with a knee injury.  He started at the pivot in place of the injured Hawes.
Tony Wroten was allegedly the best player on the court Monday, making a bunch of spectacular defensive plays and having Brett Brown call him "a Tyreke Evans-type player."
I like Tony Wroten quite a bit as a player, and think he could push for some series minutes at the point as well as the wing, but he's really going to have to improve his jump shot quite a bit, especially if he wants to play any serious minutes with Michael Carter-Williams.