Hot Shooting Sixers Fall to Thunder 103-99
Updated: Tuesday, October 8, 2013 08:30 PM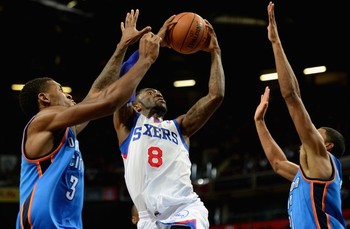 The Philadelphia 76ers connected on 12 of 30 three point attempts as they fell to Kevin Durant and the Oklahoma City Thunder 103-99 in Manchester, United Kingdom.
I'll repeat that again: The Philadelphia 76ers connected on 12 of 30 three point attempts, led by Michael Carter-Williams (3-5) and Tony Wroten (4-8), with James Anderson (2-5),Thaddeus Young (2-2), and Khalif Wyatt (1-3) chipping in as well.
Thaddeus Young made only two three-pointers in the previous 2 seasons combined.
Shooting is a major concern for all of those players, so tonight's performance is noteworthy if for no other reason.
I've mentioned before how much Carter-Williams and Wroten have struggled shooting, especially Wroten.  There is a table in the previously linked article that is not pretty for either player.  There's obviously a heck of a lot more basketball to be played, and it's far too early to expect Brett Brown and his player development-focused staff to have made major inroads fixing their shots, but It's nice to see the ball go through the hoop regardless.
Tony Wroten was the player of the game for the Sixers, scoring 20 points in only 21 minutes off the bench, shooting 5-13 from the field, 4 for 8 from the three point line, and getting to the line 6 times.  The major concerns he's always had (shooting and playing in control) are still there, but there's something to work with if he can figure those aspects of the game out.  He also made a couple of nice passes, another aspect of his game that could be of value should he pan out.
Evan Turner also had himself a good game, scoring 19 points (7-16 shooting), with 7 rebounds, 4 assists, and only 1 turnover.  Had he made his free throws (he shot 5-10 from the line) he would have had an even better night statistically.
From the looks of things, Turner looks to be in significantly better shape.  Whether or not that will allow him to be a significantly better player remains to be seen, but he seems to be getting into the paint a little bit easier, and didn't seem fatigued today, even late into the fourth quarter.
Michael Carter-Williams hit three three-pointers early in the game, then was relatively quiet for the rest, scoring only 2 points in the second half.  He has so far been fairly inconsistent in just about every phase of the game, not all that unexpected for a rookie point guard.  This, to me, has been especially true on the defensive end, where he has gone from showing great attention, fighting through screens, and peskering his man on the perimeter to his attention waning and getting smothered by screens.  I would expect this will be a very up and down season for Carter-Williams, and to not get too caught up in the game to game fluctuations.
I don't want to try to take too much away from early preseason games, but the overall effort level has been good, and the "watchability" has been far more than I expected going in.
Overall, the Sixers have given good effort in both games so far, have gotten into the paint, avoided taking too many long two's, and played tough defense.  If the Sixers could somehow dial up 82 of games like this, it would be much more enjoyable than many of Sixers fans expected.