The Sixers, Like Golden State, Won't Be Built in a Day
Updated: Sunday, April 26, 2015 03:57 PM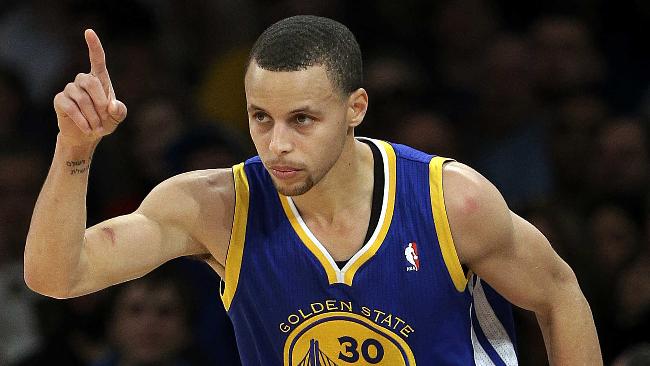 One of the frequent complaints about the method that Sam Hinkie is taking with the Sixers' rebuild is the time it is taking to implement.
"Why can't they  rebuild their team like Golden State did?"
The thing is, Sam Hinkie and the 76ers really are going about the rebuild much in the same way the Warriors did.
We tend to look at teams like the Warriors for the behemoth that they've become, forgetting the long and arduous path, a path filled with missteps and mistakes, it took for them to get there.
Long before the Splash Brothers were a thing in Oaktown, the Warriors were just a bad team looking for an identity. As Golden State transitioned away from the Jason Richardson and Baron Davis-led team to a younger rebuild, they struggled. They drafted Andris Biedrins and Monta Ellis in consecutive years, serving as a hopeful bridge between the old team and a new identity, but that wasn't enough. They needed more.
During this time, the Warriors had some questionable draft day decisions. The Warriors wasted lottery picks on Ike Diogu (9th overall in 2005), Patrick O'Bryant (9th in 2006), Brandan Wright and Anthony Randolph (8th and 14th in 2008), and Ekpe Udoh (6th in 2010). None of these players would yield any significant results, and none of them would play more than 2 full seasons in Golden State before being shipped out. Diogu, O'Bryant, and Randolph aren't even in the NBA anymore.
Golden State Warriors 1st Round Draft Picks
Between 2005 and 2012
| Year | Pick | Player | WS w/Warriors | Notes |
| --- | --- | --- | --- | --- |
| 2005 | 9th | Ike Diogu | 3.2 | Spent 1.5 yrs in GS. Not in NBA anymore |
| 2006 | 9th | Patrick O'Bryant | 0.2 | Spent 2 yrs in GS. Not in NBA anymore |
| 2007 | 18th | Marco Belinelli | 0.5 | Spent 2 yrs in GS |
| 2008 | 8th | Brandan Wright | 3.4 | Traded Jason Richardson to acquire. Spent 2.5 yrs in GS |
| 2008 | 14th | Anthony Randolph | 3.1 | Spent 2 yrs in GS. Not in NBA anymore |
| 2009 | 7th | Stephen Curry | 53.7 | |
| 2010 | 6th | Epke Udoh | 1.6 | Spent 1.5 yrs in GS |
| 2011 | 11th | Klay Thompson | 21.5 | |
| 2012 | 7th | Harrison Barnes | 12.7 | |
The selection of Udoh, especially, hurt, as the Warriors passed on Greg Monroe, Gordon Hayward, and Paul George in the draft. It was a string of incompetence through the draft that made it seem like the Warriors would never find their footing.
With such a dismal track record in the draft and having gotten rid of the veterans in Davis and Richardson that made them relevant, the Warriors struggled, finishing their first season without Richardson or Davis with a 29-53 record.
That disappointing season led the Warriors to a high lottery pick, and also a new general manager, as they declined to offer Chris Mullin a contract and replaced him, first with Larry Riley in 2009, then Bob Myers in 2012.
Riley's first decision — if it was even his to make, as Riley was in a power struggle with his former boss, head coach Don Nelson, at the time — was a risky one, using a high lottery pick on a small guard from a small school, despite the fact that they had a 23 year old dynamic scoring guard already on their roster.
It was the type of decision that ended up changing the franchise, although at the time nobody was sure that it would. Even the Warriors, apparently, had their doubts, as the Warriors nearly traded away their future savior for Amare Stoudemire. A big man was a more pressing need than another combo guard, after all
"I think we felt like from our side that if Steph dropped to seven, where they were picking, that we were going to get a deal done," Steve Kerr, then GM of the Phoenix Suns, would go on to say years later.
That kind of organizational ineptitude, with that horrid draft record and a front office who almost traded away the best thing to happen to them before he even suited up, is amazing when you look back on it. My how the benefit of hindsight can change an organization's reputation.
That draft day decision to ignore positional needs and take a gamble on Stephen Curry didn't pay immediate dividends, as the Warriors, despite a huge from where Monta Ellis that saw him score over 25 points per game, won only 26 games in the process. The Warriors tied for the 4th worst record in the league.
While Curry had a good rookie season (17.5  points, 5.9 assists, 46% from the field, 43.7% from three), some questioned how much room he had to grow with his limited athletic profile. Were Curry and Ellis good enough to overcome their defensive shortcomings and make the Warriors relevant? After two straight seasons with wins in the 20's, fans in the Bay Area became wrestless.
Curry's second season provided a little bit of optimism. While the Warriors were still far away from making the playoffs in the stacked Western Conference, they would go on to win 36 games. Their defense was still one of the worst in the league, but they were exciting, at the very least.
The strike-shortened season, now Curry's 3rd in the league and the Warriors 4th since they started to rebuild, provided little reason for optimism. The Warriors finished the year with their 4th straight losing season at 23-43, trading away their previous franchise player Monta Ellis for an injured player who wouldn't play for the remainder of the season, tanking their way to a 5-22 finish in a desperate attempt to keep their draft pick, which they would have shipped out to Utah if the pick didn't fall in the top-7 in the draft. The Warriors heroic tanking efforts landed them the 7th pick in the draft.
Here the Warriors were, in the 4th year of a rebuild, the 3rd year since drafting their franchise player, and without a winning record in any season to show for it. They had just traded away somebody they previously regarded as the face of the franchise and completed one of the more shameless tanking jobs in recent memory, a desperate measure to keep a pick that had no guarantee of working out.
The rest, of course, is history. Andrew Bogut, said player acquired in the Ellis deal who couldn't play for the remainder of the season, provided a defensive presence the Warriors desperately needed. The lottery selections of Curry (7th overall), Klay Thompson (11th overall in 2011), along with 2nd round steal Draymond Green (35th overall in 2012) overshadowed their previous draft night mishaps. As this team grew together, and developed both individually and as a team, they became unstoppable.
A team, making a rebuild, moving on from an administration with a horrible track record, taking years before they made substantial progress despite hitting big in the draft, having to move on from young players they previously thought of as building blocks but who didn't fit anymore, and blatantly tanking to keep a draft pick. Does that remind Sixers fans of anything?
Sure, the Sixers may have been more egregious, but is winning 26 games really all that different than winning 19 or 18? No player on that pre-Curry Warriors team is still with Golden State, just like very few players on the Sixers before Hinkie took over were ever likely to be there when the team was relevant again.
The core tenet of what the Sixers are doing, to identify building blocks in the draft, is the same way Golden State climbed to relevance. The rest is noise. And the success of the Sixers rebuild, like Golden State's, will be determined by whether or not the Sixers front office is successful in identifying and developing a cornerstone in the draft. If they are successful, this era of Sixers basketball will be a footnote.
That climb by Golden State, with all the missteps and uncertainty, is ancient history now, washed away by the glory of victory. It's a tale that is frequently repeated by rebuilding teams. Rarely is certainty given to a fan base immediately after a front office begins a rebuild.
Here we are, just finishing up year 2 in Sam Hinkie's rebuild, and after only 1 draft where the Sixers were positioned in the top-10 heading into draft night. Despite a potential game-changer defensively and a potential franchise center to show for the last 2 drafts, many are restless. Proof that the Sixers are destined for success may not be available, as it rarely is this early in a rebuild, but reasons for optimism and excitement are.
It's more the brazen nature of how Hinkie's going about the process that is different from other rebuilds than it is the actual process itself. The Sixers, like Golden State and many before them, will be relevant when they draft and develop superstars.
That process, like in Golden State, isn't an overnight process. Next year, when Embiid and the Sixers 2015 draft pick begin to play, the similarities between the Sixers rebuild and that of past teams, like Golden State, will become more apparent. "The plan" will begin to look more like a rebuild and less like the abomination it has been portrayed as.