Sixers defeat Celtics 97-85 at the Bob
Updated: Saturday, October 12, 2013 01:07 PM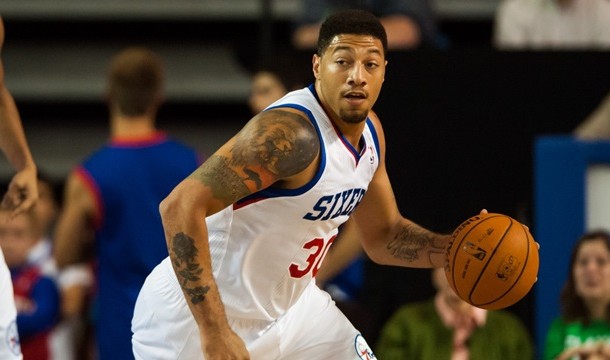 The Sixers defeated the Boston Celtics 97-85 at the Bob Carpenter center last night.  You may not have noticed, as the game was not televised locally, which is ridiculous in itself.  If you wanted to see the game, you either had to travel down to Wilmington or make do with a crappy internet feed of the Boston broadcast.  It's also, to my knowledge, going to be that way for the remaining 4 preseason games.   Shame on everyone involved.
For those that did get to watch, it was another surprisingly entertaining and relatively well played game from your favorite tanking NBA team.
What could you take from it?
The team didn't shoot the lights out like it did against Oklahoma City.  They went 5-16 from three point range and a horrible 16-27 from the free throw line.  This is more along the lines of what I would expect to be the norm, rather than the unexpected 12-30 from three point range against the Thunder.
They also turned the ball over an astounding 25 times, continuing what has been a bad trend so far this preseason as they have accumulated 71 turnovers in only 3 games.  This will put a ton of strain on the defense if they maintain this level of carelessness with the basketball.
What is perhaps most incredible when charting the game is that, despite the Sixers turning the ball over so frequently, they pushed the ball significantly more than Boston did.  While Boston pushed the ball out of steals more than the Sixers did (14-11 in favor of Boston), the Sixers pushed the ball nearly twice as frequently as Boston did overall.  The difference came mostly off of defensive rebounds, where the Sixers pushed the ball 38 times to Boston's 14, nearly 3 times as frequently.
According to Tom Moore, that's not enough for Sixers coach Brett Brown.
Improved shot distribution
Last year the Sixers led the league in long two point jump shots, frequently cited as the worst shot in basketball.  This was likely a combination of accumulated talent that already had tendencies for pull-up, long two point jump shots (Evan Turner and Jrue Holiday, specifically), and a coach in Doug Collins who didn't do enough to de-emphasize that shot, or perhaps even encouraged a player to move in (Thaddeus Young).
So far this preseason, that trend has been reversed.  Again, part of that is likely that Michael Carter-Williams and Tony Wroten do not rely on the shot as much as Jrue Holiday, but part of that is most definitely a team focus coming down from Sam Hinkie and Brett Brown.
Thaddeus Young has already taken nearly as many three pointers in three preseason games (7) as he did in 76 regular season games last year (8).  Spencer Hawes and Young have clearly made an effort to take 2 steps backwards and convert those long two point jump shots into three point attempts, both to fairly good success.
In the Boston game, the Sixers had 3 midrange jump shots charted, compared to 20 for Boston.  Predictably, those three possessions that ended in midrange shots yielded a grand total of 2 points.  Predicted value for the win.
Another telling note was that the Sixers attempted only 6 post-up attempts last night, compared to 20 for Boston.  This, however, is much less of an organizational philosophy than it is a limitation of player skills, as the Celtics with Jared Sullinger are much better built to generate offense in the post.
Off the ball movement
Another area that has looked greatly improved (and partly responsible for the improvement in shot distribution) has been the off the ball movement.  Whereas last years team was highly reliant on pick and rolls, dribble hand-offs, and isolation plays to try to generate offense, the Sixers so far have done a much better job of setting screens off the ball and making hard, quick cuts to the basket.  With Michael Carter-Williams, Tony Wroten, Spencer Hawes, and even Evan Turner when he's not busy dribbling the air out of the ball, all capable of making good passes to cutters, this is something Brown will hopefully spend a lot of time working on.
Ultimately, their inability to shoot from the perimeter will limit this somewhat, as defenders will be able to sag off of their man and help slow down players who were freed from good screens, but the ball movement, screen setting, and cutting, particularly with the first team, has looked very good so far.
Michael Carter-Williams ball control
Michael Carter-Williams had a fairly pedestrian stat line, with 6 points, 6 rebounds, and 6 assists on 6 field goal attempts over 30 minutes of play last night.  He failed to make a three pointer and didn't get to the line at all.  However, so far the rookie has played in 79 minutes, accumulated 16 assists and has only one turnover, an astounding improvement for somebody who averaged 3.4 turnovers per game during his final year at Syracuse and 4.8 per game during the summer league, the worst mark in Orlando.
Carter-Williams has done a good job keeping control of his dribble during the preseason and has also avoided forcing passes, which was more of his problem in college than ball handling was.  He hasn't been all that aggressive looking for his own shot, which partly explains his lack of turnovers, but he's done a very good job of letting the game come to him.
Royce White's debut
Royce White made some nice plays in his debut as a Sixer, going coast to coast for his first basket and making another driving dunk, showing off his ability as a ball handler.  However, White clearly showed he is not up to game speed by picking up 5 fouls in under 10 minutes of play, playing defense more with his arms and hands than by moving his feet.
That should improve over time as he gets up to game speed.
Other observations:
Thaddeus Young looks to have improved his ball handling, particularly with his right hand.  He looks more comfortable creating for himself on the perimeter, which would allow him to use his speed more effectively.
That being said, the bigs overall seem to be a little too eager to push the ball in transition themselves than I'd like, with Young, White, and Hawes all doing it last game.  While it's nice that they can mostly pull that off, it's not something I want them doing with regularity.
The Sixers bigs still struggle to set proper screens.  They're making better contact now, but they got called for 4 offensive fouls last night by moving when setting the screen.  While sometimes this is on the ball handler for going to quickly before the screen is set, they have to have the awareness to let the defender by if they're not in position.
Tony Wroten had his worst game of the preseason, but still did some good things, particularly with his presser defense and passing.  He doesn't always have the best accuracy on his passes, as they're frequently either have too much zip on them or are off target, or both, causing the big or spot-up shooter to expend a second or so gather himself before going up, and time which is critical in order to get the shot up uncontested.  However, Wroten's court vision is definitely an asset of his.
James Anderson continues to play a good all-around game.   Besides making 6-12 from three point range so far on the season, he's also showing off some of the versatility that made him such a good scorer at Oklahoma State.  Overall, all of the wing players that Sam Hinkie picked up on the cheap this offseason (Tony Wroten, James Anderson, Vander Blue) appear to be showing signs of life.
The Sixers next game is Monday against the Brooklyn Nets at the Wells Fargo Center.