Rumor: Timberwolves interested in Evan Turner
Updated: Friday, October 18, 2013 01:14 PM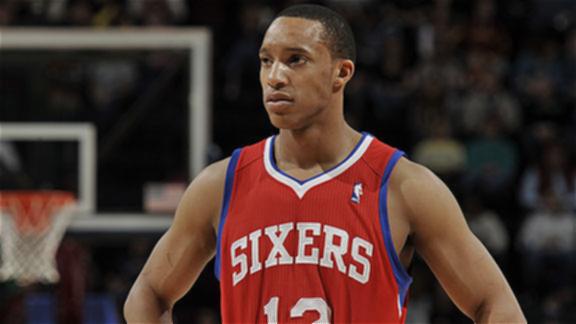 According to a report from @MySportsLegion, the Minnesota Timberwolves are interested in adding another perimeter player and have interest in trading for Evan Turner.
Report: T-Wolves are looking to add another combo wing player and have interest in trading for 76ers guard Evan Turner.

— NBA Legion (@MySportsLegion) October 18, 2013
No mention of whether or not the two sides have had conversations or whether the Sixers have any interest in what Minnesota has to offer.
Minnesota currently owes their 2014 first round draft pick (lottery protected) to Phoenix and do not have any additional first round picks coming in, so they do not have a first round draft pick that they are eligible to trade until 2016.  They do have two extra second round picks in the upcoming draft (from Golden State and New Orleans).
The Timberwolves are currently well over the salary cap, and do not have much in the way of expiring contracts, with only Dante Cunningham fitting that description.
They do have Derrick Williams and Ricky Rubio who have team options for next season, which Minnesota has until the end of the month to decide whether they want to pick up those options.  Obviously, Ricky Rubio is not being traded for Evan Turner, and I would assume they value Derrick Williams more than Turner.
The lack of a first round draft pick and expiring contracts makes me think there's not much here, but we shall see.  Should the Wolves determine they will not pick up Derrick Williams' 4th year on his contract and would be willing to include him, I could see Hinkie taking him in on a buy-low situation, but I think that's unlikely.
The acquiring team would have bird rights on Turner for next season if they acquire him via trade, regardless of whether they acquire him now or at the deadline.