Thoughts on Sixers Media Day
Updated: Saturday, September 28, 2013 08:00 AM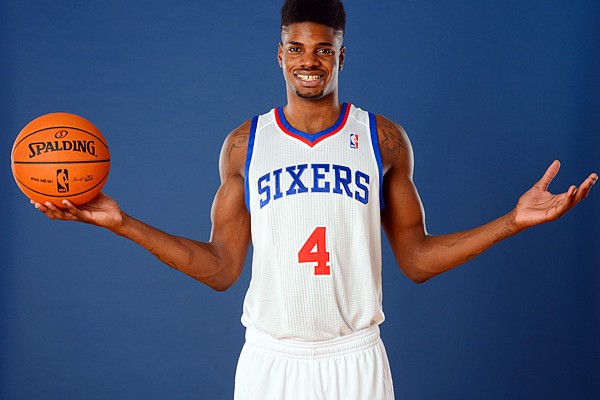 Sixers media day has come on gone, which marks the unofficial start of basketball activities for the 2013-2014 NBA season.
It's also one with an incredible amount of noise.
Not that there aren't good pieces of information buried in there, but you tend to get premeditated responses.  Much like the players getting their picture taken in various basketball and non-basketball poses, most of the answers seem carefully rehearsed.  Well, when they don't forget the microphone is on.
As such, I try not to read too much into what is said, specifically by the players.  But here are some of my thoughts on what was said at media day.
Royce White plans to go with the team to Europe
Royce White revealed yesterday that he intends to fly with the team when they head to Spain for the first exhibition game on October 6th.
"I think the most glaring [misconception] would have to be that I can't fly or that I won't fly," White said.  "[The plan is] for me to fly when I can and drive when I can't."
"I think a lot of people think that [White and the Rockets] went through a situation that was really hostile," White said.  "And it really wasn't. It was more so a legislation thing."
When White was asked about his aspirations for this year, he was pretty reserved.
"Being able to play.  Play a game.  Right now based on last season I set my goal pretty low."
White also continued to focus on his positive relationship with Sixers general manager Sam Hinkie, who was with the Houston Rockets last season.
"I always liked Sam," White said.  "He was always a real reasonable voice through all the progress that was being made in Houston and I look forward to our relationship here."
Fitness still a focus.
When asked about what they've talked to new head coach Brett Brown about so far, the answer was almost unequivocally fitness.
"I think all we've talked about [so far] is fitness," Lavoy Allen said, regarding the conversations he's had with Brown.
Sixers rookie and fellow Temple University product Khalif Wyatt shared a similar sentiment.
"Coach Brown, actually, every time he speaks to me he speaks to me about fitness," Wyatt said.
"He told me from the jump that he wanted me to be fit," said newcomer James Anderson.
You could go through all of the players transcripts and find similar quotes from virtually every one.  As I mentioned the other day, it's something Brett Brown strongly believes in.
Thaddeus Young to play both forward positions
Thaddeus Young said that he's talked with coach Brown, who wants him to play both forward positions.
"He wants me to play 4, [and] he wants me to play 3," Young said.  "Be that guy who can play a variety of positions and defend a variety of positions."
Evan Turner's thoughts on the Jrue Holiday trade
Evan Turner was asked what he thought about the Jrue Holiday trade, and he said he was shocked.  He also said he thought there was a chance he might get traded, but was just hoping that it was to someplace warm.
Best quote of the day – Sam Hinkie
The best quote of the day goes to Sam Hinkie, who dropped this gem.
"You eat what you kill," Hinkie said, referring to having a wide open training camp without much in the way of clearly defined roles.
Worst quote of the day – Evan Turner
The worst quote of the day award goes to Evan Turner for dromping the F bomb while being streamed live on sixers.com.  Turner didn't know the microphone was live when he said it.
If you haven't yet seen the video, you can check it out on youtube.  Obviously, it's not safe for work, or little kids.  (h/t to @MaxaMillion711).
Regardless of whether Turner thought the mic was live or not, dropping MF'er into a microphone with dozens of reporters around seconds before you expected to be recorded was probably not the wisest of moves.
Training camp starts tomorrow at St. Joseph's University.  Basketball is finally upon us.