Joel Embiid has a torn meniscus in his left knee
Updated: Saturday, February 11, 2017 06:49 PM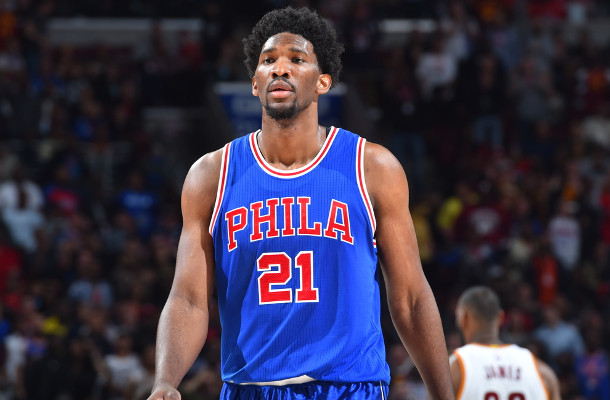 Joel Embiid has a torn meniscus in his left knee, according to multiple sources with knowledge of the situation.
The tear was discovered after Embiid underwent an MRI following a 93-92 victory on January 20th over the Portland Trailblazers. Embiid left the game in the third quarter with a left knee contusion after landing awkwardly following a drive to the basket.
There is some thought that the torn meniscus could be a pre-existing condition which an ensuing MRI discovered, rather than caused by the fall on January 20th, although the two injuries being related has not been completely ruled out.
The tear is a low-grade tear and is not expected to require surgical intervention. It is unclear whether the tear is contributing to the soreness and swelling which has kept Embiid out of 11 of the last 12 games, including the last 8 in a row.
Embiid has been ruled out of tonight's game against the Miami Heat, and there is a good chance he will remain out through the All-Star break, according to a source with knowledge of the situation.
Embiid missed the three games immediately following the original diagnosis of a left knee contusion before appearing in a January 27th nationally televised game against the Houston Rockets. The team ran Embiid through a series of tests prior to playing him against the Rockets, according to a league source, and he was experiencing no pain or discomfort at the time. The rookie scored 32 points to go along with 7 rebounds, 4 assists, 3 steals, and 2 blocked shots in 28 minutes of play.
After the game Embiid said he had to convince the team to allow him to play.
"They didn't want me to push it. They didn't want me to play at all, and I had to convince them," Embiid said at the time. "I went through the warm-ups and shootaround this morning. I felt pretty good and they let me play."
Sixers president of basketball operations Bryan Colangelo told 94 WIP's Carlin and Reese that Embiid began to experience swelling in the knee two days after the Houston game. Embiid has not played since.
Neither the knee contusion nor the meniscus tear are expected to be long-term concerns, according to sources, and Embiid is considered day-to-day. He did take part in today's shootaround before the game against the Miami Heat.
"I'm not healthy", Embiid told Jessica Camerato of CSN Philly after today's shootaround. "It's been on and off. Work out and then (the knee) swells up a little bit, and then I got to slow it down. It's all about patience."
The 22-year-old, drafted with the 3rd overall pick in the 2014 NBA draft, is averaging 20.2 points, 7.8 rebounds, 2.5 blocks and 2.1 assists per game in 31 appearances on the season.