Dario Saric will likely win Rookie of the Month. Is ROY possible as well?
Updated: Sunday, February 19, 2017 07:32 AM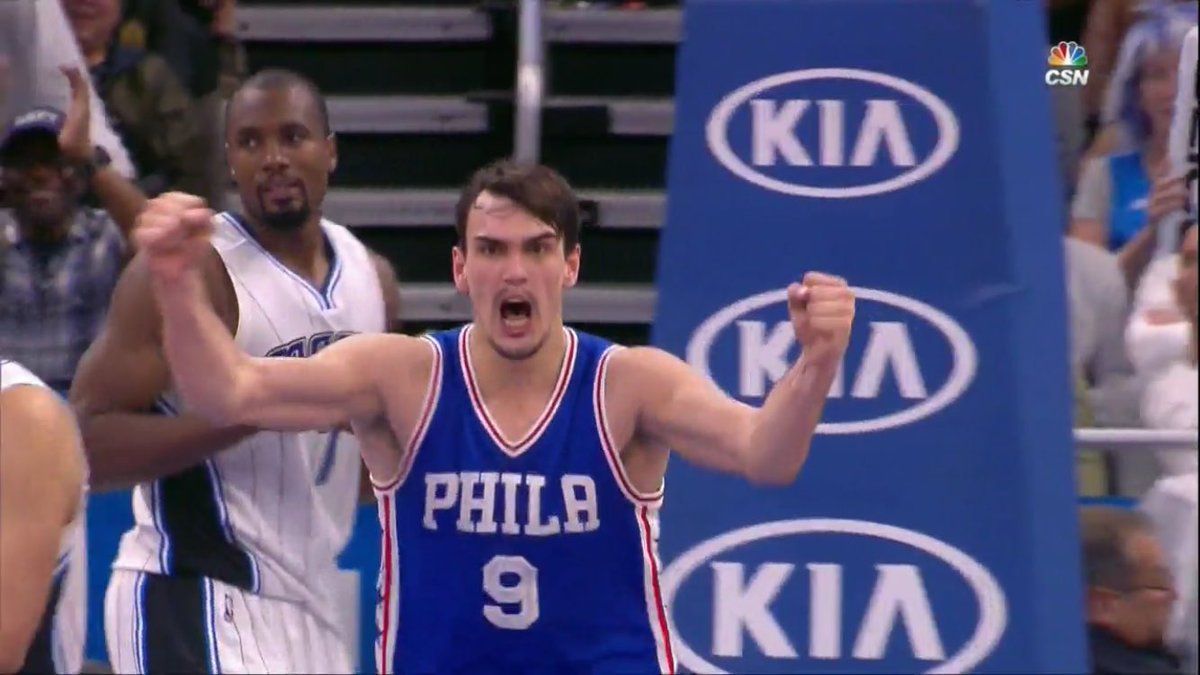 Sixers center Joel Embiid has had the Eastern Conference Rookie of the Month awards on lockdown so far this season, having won the award for each of October/November, December, and January. As long as Joel Embiid has been on the court the award's been his almost by default.
But Joel Embiid's absence — he hasn't played a game since January 27th — has created a vacuum, an opportunity for some of his peers to come in and claim some recognition.
One such peer is fellow teammate Dario Saric, who just so happens to be having the best month of his rookie season.
As we sit here during the All-Star break Saric is averaging a team-high 16.0 points, 6.9 rebounds (also a team-high), 2.0 assists, and 1.1 steals in 9 February appearances, shooting 44% from the field and 30.6% from three-point range. His play has been particularly strong of late, with averages of 20.6 points, 7.4 rebounds, and 2.2 assists per game over his last 5.
Two questions we'll take a look at here: What's been driving Saric's strong play, and can he not only win Rookie of the Month for February (which he seems to be, by far, the frontrunner for) but also challenge for Rookie of the Year if Joel Embiid continues to miss time?
(Note: starting March 1st Sunday columns will be available to subscribers only. Sign up over at patreon.com and help support independent sports journalism). 
* * * * The improvement * * * *
When we talk about Saric's improved play we're really talking about the last 5 games. Prior to that he still looked very much like a player trying to navigate through the rookie wall, as he averaged just 10.3 points and 6.3 rebounds, while shooting 30.6% from the field and 21.1% from three-point range, over his first 4 February performances. In fact, Saric was shooting just 36.2% from the field and 27.6% from three-point range during his first 19 games of 2017. This 5 game stretch really did come out of left field.
| Time Period | Min/g | Pts/g | Reb/g | Ast/g | FG% | 3pt% | TS% |
| --- | --- | --- | --- | --- | --- | --- | --- |
| Start of season -> Feb 7th | 24.1 | 9.9 | 5.8 | 1.7 | 37.7% | 32.1% | 47.7% |
| Since Feb 8th | 27.8 | 20.6 | 7.4 | 2.2 | 52.6% | 36.7% | 63.0% |
(How Dario Saric has fared over his last 5 games, compared to his averages up to that point on the season.)
The easiest place to start is his shooting, and his three-point shooting specifically. At 6.0 attempts per game, which is what Saric is averaging over his last 5 games, the difference between 32.1% shooting (what Saric had been averaging up to that point in the season) and 36.7% shooting (what he's done over his last 5 games) comes out to a little less than a point per game. Even at a 45.5% clip, a clearly unsustainable rate which is what Saric was shooting over a 4 game stretch from February 8th to February 13th, we're still only talking about a 2.4 point per game bump.
The shooting's helped, but by itself hasn't been the driving force behind his improved play.
Which is probably good since there's really not a whole lot to suggest Saric's recent three-point shooting is anything but a hot stretch from a player who has been hot and cold all year.
Saric's form on his jump shot looks the same, with no real difference in footwork, follow through, or arc on his shot. The degree of difficulty on his shots hasn't really changed, either: over 90% of Saric's three-point attempts prior to February 8th came with 4+ feet of space between Saric and the defender, where he shot 34.3% on such attempts. He's always gotten open looks, he's just making more (37.9%) of late. The Boston game, where Saric shot 1-8 from downtown, is evidence that his recent touch from deep is probably fleeting in nature.
(Note: that's not to say that Saric won't improve as a three-point shooter over time. He probably will. But that improvement is likely to come as a result of an offseason or three of concerted effort to extend his range out to the NBA three-point line, and from a summer where he's not run into the ground with international obligations. For now, it's probably best to treat hot and cold spells as temporary in nature and to expect a little bit of inconsistency for the rest of the season). 
The value of the three-point shot has always extended far beyond the extra point it generates, however, with the floor spacing benefit it provides just as, it not more, important in the grand scheme of things. That spacing helps not only his teammates but also Saric himself, providing him driving lanes that may not exist if defenders don't have to close out aggressively to contest his shot.
Saric is never going to be mistaken for a track athlete, and forcing a defender to aggressively close out on him, or even just defend him tight on the perimeter, could be the difference between a contested 10′ and an open floater in the lane, which goes a big way towards making Saric a little more diversified, and consistent, of a scoring threat.
Beyond just his three-point shooting, a big part of what has made Saric more effective in this recent stretch of play has been his effectiveness both off the dribble and near the basket.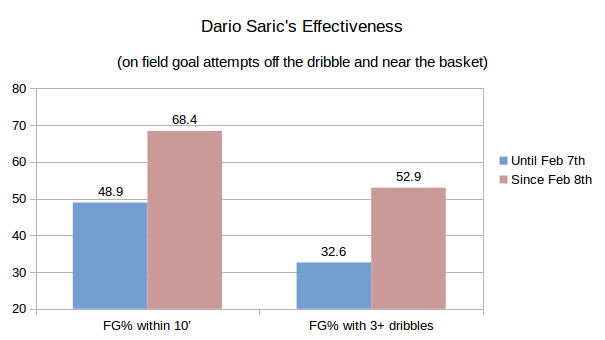 Being more of a threat on the perimeter certainly does help open up driving lanes., but there's more to that improvement than just that. A lot of that improvement has to do with what the team is doing around him, which has allowed Dario to play to his strengths more than he did earlier in the season.
Over the last 5 games the Sixers have been averaging 24.4 points off of turnovers per game (best in the league over that span) and 19.8 points per game on fast breaks (3rd). The 12.2 steals per game they've generated over the last 5 games is easily the best in the league, with Golden State (11.0 per game) and Milwaukee (10.6) the only other teams even in double figures.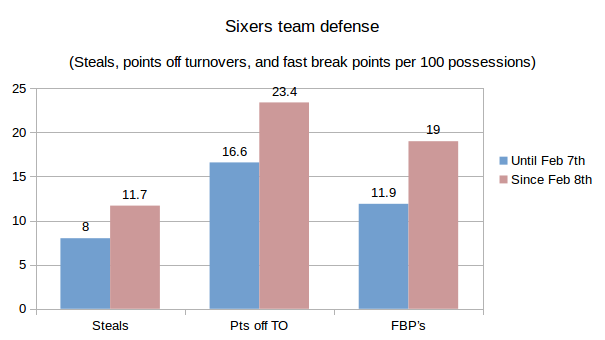 Over the last 5 games the team has forced turnovers both with and without Saric on the court, as the team has averaged 12.9 steals per 100 possessions even with Saric on the bench, so I don't want to make it seem like Saric is the reason they've been so effective at forcing turnovers. But the team picking up their perimeter defense has certainly benefited Saric immensely, both in that he is a maestro at pushing the ball in transition and because it allows Saric to attack a defense before it is able to get set, making him both a more effective set up man and also a more consistent scoring threat.
(Related: the team forces just 7.9 steals per 100 possessions with Okafor on the court over the last 5 games, compared to 13.9 per 100 with Noel on the court over that same span. With the deadline approaching, Okafor might be some other team's square peg to try to fit into a round hole, as this team certainly thrives when it can force turnovers and get out on the break, and Okafor has always hindered that). 
In fact, the change has been rather drastic, transforming Saric from just a halfcourt (inconsistent) floor spacer and back into the creative transition threat we saw in Europe. Prior to February 8th just 7.9% of Saric's points came off of turnovers. Since February 8th that's jumped to over 27%. He jumped from scoring 0.8 fastbreak points per game to 5.6. From 2 points per game off of turnovers to 5.6 (Symmetry!). That NBA length and athleticism that previously ate him up is now out of position, in spots where Saric's craft and basketball IQ have become more important than sheer speed and athleticism. It's been a joy to watch.
Can this Sixers defense, and ability to force turnovers and get out on the break specifically, sustain itself? Probably not to the "best in the league" degree it's currently operating at, but the team certainly has the type of personnel to force turnovers at a high rate, especially with Noel returning to a consistent role, with McConnell developing like he has and assuming a bigger role, with Covington's evolution into a consistent defensive force on the perimeter, and with the (eventual) return of Ben Simmons, who has quick hands and great anticipation as a defender.
(Note: Nerlens Noel is currently 1st in the NBA, among players with at least 100 minutes played, in steal percentage, regardless of size or position. That's absurd for a center and gives the Sixers a very real and distinct competitive advantage in that regard. Covington comes in at 7th and McConnell 16th. Source: basketball-reference.com). 
(Note 2: It's low minutes, with less than 10% of Saric's minutes on the season, but Saric is averaging 23.3 points per 100 possessions with a 56.3% true shooting percentage when he's on the court with Noel, McConnell, and Covington. That lineup's ability to force turnovers and get out in transition seems to be at least a somewhat plausible explanation for Saric's effectiveness in those lineups. It would be interesting to see if that continues to hold true in a larger sample size).
With these defensive pieces that have an established track record of forcing turnovers, Saric could stand to benefit. If that shot continues to come around it paves the way for Saric's development into a dynamic transition player and halfcourt floor spacer, and hopefully a consistent contributor.
* * * * Dario Saric, Rookie of the Year? * * * *
Saric winning the Eastern Conference Rookie of the Month award for February seems like a foregone conclusion at this point, as Saric has clearly outpaced his Eastern Conference peers, and with only 3 February games left it doesn't seem likely that anybody is going to make up that difference.
| Stat | Average | EC Rank |
| --- | --- | --- |
| Points | 16.0 | 1st |
| Rebounds | 6.9 | 2nd |
| Assists | 2.0 | 7th |
| Steals | 1.1 | 4th |
| 3ptm (total) | 15 | 2nd (t) |
(Dario Saric has a strong case for February's Rookie of the Month award. Here are his averages for the month of February, along with where that ranks among Eastern Conference rookies)
Yet Saric's recent play, and Joel Embiid's absence, has triggered some talk over whether Saric should be in contention for Rookie of the Year. Let's slow that down just a little bit.
Yes, Saric (a team-high 56 games played) has played significantly more than Embiid (31), but let's not mix availability for ability.
There have been extended portions of this season where Saric has struggled to score against NBA length and athleticism, where that transition to the quality of NBA forwards has been real, where his athletic limitations have made him a defensive liability despite his high IQ and constant effort. That doesn't mean Saric won't have a significant role in this league going forward and that he can't learn to better overcome those limitations, but they have impacted his rookie season.
But while there have been portions of this season where Saric has been a net negative while he learns to adapt to the NBA, Embiid, on the other hand, has been an impact player in virtually every game he's appeared in. And while, as I sit here typing it, that sounds ridiculous to say about a 22-year-old who has barely played the sport, I make that statement feeling like I'm doing so without even a hint of hyperbole. Embiid has been that good, that dominant, and that consistent.
Besides the sheer uniqueness of rookie Embiid's season, which itself should be rewarded, I have no doubt that Embiid has had more impact in his 31 games played than Saric has in his 56. If Embiid finishes the season with just 31 appearances (which itself would be a far bigger story than who wins Rookie of the Year) and Saric finishes with 82, and continues his strong play and doesn't revert back to his (still recent) struggles, then we might have a discussion. Right now? This isn't a situation where there have been others playing at an All-Star level and availability has an impact. Embiid's been the league's best rookie, and it's not particularly close.
Availability and recency don't an ROY make.