Bryan Colangelo and the erosion of trust among Sixers faithful
Updated: Monday, February 27, 2017 09:15 AM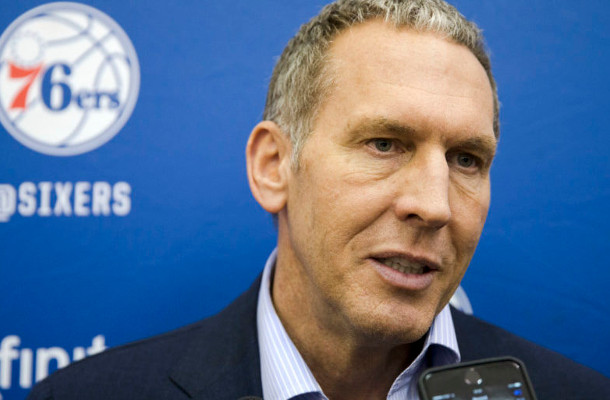 January 20th seems like an eternity ago.
At that time the Sixers were 7-2 in the month of January, led by an All-Star level performance (even if not All-Star level frequency) of rookie phenom Joel Embiid, playing some of the best defense in the league as this burgeoning young core looked poised to take the significant leap forward that has been lurking in the shadows of this high-upside rebuild.
The team was sitting there at 15-26, just 4.5 games out of an improbable playoff push with half of a season left to play. A push that was unlikely at best, naively optimistic at worst, but indicative of the excitement surrounding a young team finally putting it together and led by a superstar showing earlier-then-expected dominance.
In the midst of that euphoria Sixers president of basketball operations Bryan Colangelo told CSN Philly that Ben Simmons, the #1 overall pick in June's NBA draft, would have a final scan performed on his injured right foot. This came on the heels of an ESPN report which indicated Simmons could return "sometime near March". Excitement ensued.
My, how quickly things change.
This Sixers are still, somewhat miraculously, only 5.5 games out of a playoff spot despite going just 7-10 since, although there are now only 24 games remaining to make up the difference. Joel Embiid has appeared in just 1 of those 17 games. Ben Simmons has been ruled out for the remainder of the season. Nerlens Noel and Ersan Ilyasova, two key contributors towards that 7-2 start to January, have been shipped away for virtual peanuts.
Perhaps more important than any of that is the confidence and trust that Philadelphia fans have lost in Bryan Colangelo, the steward of this organization.
 * * * *
Colangelo always had a tough row to hoe to win over a portion of the Sixers' fan base, especially the group which was none too thrilled with the way former general manager Sam Hinkie was pushed out of the organization. Hinkie's methods, and his personality, were incredibly divisive, but his fans loyal. Winning them over would be a tough task for Colangelo.
Yet in his corner was an equally, if not bigger, segment of the fan base that was disenfranchised over how the team had been run the previous few years, desperate to return the organization back into the hands of what they considered to be a true basketball guy. All Colangelo had to do was play the PR game correctly and not screw up the foundation which Hinkie had built and he would have had their support. Fractured, but substantial.
And before we get too deep into it, we must admit that the trading of Nerlens Noel, at what seems to be the nadir of his trade value, doesn't rip away the incredible upside this team still has as a result of its war chest of high-level young talent and high upside draft picks. If Ben Simmons gets healthy, and Joel Embiid gets healthy, if Markelle Fultz can find his way onto the roster and Colangelo can use free agency to his advantage, he'll win back most, if not all, with little more than shrewd basketball moves mixed in with a healthy (but required) dose of luck. The Noel trade doesn't take that away.
But in what was his first major test as a decision maker (the selection of Ben Simmons #1 overall was a layup, and you only get so much credit for writing your name correctly on the SAT), it's hard to come away impressed with the way Colangelo handled it.
Starting in December Colangelo began pushing the narrative that a trade to alleviate the frontcourt logjam hadn't been possible over the summer. "I don't think at any point we've been in a position as an organization to actively pursue a trade of any of the centers, given the fact that there was so much uncertainty with respect to their health and their availability," Colangelo said a little over two months ago.
He doubled down on that stance on Friday. "When I got here Joel Embiid had not played an NBA game. Jahlil Okafor was coming off of a surgery, and if I was looking at the roster and looking at the board, we were plugging in Nerlens Noel as our starting center at that point," Colangelo said during his press conference the day after the trade deadline, as if making sure the team had a starting center in October was more important than maximizing trade returns that could pay dividends for half a decade. "There were things considered, but it was always considered undoable at that time given the unknowns."
Except that wasn't the tune he was saying, even publicly, at the time.
"So you're comfortable heading into the season with the three big guys on the roster?" a host on Sirius XM asked Colangelo, after he had described the Sixers as "listening" rather than "shopping" his big men while at the Las Vegas Summer League. "Absolutely not. But I think what we are comfortable doing is saying we're not going to make a bad deal just to make a deal."
The feeling around the league echoes Colangelo's comments in July, as multiple people around the league have characterized the Sixers as having been interested, and willing, to make a deal. The problem, according to people familiar with talks over the summer, is that it was Colangelo's asking price, not desire, which prevented a bidding war from happening, much less a deal coming to fruition.
Restricted free agency always loomed over Noel's trade value, which combined with the Sixers lack of leverage and a marketplace flooded with centers made it virtually impossible for Colangelo to get an equal return. But there are degrees to which he could have recouped value. There was a world where he could have gotten $0.50 on the dollar rather than the $0.25 he eventually received.
That time was over the summer. For as much as Noel's restricted free agency hurts his trade value, that factor only got more limiting the closer he came to becoming a free agent. A team willing to give up legitimate value for Noel is one interested in keeping him around long term, one in need of a center hoping to use the right of first refusal they'd inherit in a trade to keep his cost sane in the offseason. Pulling a young player coming off of a rookie-scale contract away from their current team almost always requires an overpay, but using that right of first refusal to scare away suitors can, if the market is right, help keep the contract manageable.
Trading for Noel in the offseason carries with it other benefits. It gave the acquiring team more time to see how Noel fit with their personnel, and with their style of play. It gave them more time to evaluate Noel's personality, and whether he fit with their culture. If a team acquired Noel last June they'd have far more information to go on when they have to make a decision this July, and the restricted free agency status isn't as much of a deterrent to trade value. Demand, just from a logical perspective, should have been higher.
Beyond that there just aren't many teams looking for a center at this point of the game. Between players drafted last June, signed in free agency last July, or traded for in the last 8 months, demand for players of Noel's ilk have been drastically diminished by moves made while Colangelo desperately waited for the market to catch up to his perceived value for the Sixers' big men. Indecision ripping away opportunity.
Even if Noel is a better option than the players acquired during that time there is a friction to trades being made as teams are unwilling to admit a sunk cost, or without the necessary assets or flexibility to invest more into the marginal upgrade.
Waiting for a team to get desperate, Colangelo kept all of his big men and headed into the season with too few minutes, too little buy-in from Noel, and too little leverage in negotiations to recover that value as much as he hoped. Instead the opposite happened, with Colangelo at a point where he had to take what he felt was the best offer available at the deadline.
Colangelo's hesitancy, and his misreading of the market, very likely cost the Sixers in the end.
(There are arguments to be made that with the current market dynamics, and the lack of teams looking to invest in a starting center, Noel's next contract may not be bad for a backup center, especially on a team with Joel Embiid, who they may always be cautious with in terms of minutes and games played. That requires Noel's buy-in, though, which is impossible to know for sure whether he'd give long term. That's a possibility worth looking into at a later date, but we'll ignore that possibility for now and just focus on whether the return is worthwhile).
 * * * *
While not as crucial to the team's future as the weak haul Noel brought back, one of the more telling aspects of what the Sixers got in return came down to the wording of the trade. "PHILADELPHIA 76ERS ACQUIRE FIRST-ROUND PICK…" the team's press release proudly stated, a headliner which was true only by the strictest of definitions possible.
The pick, as it turns out, was Dallas' 1st round pick in 2017, top-18 protected. The Mavericks, at 22-34 at the time, would need to jump 12 teams in order to have that pick convey, to make up 9.5 games in the standings with only 26 games remaining. If the pick doesn't convey this year it will turn into a pair of 2nd round picks.
In truth, the inclusion of the "possibility" the pick will become a 1st round pick has little to do with the ~0.1% chance of Dallas making up that ground, but instead with optics. Headlines, like the press release the Sixers sent out, would no doubt include "first round pick" in them. The pick would be included in radio updates, in casual conversations. On the surface, that stipulation increased the perceived value of the Sixers' return, a tactic which tells you how desirous this front office is of controlling the narrative, a swift about-face from the previous front office, which viewed playing that game with virtual disdain. "I will not make a bad deal for this organization," Colangelo defiantly said in December. In the end he did make a bad trade, and that fake first round pick isn't fooling anybody.
Yet beyond the poor return of the Noel trade, the bigger driving force in the growing lack of trust the city has in the front office is how the team has handled the injury updates to their star players. Updates which, at best, can be described as lacking. At worst downright deceitful.
The mistrust started earlier in the season, when fans were given few updates on Jerryd Bayless' sore left wrist. The injury, which started off day to day, eventually caused Bayless to miss the first month of the season. After a brief three game stretch where Bayless tried to play through pain he went on the shelf again, once again being characterized as day to day until it was announced on December 15th, after the fact, that Bayless had underwent surgery that would end his season.
The lack of updates became more concerning when they started to involve the Sixers' star players. Joel Embiid's bone bruise in his left knee was classified as day-to-day, even after Joel Embiid told reporters following the misguided Houston appearance that doctors gave him a 2-3 week timeline, a timeline which he reiterated once again last week when he expressed frustration that the team didn't disclose the timeline publicly.
On Friday, Colangelo admitted they probably shouldn't have said Embiid was day-to-day. Add in that slight meniscal tear which was found when the team went to look at the bruise, a condition which may or may not have had an impact in the pain in his knee but an omission which certainly did cause pain among the loyal fan base, and the team's (lack of) medical updates rightly became a hot topic of conversation around the Delaware Valley.
That all culminated in the news that Ben Simmons would miss the entire season because of the Jones fracture in his right foot. That was newsworthy in two ways: first, that yet another Sixers rookie would miss the season in what has become the Philadelphia 76ers redshirt tradition, an almost rite of passage for the team's most exciting prospects. But it was also newsworthy in that it came with precious few updates on when and where his recovery diverged off course.
Things seemed to be going well on the Simmons front, up until the end of January, at least. Simmons was cleared to play 5-on-0 drills on January 10th. On January 19th an ESPN report came out alleging a possible return of "around March". On January 21st Colangelo said Simmons will have a "final scan" on January 23rd, a scan which the team characterized as "progressing as expected" and "clean".
It took more than a month, but the team eventually admitted the injury wasn't progressing as expected, or clean.
"[I] Should have said I'm hopeful it was the final scan. Turned out it wasn't. And it didn't show complete healing even then, which is why we said once again we're going to reset, wait one more month, take another scan and see where we are," Colangelo said last week, contradictory to what the team announced after the scan was complete.
None of this information — that they mischaracterized the scan, that another scan was necessary, that his season was in doubt — came to light until Keith Pompey broke the news on February 16th.
Do you trust the information coming from the Sixers? I can't convince you that you should.
 * * * *
To Colangelo's credit, last Friday's press conference seemed to be a mea culpa of sorts. "We probably, we should have, just said out indefinitely," Colangelo said with regards to Embiid's status. "I regret saying day-to-day when it should have been out indefinitely."
That's a good first step, but it's also not likely to win back the trust of those who now have doubt.
In the end, nothing that's happened over the last five weeks has impacted the Sixers' future in a major way. Most of that upside is still there, and most of that excitement, when these players get healthy, will return.
But Bryan Colangelo's grace period is officially over.