Morning Sixers – Monday, March 6th, 2017
Updated: Monday, March 6, 2017 08:53 AM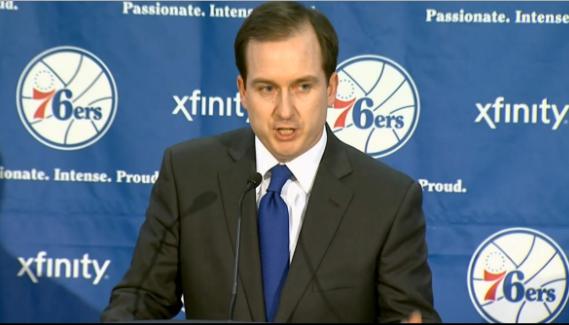 "If you could ask Sam Hinkie any three questions that he had to answer honestly, what would they be?"

— James
This is a good one because it's topical, as I ran into Sam at the Sloan Sports Analytics Conference up in Boston. In fact, a good chunk of his team was there as well, as Sachin Gupta (former VP of Basketball Operations) and Ben Falk (VP of Basketball Strategy) were in attendance.
Note: Both Hinkie (Moneymind: Overcoming Cognitive Bias) and Falk (Win the Game Day) were on panels at Sloan. You should be able to find their talks on youtube over the coming days).
Note 2: Falk recently joined twitter.
One of the great misconceptions about Hinkie is that he wouldn't talk. That's not really true, as it wasn't difficult to find him at PCOM (then the Sixers training facility) or roaming the sidelines before games at the Wells Fargo Center, and he rarely turned down an off-the-record chat.
But it was much easier to get Sam to discuss theories about basketball and team building than it was to answer direct questions about rumors, transactions, or rankings. Ask him about what talks they're involved in, whether a rumor was true, or where a player fell on his draft board and he'd probably deflect.
For the most part, that was fine for me. I knew I couldn't compete with somebody like, say, Keith Pompey in terms of breaking news, so I searched for background information to provide context and clues about how Hinkie and his team approached their job, to help improve my ability to forecast what they would do next and also explain why I thought they made the decisions they did. And, for the most part, Sam was more than willing to provide context and insight in that regard.
But two areas where Sam really closed up about are two of the areas fans probably have the most interest in: draft rankings and internal team drama.
Get the rest of this answer, as well as a collection of Sixers links over the past 24 hours, an update on the status of the Sixers' draft picks, and what games to watch in college basketball, over at patreon.com (subscribers only).