Morning Sixers – Wednesday, March 8th, 2017
Updated: Wednesday, March 8, 2017 08:13 AM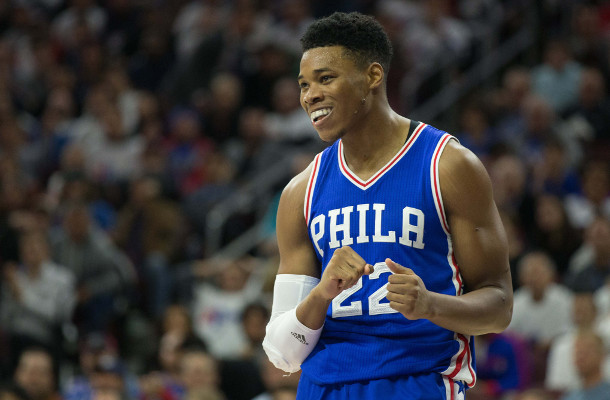 "Why have the Sixers defense been so bad recently? Is Holmes the reason? Is Holmes a bad defender?"
— Kyle
The loss of personnel is an undeniably big factor in this equation. This was a collection of imperfect, at best, defensive players largely kept competitive by Joel Embiid's defensive brilliance.
Even in January, when the Sixers had their best month in years, Embiid was the key. The Sixers gave up just 91.2 points per 100 possessions with Embiid on the court during the month of January (240 minutes), compared to 107.6 with Noel (295 minutes), 111.2 with Okafor (117 minutes), and 112.3 with Holmes (66 minutes).
While the Sixers were more competitive with Embiid out of the game in January, it was largely because of (likely unsustainable) offensive improvement with Noel and Holmes in the game, especially Holmes, not because they were all that competitive defensively.
Another way to show this is with similar lineups. In lineups that include McConnell, Covington, and Ilyasova, the Sixers gave up 97.6 points per 100 possessions with Embiid on the court this season (156 minutes), 113.4 with Okafor (153 minutes), 103.7 with Noel (166 mins), and 113.2 with Holmes (51 mins).
As a point of reference, the Sixers are giving up 112.4 points per 100 possessions since the All-Star break.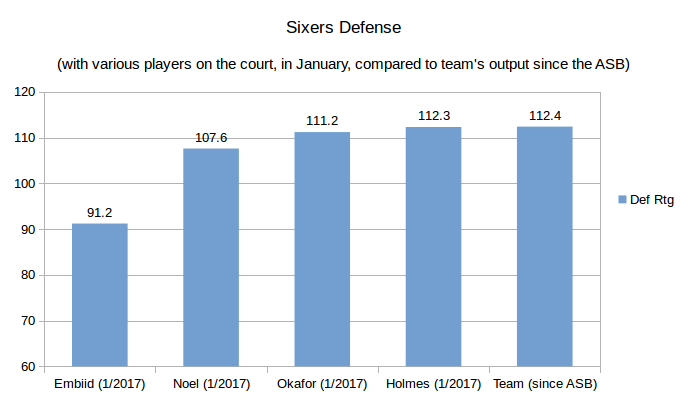 Quite simply, the biggest reason the Sixers defense has gone in the toilet is they lost the one defender who could make an impact big enough to keep them competitive.
****
Get the rest of this answer, as well as a collection of Sixers links over the past 24 hours, an update on the status of the Sixers' draft picks, and what games to watch in college basketball, over at patreon.com (subscribers only).