76ers Musings: Saric's development, the 2014 draft, and progress
Updated: Sunday, March 19, 2017 12:52 PM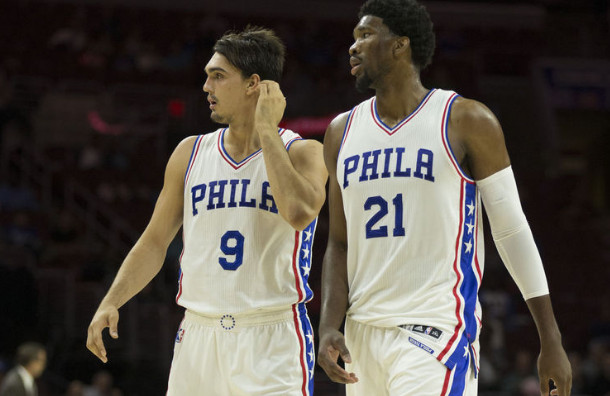 The debate over *which* 76ers rookie will take home Rookie of the Year honors has been one of the few storylines remaining in a season that has otherwise devolved into a familiar feeling of end-of-season indifference.
Sure, there has been some debate over whether Milwaukee wing Malcolm Brogdon — who is averaging 10.0 points, 2.7 rebounds, 4.1 assists per game while shooting 40.8% from three-point range — should be given consideration. That argument primarily stems from Embiid's injury and Brogdon's role on a playoff team.
The stronger debate, both locally and nationally, is whether Saric deserves it over Embiid, who only played 31 games but who you can take Brogdon's averages and essentially double them, ballooning to 20.2 points, 7.8 rebounds, 2.1 assists, and 2.5 blocked shots per game.
While I still lean towards rewarding the unique and dominant rookie season Joel Embiid put together, the debate has been all but settled in the minds of most by Saric's play over the past few weeks. Saric is averaging 19.7 points, 8.1 rebounds, and 3.9 assists per game over his last 17 games, while shooting 47.9% from the floor. Vegas responded by making Dario Saric the favorite to win the ward.
In the end, which Sixers player ends up taking home the trophy is of little consequence to anyone outside of Dario Saric or Joel Embiid. What matters to Sixers fans is that this is even a debate, and that both Saric and Embiid have drastically outperformed any and all rational expectations fans may have had entering this season.
Last summer Bovada gave Joel Embiid 14/1 odds to take home the Rookie of the year award, odds they bumped up to 5/1 after seeing him play in the preseason. The initial 14/1 line made Embiid the 7th most likely to win the award, behind names you would expect (but still look ridiculous in retrospect) like Kris Dunn (11/2), but also guys like Denzel Valentine (12/1). Even after seeing Embiid dominate in the preseason his 5/1 odds were worse than Buddy Hield (7/2) and Kris Dunn (4/1).
Saric, on the other hand, wasn't even on the board after June's draft, likely because there was still uncertainty over whether Dario would come over. His odds were updated to 16/1 after preseason play, which were the 6th best.
Saric's play over the second half of the season has forced Sixers fans to re-evaluate how they value him in the future. What's his upside? How much more effective can he become if his three-point shot develops like it did overseas (from 29.9% in 2012-13 to 32% in 2013-14, then 32.9% and finally 40.7%)? Should Saric be a starter next year alongside Embiid and Simmons? Did the Sixers draft two future All-Stars in the 2014 draft?
That last point is perhaps the most interesting, if for no other reason than because of how debated the Sixers' 2014 draft strategy was at the time. The idea of "punting" a draft, of selecting two players with lottery picks who you knew beforehand weren't going to play in the NBA that season, was not well-received by a media contingent obsessed with immediate rewards and easily definable progress.
Forget that Saric was going to get playing time and experience to develop his game with Efes, forget that Joel Embiid had franchise changing talent, neither would suit up for the team in South Philadelphia for the 2014-15 season. For reasons that still aren't entirely known to me, that was deemed by many to be unfair to the fans, as if taking lesser talents that would generate less excitement from 2016+ was the the more exciting path to take.
The moves that Sam Hinkie made which drew the most criticism are the exact moves which now make the Sixers future exciting.
Trading MCW? Kicking the can down the road. Doesn't care about winning. Fast forward to 2017 and MCW has been a DNP in 6 of the past 12 games and is shooting under 39% on the season, while the Sixers could be looking at Malik Monk or Jayson Tatum or Jonathan Isaac with that pick. Yet some within the organization were hung up on the very shortest of short-term concerns, like marketing, of all things. Insanity.
The 2014 draft? It shouldn't take much to convince you why you should be excited about Joel Embiid and Dario Saric's future. Aaron Gordon? Elfrid Payton? Doug McDermott? They would have played right away, but there isn't a coherent argument that having selected them over Embiid and Saric would have the Sixers better positioned going forward.
Extending the tank for a 3rd season? Perhaps the final nail in Hinkie's coffin, the one that made him an "embarrassment to the sport", also led to the ping pong ball combinations that netted the best lottery odds in NBA history under the current format, lottery ball combinations which directly led to the drafting of Ben Simmons.
The overlap in the Venn diagram between people who argue that "Joel Embiid is too risky to build around" and "the Sixers didn't need to tank a third season" is far too big for my tastes, and misses the contradictory nature of those two statements. Sure, there was some wiggle room where the Sixers could have still gotten the best lottery odds in recent NBA history while not being historically bad, but betting on when Brooklyn might fall from a 21 win team to a 13 win team seems an uncertain science.
(The funny thing is, the one move the Sixers made which was an undeniable mistake, drafting Jahlil Okafor 3rd overall in 2015, received little criticism at the time, and would have been broadly panned if the correct decision was ultimately made). 
The point is, for all the debating and hand-wringing over the moves which "extended the tank", they are the very reason there's any excitement over the Sixers' future, perhaps more excitement than there has been since AI's rookie season. Take "immediate contributors" like Aaron Gordon and Elfrid Payton, mix in enough veterans to win 25 games last year and end up with Kris Dunn rather than Ben Simmons, and this team is going nowhere fast.
Patience isn't just an excuse. Progress is not linear. The Sixers are beginning to show that.
Rebuilding teams stuck in mud
Take a look around the league and there's one consistent theme: rebuilding is freaking hard.
Much has been made about the slow progress the Sixers made in turning their franchise around, about how awful it was to "throw three seasons away". Yet if you go back and look at the teams that were bad when the Sixers started their rebuild, most of them are still in line with the Sixers.
Just without potential superstars.
The Sixers kicked off the current era in June 2013 when they traded Jrue Holiday for Nerlens Noel and a future first round draft pick. The intent was clear: the team was going to bottom out while accumulating as many chances at superstars as they could.
The Magic are the perfect counterexample, in part because they ended up with Aaron Gordon and all of their rookies "contributed", yet they are nowhere near having a franchise player. The Magic went from 20 wins in 2012-13 to 23, 25, 35, and now back down to 25-45 so far this season, while being left with a plethora of team building questions far worse than which big man to trade away at below market value.
Is Aaron Gordon a future All-Star, let alone a superstar? Is it time to bail on the Elfrid Payton learning how to shoot experiment? What in the world do they do with the Nikola Vucevic and Bismack Biyombo combination, a low rent, but high priced, version of the Sixers big man logjam without near the upside of Joel Embiid? And this is after kickstarting their rebuild with the Dwight Howard trade, a valuable commodity Hinkie didn't have access to.
What about the Lakers, whose 85-230 (.270) record since the start of the 2013-14 season is barely better than the Sixers' 72-242 (.229), a gap which is likely to continue to be closed, even if just a little bit, by the end of the season. Would anybody deny that the Sixers are farther along in their rebuild than the Lakers? That they have a clearer path to a superstar, and more avenues available via future trades and draft selections?
Even the Suns, the darlings of the 2013-14 season who unsuccessfully tanked their way to a stunning 48-34 record. The Suns haven't gotten a break since, as they've gone 84-149 (.361) over the last three years, bottoming out at 22-47 so far this season. Would anybody trade the Sixers' trio of Joel Embiid, Ben Simmons, and Dario Saric for Dragan Bender, Devin Booker, and Marquese Chriss? I sure as hell wouldn't.
The point is rebuilding in the NBA is difficult, and when the Sixers willfully threw away a season or two or three we forgot that those seasons were likely to be thrown away anyway. It was inevitable after the Andrew Bynum trade.
But by embracing that reality the Sixers ended up with extremely high upside players like Joel Embiid, Ben Simmons, and Dario Saric. With high potential draft picks like the Lakers and the Kings, and with cap flexibility that the Lakers and Magic squandered by trying to be players in free agency before their time.
The only thing worse than "throwing away three seasons", as the Sixers allegedly did, would be throwing away three seasons and still having no likely, or even visible, path to a superstar. The Sixers made progress during that three year period towards being relevant, which is more than some can say.