Sixers growth about more than just the stars
Updated: Sunday, April 9, 2017 11:19 AM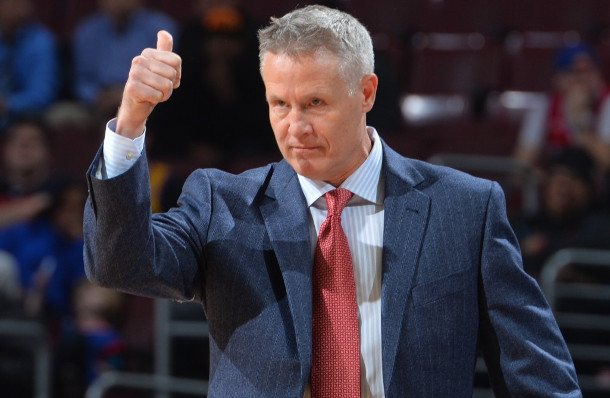 The 2016-17 76ers season was notable because of the long-awaited debut of Joel Embiid. When on the court (which was, admittedly, shorter than anybody would have hoped), Embiid showed that pre-draft comparisons to Hakeem Olajuwon may not be as absurd as once thought. The knowledge that such a talent exists on the roster changes the discussion about the Sixers' future, even if it's still impossible to count on Embiid's continued health and availability going forward.
And it would be impossible for me to argue that anything was more important than that development. Yet while secondary to the flashes of brilliance shown by Embiid, the greater than expected development of Dario Saric, Robert Covington, Timothe Luwawu-Cabarrot, Richaun Holmes, and T.J. McConnell should pay dividends when the Sixers' stars return to action.
Embiid's dominance, while important, crucially important, this-whole-friggin-thing-doesn't-matter important, was at least something you could forecast. Scouts far and wide, myself included, raved about Embiid's potential while at Kansas. The injuries were scary (and still are), and the quickness with which he arrived at his current production was surprising, but the talent to get there was rarely in question by those who studied his career.
But the improvement of those 5 mentioned above is an anomaly, odds-defying outcomes to which head coach Brett  Brown and his staff deserve an immense amount of credit for. When hired by former general manager Sam Hinkie in August 2013 (a process which drew the ire of many because of how long it took), Brown was billed as a player development specialist, a key cog in the group of wizards that helped turn Kawhi Leonard into an eventual MVP candidate.
While there were hints of that kind of player development in year's past — by Robert Covington, most notably — this is the year where Brown's expertise in that area has really paid off.
Dario's play almost goes without saying. For Saric to be powering through the rookie wall the way he is, with little to no rest in the offseason, while exceeding any and all realistic expectations, has been something to watch. Bovada had the over/under set at 9 points and 5 rebounds for Saric on the season, with odds to win Rookie of the Year placed at 16/1. Buddy Hield (7/2), Kris Dunn (4/1), Joel Embiid (5/1), Ben Simmons (5/1), and Brandon Ingram (11/2) were all higher.
After a brief adjustment to NBA size and length, Saric has been incredible of late. Since February 8th (28 games) Saric is averaging 18.2 points, 7.3 rebounds, and 3.1 assists per game. He's shooting 52.8% on shots inside the three-point line over that span, which is almost exactly the same as what he shot last year in Turkey (52.9%), although this obviously coming against more difficult competition. It's significantly better than the 50.7% he shot inside of the arc in combined Euroleague (48.6%) and Turkish League (52.1%) play during 2014-15.
Whether or not it's sustainable remains to be seen. For young players that we don't necessarily have a strong baseline for, we can frequently conflate a hot stretch of play with improvement. If a 10-year vet has a two month period where he's shooting exceptionally well from the floor we say "well, that's a nice 2 month stretch". When a rookie does so we assume improvement, not variance, is the driving force.
But the inverse is also true, where we can disregard improved play as random variance and throw away the possibility that the player is improving, or at the very least more adjusted to the level of competition. It's probably unrealistic, after shooting 41.3% from two-point range and 48.9% on shots within 10′ over his first 51 games, to expect the jump to 52.8% from two-point range and 61.4% from inside of 10′ to be sustainable.
But watching Saric play, and disregarding the numbers aspect of it for a moment, it's clear that Saric is more comfortable (in his role, in the level of competition, in the system) than he was to start the year. Considering the adjustments Saric was up against and it would be a mistake to assume his early season play was the proper baseline to set as well.
Regardless, watching Saric's old man game continue to perplex and bewilder opponents has been a joy for fans who have patiently waited for the Croatian to come over. The passing and transition pushes, which were so evident during his time with Cibona but a little more fleeting with Efes, have returned in full force. The floor burns and hustle set to make him a Philly staple.
While Saric's improved second half play may be as much him getting adjusted to the NBA as much as it is development, Covington's continued improvement is undeniable. His combination of skills — volume three-point shooting and elite perimeter defense — is so valued around the league, and so needed alongside Ben Simmons and Joel Embiid, that it's easy to slot Covington in as a starter on the team, even as it begins it ascent.
The improvement in Covington's defense alone would be something to marvel at, and if the improvement stopped right there it would be so ridiculously important that it would deserve countless columns devoted to it. Yet there have been other improvements to Covington's game that have helped make him a more complete player this year. From cutting off the ball, to creating off the dribble, to finishing at the rim, all have shown subtle, but important, improvements.
Robert Covington - Improvement
| Year | % of Possessions - Cuts | FG% off Cuts | FG% after 2+ dribbles | FG% shots < 10' |
| --- | --- | --- | --- | --- |
| 2014-15 | 4.1% | 77.4% | 37.5% | 46.4% |
| 2015-16 | 3.5% | 52.0% | 28.1% | 48.2% |
| 2016-17 | 7.4% | 58.0% | 50.0% | 51.6% |
There still seems to be a belief out there by some that Covington is a "Sixers" rotational player rather than a legitimate one. On the contrary, Covington's shooting becomes more valuable when Ben Simmons is there to whip the ball around in transition, his defense should have even more of an impact when Embiid is back there behind him to anchor it. With Covington and Embiid on the floor the Sixers' had a point differential roughly equivalent to the Los Angeles Clippers and a defense better than anybody in the league. He looks to be key piece moving forward.
All it took to find that out was an open roster spot, roughly $1 million/year, and a whole lot of time from Brett Brown and his staff.
The evolution of Covington's defense is an outlier development. Covington came into the NBA having been a college 4-man with quick hands and little experience guarding the perimeter. Over the years he's become a master at fighting over screens, at playing the angles to cut off driving lanes, and making the proper rotations. He's become a, ahem, rock in Brett Brown's defensive schemes, and both Covington and the Sixers staff deserves credit for that continued progress.
The rest of the cast looks to round out a strong bench unit once the Sixers' stars finally get healthy. T.J. McConnell continues to prove doubters wrong and establish himself as a legitimate backup point guard. Richaun Holmes has been averaging 13.7 points, 7.7 rebounds, and 1.0 blocks per game, while shooting 53.3% from the field, since stepping into the starting lineup for good on March 24th. Timothe Luwawu-Cabarrot, expected by many, myself included, to spend a good chunk of the season in the D-League and to be a few years away from contributing, has led the team in scoring at 18.0 points per game over four April contests, playing his best basketball as the season winds down.
All of these players, especially Holmes and Luwawu-Cabarrot, still have some development required before they're consistently effective. But all have shown considerable improvement during their time in Philadelphia, and it's much easier to envision their future role than it was at the beginning of the year.
The Sam Hinkie legacy will ultimately be decided by Joel Embiid. And, truthfully, Joel Embiid's health. There's no denying that. Any of the positive developments listed above are effectively meaningless if they're not joined by Embiid as the basis of a playoff run. The way the season has ended — with Embiid's season cut short after 31 games, Simmons never reaching the floor, the constant injuries after the All-Star break, and the recent 6 game losing streak — has taken most of the shine off the excitement this town felt in January.
But the positive developments in the career trajectory of Covington, Saric, McConnell, Luwawu-Cabarrot, and Holmes give the Sixers a deep stable of young contributors that's growing together. A cheap group of overlooked, at times dismissed, players who could continue to develop into key ingredients in the next version of a relevant Sixers team. Most importantly, their development provides increasing confidence that Brett Brown is the right guy to lead this team going forward.
For as much as some of Sam Hinkie's moves are, were, and forever will be debated, the decision to tap Brett Brown as his head coach is flying under the radar as one of his bigger wins. As Brown's skill in player development becomes undeniably apparent, his imprint on the team is stronger than ever.