Robert Covington extension a priority for Sixers
Updated: Friday, April 14, 2017 01:19 PM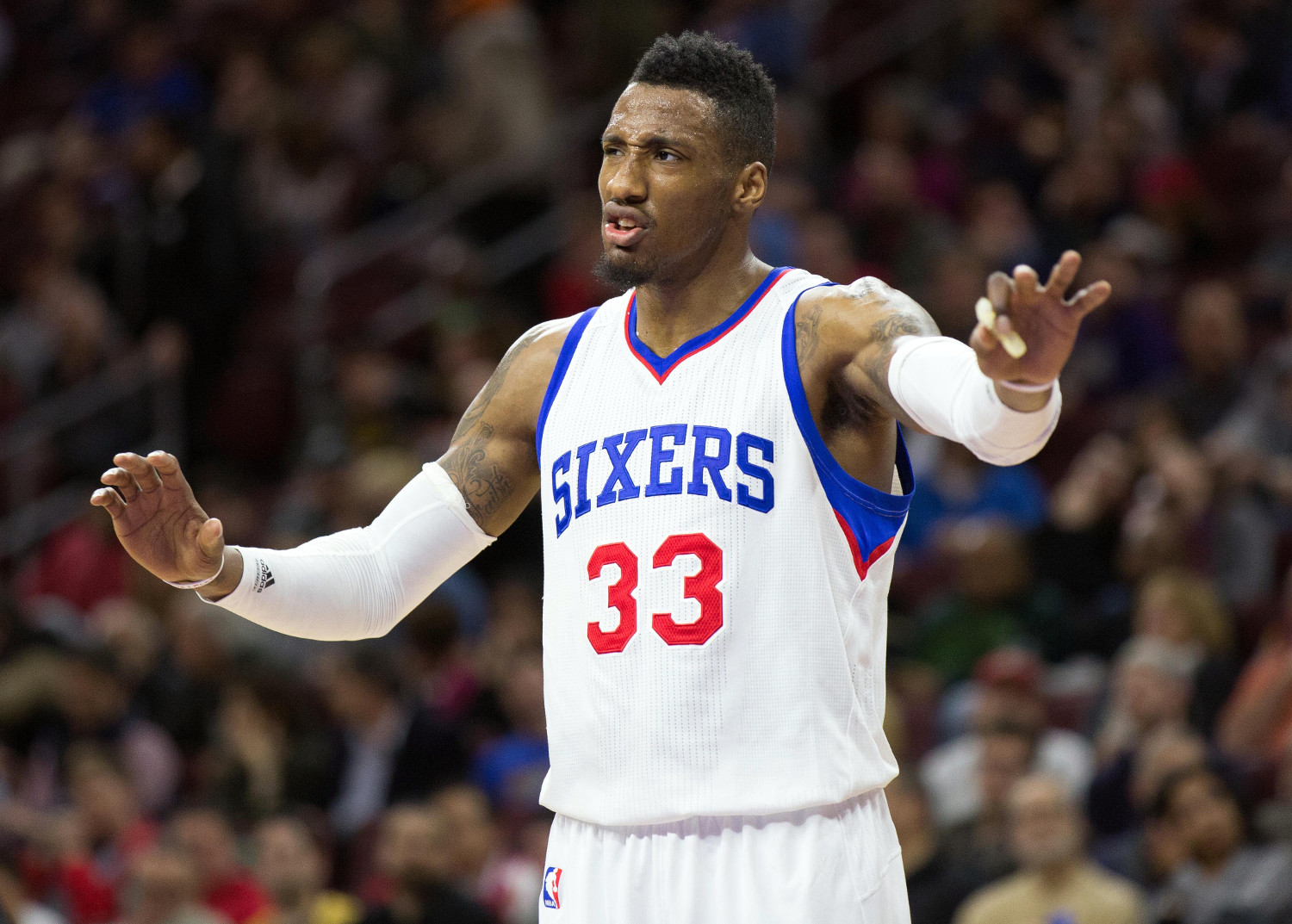 During his end of season press conference, 76ers president of basketball operations Bryan Colangelo said that an extension for emerging small forward Robert Covington is "certainly something I think we want to address (this summer)."
"Robert Covington is a valued piece of this organization. He's really evolved into a player that we want to make part of this organization on a longer term basis," Colangelo would go on to say. "He deserves a lot of credit for what he has done as a young player. (He) committed to getting better and has become a really solid, established player at that 3 and D wing position."
Covington averaged 12.9 points, 6.5 rebounds, 1.9 steals, and 1.5 assists per game from the Sixers this season while shooting 39.9% from the field and 33.3% from three-point range. He has one year left on the 4-year contract he signed in November 2014 and is scheduled to make just under $1.1 million for the 2017-18 season.
After not being selected in the 2013 draft out of Tennessee State, Covington has emerged as one of the best wing defenders in the league this season. Covington ranked 4th overall, and 1st at his position, in ESPN's defensive real plus-minus. He also ranked in the top 10 in defensive win shares for wing defenders, and towards the top in the league at his position in defensive box plus-minus. His 4.2 deflections per game ranked 1st in the NBA, and he was among the league leaders in steals as well.
Overall, the 76ers were 6.7 points per 100 possessions better on defense when Covington was in the game, and the man he was guarding shot just 41.9%, nearly 4 percentage points less than their season average.
Covington's defense has started to receive national attention, as ESPN columnist Kevin Pelton recently ranked him second among small forwards defensively.
Covington's offense was inconsistent throughout the season, as he shot just 35.2% from the field and 28.7% from three-point range through December. He returned to form after that, though, averaging 15.1 points, 7.2 rebounds, 2.1 steals, and 1.6 assists per over his final 38 appearances, while shooting 42.8% from the field and 36.5% from three-point range during that span. He also made substantial improvements in diversifying his offensive game inside of the three-point line.
Robert Covington - Improvement
| Year | % of Possessions - Cuts | FG% off Cuts | FG% after 2+ dribbles | FG% shots < 10' |
| --- | --- | --- | --- | --- |
| 2014-15 | 4.1% | 77.4% | 37.5% | 46.4% |
| 2015-16 | 3.5% | 52.0% | 28.1% | 48.2% |
| 2016-17 | 7.4% | 58.0% | 50.0% | 51.6% |