Ben Simmons' ever-changing (but not really) role within the Sixers' offense
Updated: Tuesday, April 18, 2017 01:50 PM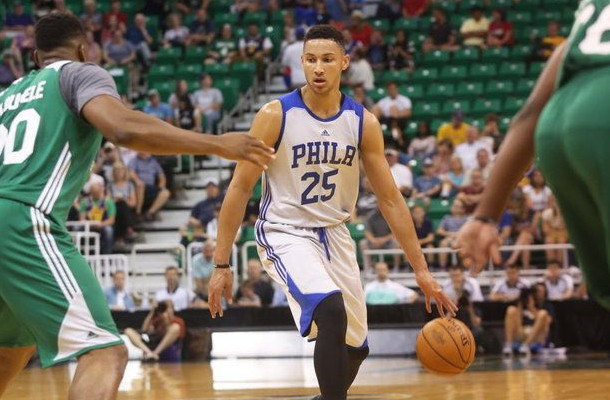 Philadelphia will spend another offseason — its second in a row — debating the merits of Ben Simmons being utilized as a point guard year, spurred on by the end of season press conferences by head coach Brett Brown and president of basketball operations Bryan Colangelo.
"We have to really assess Ben Simmons as a point guard and see how that looks, how it feels. Everybody understands I'm committed to giving this a chance," Brown said on last Friday, reiterating a statement he said earlier in the week when his team played the Indiana Pacers. "I have this vision that I want to pursue with (Simmons) as a point guard [offensively]. Nobody can promise that I'm right."
Brown's interest was echoed by Colangelo.
"Whether Ben Simmons is a point guard or not, that will play itself out over time. I don't think there's going to be a quick answer there. I know there's a commitment by the staff to make that happen," Colangelo said, before adding that "You can never have enough shooters when you have a point guard in Ben Simmons, who is a drive-and-kick, a distributor, a playmaker, and he's always looking to make a pass."
It's a question that gets asked a lot. "Do you think Ben Simmons can REALLY play point guard?" must have been asked dozens of times in the past 9 months. Each and every time Brown answers the question the internet erupts. Columnists opine about it. Talk radio talks about it. It's treated like a revelation each and every time it enters the news cycle.
Did we not watch Ben Simmons play at LSU? Nobody who watched Simmons in college thought "Yeah, let's draft him #1 overall and *not* put the ball in his hands as much as possible." That creativity, that desire, to pass the ball is what made him such a unique, possibly transcendent, talent. It's what made him the #1 pick in the draft.
I went back and I re-watched LSU's 96-91 victory over Florida in February of last year, a game where Simmons finished with 22 points, 11 rebounds, 5 assists, and 4 steals, charting every possession to see whether Simmons controlled the ball within 5 seconds of LSU advancing beyond half court. Not that it's proof of anything, but being more than a year removed from watching Simmons play organized (re: not summer league) basketball, I wanted to make sure I wasn't crazy.
I charted 76* such possessions that Simmons was in the game for. He controlled the ball, outside of the three-point line and within 5 seconds of the ball advancing beyond half court, in 43 of those possessions. His teammates passed him the ball directly out of bounds and immediately after grabbing rebounds. When turnovers were forced, Simmons would return to the ball and alleviate pressure and create opportunities in the open court. Even when his teammates advanced the ball Simmons would frequently pop out beyond the three-point line to initiate the offense. The only thing that really kept this number from being higher was a combination of how frequently Simmons (the tallest player on the court for LSU) would post up, and how frequently he would function as an outlet passer to ignite the fast break.
*Note: I only charted possessions which LSU actually advanced the ball. So the 76 possessions didn't include things like when LSU turned the ball over prior to getting beyond half court, or when Florida intentionally fouled LSU, which happened quite a bit in the final minute+. 
How much of the offense will you ultimately run through Simmons? Will he struggle to adjust his playing style to the competition he'll face in the NBA? Will you want to pair another high-level initiator to take some of the burden off of Simmons? All fair questions. But the Sixers were always going to run this experiment that Brett Brown so frequently talks about. He's too special not to. The question was when.
Last offseason, prior to Simmons' eventual season-ending injury, Brown was talking about easing Simmons into the lead guard role. At summer league, just weeks after drafting Simmons, Brown thought Simmons could run the offense, but thought it would be unfair to ask him to do so from day one. The long-term plan was always to try Simmons out at this role.
So while it might be somewhat surprising that Brown is now looking to have Simmons run the offense from day 1, there isn't a world in which that wasn't in the plan at some point. Let's stop acting shocked every time Brown brings it up.
Ben Simmons defending point guards?
At one point in early December, Brown was asked whether he thought Simmons could defend point guards. He stated that he thought he could.
That caused many, myself included, to wonder whether that was the best use of Simmons' talents. A day later Brown went on the radio and clarified that he was talking about what he would do if the other team defended Simmons with their own point guard. He was mostly looking to avoid cross-matching the defensive assignments in transition, he explained.
Since then Brown has repeatedly said that he envisions the other team defending Simmons with a forward, and that Simmons would, in turn, defend a forward himself. He stated that last week in a podcast with Adrian Wojnarowski of Yahoo Sports. "You always get into conversations of 'Well that's fine. Who does he guard?' I don't see him guarding the opposition's point guard", Brown said in the podcast. He doubled down on that during Friday's end of season press conference. "I don't really see Ben guarding point guards".
Since Brown's one comment in December, a comment which he then explained away as not coming across as he intended, Brown has been consistent in who Simmons would defend.
Sixers president of basketball operations Bryan Colangelo seems to think something different, or at the very least thinks Simmons is capable of defending point guards on a regular basis if asked to do so.
"I think Ben (Simmons) will show you that he can guard most point guards in this league. He's that kind of an athlete and he's shown us that he's got the ability to get down in a stance and with a long wingspan and a wide base, he's got a chance, and quick feet – he'll be able to do it," Colangelo said on Friday. "It's just learning the angles, learning the personnel, learning their tendencies. But he's been doing a lot of film study, so he'll probably have a leg-up on a lot of that."
I've been pretty consistent that I think you can maximize Simmons' defensive contributions by putting him at the power forward spot. From putting him in position for more rebounds (which he's very good at), to pushing the ball once he does get a rebound (which he's great at), to being able to switch a pick and roll, to conserving energy for a player who is going to initiate the offense, there are many reasons to have Simmons in the frontcourt.
Even if what Colangelo says is true and Simmons can guard the point guard spot with regularity, having another defender on the court capable of slowing down point guards (which is more likely to be found in a point guard's body) along with Simmons provides benefits.
There are very few instances where it makes sense to take a guy with the quickness to defend point guards, but also size, strength, and rebounding ability to bang down low, to then place him on the perimeter defensively. Have as many switchable athletes on the court as possible and you maximize your defensive potential. Asking Simmons to defend the point guard spot to make way for an Ersan Ilyasova style power forward would take away one of the unique advantages Simmons' skill set provides.
To Colangelo's credit, there are indications he's considering pursuing a nominal point guard as well, someone to defend the point of attack but play more of a combo guard role offensively. The most readily evident piece of proof is Jerryd Bayless, signed last summer in large part because of his fit with Simmons.
"It is of that species, that is for sure," head coach Brett Brown said before the Pacers game, commenting on whether Jerryd Bayless is the type of point guard to play next to Simmons. "It is somebody that can guard the other point guard. It's somebody that can make a three. It's somebody that can bring the ball up the floor from time to time, or run a second side pick and roll.
"It's a combo guard. It's a 2-1, it's a 1-2, call it what you want. It's a 3-and-D guy," Brown finished.
Colangelo also also talked about not shying away from a pure point guard type this summer, specifically in the draft, if it's the best option at that spot, similar to how they pursued a second high lottery pick last summer to pursue a point guard to play alongside Ben Simmons.
"If it is someone who has pure point potential, you're hoping that that player can also shoot the ball and play off the ball a little bit," Colangelo said on Friday. "Being able to play off the ball, that's the most important part. It's not necessarily about being a combo player. It's about playing off the ball. And we talk all the time about positionless basketball and players that complement each other – versatility. I love versatility in players."
The combination of all of that — Brown saying Simmons will defend forwards, Colangelo having signed Bayless last summer, Colangelo targeting point guards in the draft last year, and Colangelo saying pure point guards are in play as a possibility as well — should help ease any fear that the Sixers will make long-term roster decisions based on an assumption that Simmons will be defending the point guard spot, by design, even if Colangelo's comments about Simmons being capable of defending point guards did raise eyebrows initially.
What's more interesting is which forward spot Simmons is likely to defend.
In that same discussion before the Pacers game Brown mentioned a lineup of Bayless, Simmons, Covington, Saric, and Embiid. In that lineup Simmons would be forced to defend the perimeter, since Saric isn't equipped to do so.
Colangelo echoed a similar tone at his end of season press conference, listing power forward depth as priority this summer.
"I think the stretch-four position is something [to address], either backing up Dario or starting in front of Dario, if we can find someone that's better. We've got to probably address that four position," Colangelo said last Friday. "If you look at the depth chart, you've got boxes on different places. That's one area where there's a box."
There were two takeaways from this: that Dario isn't necessarily entrenched in that starting power forward spot, and that it doesn't seem they consider Ben Simmons to be a power forward defensively.
For the first part, I'm okay with the team keeping the option open of adding talent, even if that means sending Dario Saric to the bench in a 6th man type role. Brown talked towards the end of the season about players having an "appropriate level of fear" with regards to complacency and role with the team. Simmons and Embiid are the only two who have shown enough, or have enough pedigree, to be guaranteed of a starting role next year.
The second part, however, concerns me.
Look, it might end up coming to be that Simmons is best used defending small forwards. It might be something that makes sense to test out next fall. My concern is making a move which locks Simmons in as a perimeter defender before we ever see him take an NBA court.
If we're talking about adding like, say, a Kristaps Porzingis to the fold, fine. The talent level is high enough, and the offensive fit so great, that I'm willing to limit Simmons's defensive impact. By and large you don't pass on a talent like Porzingis if he's available, especially when he fits offensively with your stars.
That same logic could be applied to guys like Jonathan Isaac or Jayson Tatum in June's draft, especially if you get two top-7 selections. Versatile defenders who can check either forward spot aren't a concern if they're far and away the best player available at their slot. The forward glut with Simmons, Saric, Covington, and the new draft pick would be real, but at the very least you're not committing Simmons to a position long term.
My biggest concern is they target a power forward version of Jerryd Bayless. Somebody not good enough to be a difference maker, but substantial enough of an investment to create inertia. Someone like, say, Ersan Ilyasova.
The trading of Ilyasova to the Hawks at the trade deadline was a sigh of relief for a fan base scared about the prospects of giving a journeyman power forward a long-term deal. But what if Ilyasova was a little bit more realistic in his contract desires? Was there a world in which the Sixers would have made a long'ish term commitment, and where the combination of Ilyasova and Saric would have pushed Simmons to the small forward spot long-term?
My concern is the Sixers rush to get depth at the power forward spot before they really figure out where to position Simmons defensively.
This all brings up one final point: there was value in Simmons playing towards the end of the season.
It's been often stated that there was no reason to rush Simmons back this year. "It was no rush. We weren't in the playoffs or anything like that, so I might as well take my time and make sure I'm 100%. There's no point in risking it," Simmons said last week.
That is absolutely true. The long-term health of Simmons was so far and away the most important aspect of this equation that it's undeniable.
Yet that argument is sometimes extended to some saying there was nothing to gain by Simmons returning this season. The sheer number of uncertainties we've discussed here is a direct example of why seeing Simmons on an NBA court had real value this year, especially when you consider how stacked the top of the draft is with both point guard and combo forward prospects.
It's a lost opportunity Brett Brown admitted to towards the end of the season.
"I do concede the thing that we missed with him [Simmons] not playing after the All-Star break is I have this vision that I want to pursue with him as a point guard [offensively]. Nobody can promise that I'm right. I don't know either," Brown said. "We would know a lot more in that regard had he have played."
It's a tough spot to be in, with so much uncertainty regarding exactly how to best deploy Simmons on an NBA court and so many decisions to make this summer. It's one of the reasons the team might still be a year away from making the really splashy moves.