Joel Embiid, Dario Saric named finalists for 2016-17 Rookie of the Year
Updated: Friday, May 19, 2017 08:26 PM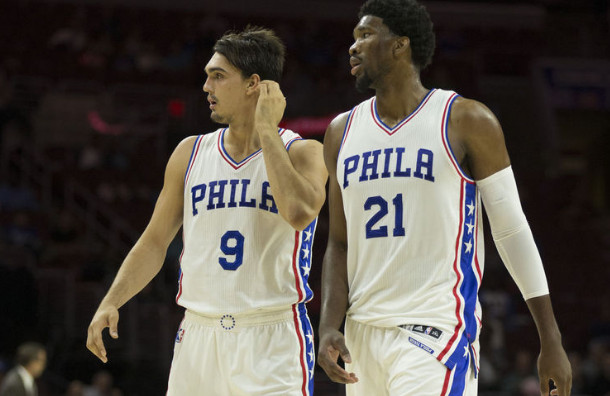 Prior to Friday night's game 2 of the Eastern Conference Finals between the Cleveland Cavaliers and the Boston Celtics, the NBA announced the finalists for the 2016-17 Rookie of the Year Award.
Sixers rookies Dario Saric and Joel Embiid were among the three finalists. Milwaukee Buck guard Malcolm Brogdon rounded out the group.
Embiid finished the season with averages of 20.2 points, 7.8 rebounds, 2.5 blocks, and 2.1 assists per game, although he competed in just 31 contests because of injury. Embiid did not play after January 27th.
Saric averaged 12.8 points, 6.3 rebounds, and 2.2 assists per game, coming on strong for the 76ers in the last two months of the season. Saric averaged 17.3 points, 7.3 rebounds, and 3.4 assists per game after the All-Star break.
Brogdon, 24, averaged 10.2 points, 2.8 rebounds, and 4.2 assists. While Brogdon was efficient (45.7% field goal percentage, 86.5% free-throw percentage, 40.4% three-point percentage), his average of 10.2 points per game would be the lowest total in the history of the award. Monk Meineke (10.7 per game, 1952-53) and Jason Kidd (11.7, 1994-95) would be the closest to Brogdon's 10.2 point per game average.
The NBA also announced finalists for Most Improved Player (Giannis Antetokounmpo, Rudy Gobert, Nikola Jokic), Most Valuable Player (Russell Westbrook, James Harden, Kawhi Leonard), Coach of the Year (Erik Spoelstra, Mike D'Antoni, Gregg Popovich), Defensive Player of the Year (Rudy Gobert, Kawhi Leonard, Draymond Green), and Sixth Man of the Year (Eric Gordon, Andre Iguodala, Lou Williams).
The winners for reach of these categories will be announced on June 26th at 9 pm Eastern Time.
I have previously weighed in on how I would vote if I had a Rookie of the Year vote. You can read that here.