Sixers Mailbag – Tuesday, May 23rd, 2017
Updated: Tuesday, May 23, 2017 04:45 PM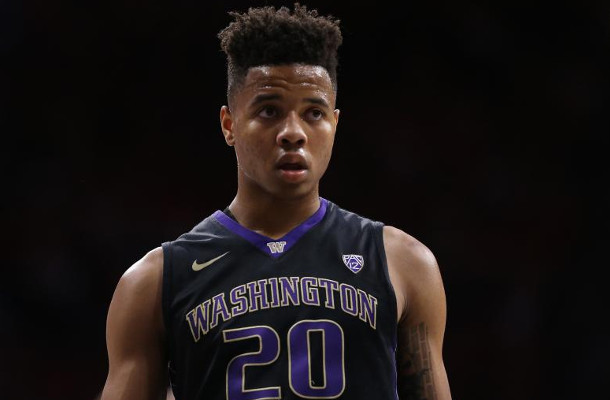 "Would you trade the 3rd pick in the draft, the Lakers pick, and Dario Saric for the 1st overall pick?"
— Many people.
This is in response to the question I asked on twitter yesterday morning, which received over 6,600 responses, 67% of which responded "no".  The question was originally asked by Bill Simmons, who has brought it up in recent podcasts.
I am a little bit surprised by the results of the poll. I expected many to be against it, but I didn't expect the overwhelming majority to be, and I certainly didn't expect what seemed to be the real sticking point: the inclusion of Dario Saric.
If I'm being honest, as much as I love Dario, and as much as he's become an engaging personality that the fan base (especially this segment of the fan base) has clung to, he's the least valuable asset being discussed in that deal, and I don't think it's all that debatable. For him to be the sticking point in a deal for Markelle Fultz sort of blows me away.
The other part I was really surprised by were the people saying that they would never trade to a team in-division like the Boston Celtics. Division's are meaningless. You play Boston 4 times per year, like other Eastern Conference teams. Seedings and playoff qualification are based on records. You could put Boston in the Central Division and nothing changes. I doubt "Atlantic Division" has even crossed my mind since the NBA did away with division winners having an impact on seeding 2 years ago.
I can at least somewhat understand the irrational "I hate Boston" thought process. But man, this is Markelle f'ing Fultz we're talking about. If your mind isn't on what's best for the Sixers and on the potential to build a dynasty, I think your priorities are off.
(side note: I can't type dynasty without thinking of Charles Dance. Even with the new CBA's DPE rules, though, this dynasty won't last 1,000 years.)
Which comes back to my main point: this was a relatively easy "yes" for me. I've written in the past about how, while it makes sense to horde as many high draft picks as possible because it's such an inexact science, that's not necessarily true for the #1 overall pick. While 2-through-5 (and certainly after that) is very much a game of figuring out which weaknesses are/are not likely to be improved upon or could be overcome schematically, NBA decision makers are pretty good at finding really, really good players when they have the entire field to select from.
From 1990 through 2012 (23 years), the #1 pick has produced 15 All-Stars to date. The 2-through-5 picks average just 7 All-Stars each. The true generational talents? Yeah, you can find the outlier. Kevin Durant 2nd in 2007, or Dwyane Wade 5th in 2003, or Chris Paul 4th in 2005, or James Harden 3rd in 2009. And outliers tend to stick on our minds, both good (the list above) and bad (Michael Olowokandi).
What is much more likely is to use the #1 pick to acquire Karl-Anthony Towns or Anthony Davis or John Wall or Dwight Howard or LeBron James or Yao Ming or Tim Duncan or Allen Iverson or…
You get the point.
Markelle Fultz is the best prospect in this draft in my eyes, and I don't spend too much time debating the merits of that anymore. He's the one where you have to make the least assumptions to project his stardom. Even now, debating at 3, the thought of what Josh Jackson might be limited to if his shot doesn't translate, especially on this team built around Ben Simmons and Joel Embiid, is frightening. The path to him becoming a strained fit is perhaps just as visible as the path to greatness, if not more so. I think we frequently understate how much more uncertainty there is in these prospects after going down even just a few spots in the draft.
Not the case with Fultz, who fits the modern NBA game to a T. Space the floor, put Fultz in pick and rolls, and let him go to work. He fits with Ben Simmons (16.4% of his offense off spot-up shots, and 5% off cuts, shot an eFG% of 56.7% off the catch) and he can also run the offense when Simmons is off the floor. He gives the Sixers a third cornerstone if Embiid does remain healthy and helps keep them viable even if Embiid's injury struggles creep back in.
Optimism abounds when we talk about the draft, and also when we talk about future draft picks. The thought of drafting not one but two stars with the Sixers 2017 pick and the Lakers 2018 pick is intoxicating, but it can also lead to mistakes. I think when you frame the #1 pick in its proper historical perspective the value in it is clear, and I think the talent gap in this year's draft holds true to that.
The odds are you won't draft two superstars with these two picks, even if the Lakers.
finish with one of the three worst records again. The only way I can see the hope of getting a legitimate star level player being higher is if the Lakers end up winning the lottery next year, which only has, at best, a 25% chance of happening, and in all honesty is more likely to be in the 6-15% range. Even then there's no guarantee the prospect will fit the Simmons/Embiid core as well as Fultz does.
Giving that opportunity up for Dario Saric? Come on.
A three-for-one deal might sound like too much, but these 20-year-old future stars are almost always worth it. I can't stress enough how difficult it is to acquire stars before their prime, and how much easier it is to find "depth", "starters", or even borderline All-Stars to round out such an absurdly stacked, perfectly fitting core of young studs. The times you have a realistic chance to acquire a young, cost-controlled, long-term star are ever fleeting, and you have to pounce on it. Two starters for Fultz? Even an All-Star and a starter, which would be exceeding expectations for the Sixers + Lakers picks? Easy decision.
Passing because we're scared of uncertainty? So un-processy of us. The assets were acquired so they could eventually be cashed in, not to horde and collect 5 future all-stars on rookie scale contracts. You'll have the chance to acquire another Malik Monk in a future draft, or free agency, or a trade, especially if Fultz + Simmons + Embiid make you a destination. You may never get a chance to get a 20-year-old, star under long-term team control again. I can't stress enough how rare the opportunity is and the benefits to team building doing so provides. Get 'em.
(Note: the impact 3 stars would have on making the Sixers a destination, and the benefit that would have in trades and free agency, hasn't really been talked about much here. I won't spend much time on it, either, since this is already way too long. But it's a very real benefit to all of this. Malik Monk doesn't improve your standing as a destination in nearly the same way). 
(Another note: paying Fultz, Simmons, and Embiid long term would be easier than paying Embiid, Simmons, Saric, Jackson, and the Lakers pick, assuming the best case scenario of Saric, Jackson, and the Lakers pick developing even plays out. Stars are almost universally underpaid, especially on their 25% max. Role players are almost always overpaid. Again, unless either Jackson or the Lakers pick ends up being a better individual player than Fultz). 
I'm not telling you that Fultz is a generational talent like Embiid is. I think he's right in the same range as Simmons as a prospect. But that's a star-level young talent, and it's almost impossible to truly overpay for these types if you believe they'll be stars. They only really become available at a point in their career when they carry with them the most risk, such as when they're a year or two away from hitting unrestricted free agency with little guarantees, while also being at a much older age, with a higher salary and narrower window of excellence.
I think there are three factors really at play here when discussing the reaction to Bill Simmons' proposal.
First, the draft pick optimism I talked about above.
Second, the fact that Washington lost so many games and Fultz played in so few high profile, national television games. If he played at Duke, removed that stigma of losing from his resume, and was more prominent nationally, I doubt we're having this discussion, or having any debate at all over who the #1 pick should be. I tend to think I cater to the diehard Sixers fans, and I doubt more than 5% would be able to list even two of Fultz's teammates this past year without looking it up. They were that dreadful, and that far out of sight.
Finally, I think there's a very real "Dario's ours, let's value what we have and what we 'know'" aspect at play, which is true for most NBA trades. I remember at one point, a week or two after MCW received ROY honors, I wrote about why I had little confidence in his jump shot ever improving and that it would be his fatal flaw if it didn't, and the article did not resonate particularly well with the audience. Transactions are always easier in hindsight, but especially true when you throw emotion into the mix.
It's nothing personal. Nobody is "looking to get rid of Dario". But if he's a sticking point in a trade for Markelle Fultz? He absolutely should be available.
There's more! To read the other mailbag questions in today's post, as well as get a collection of Sixers links over the past 24 hours delivered to your mailbox every morning, become a patreon subscriber by clicking on the "Read more" image below.