Brett Brown's focus on conditioning and a look at Evan Turner
Updated: Thursday, September 26, 2013 08:00 AM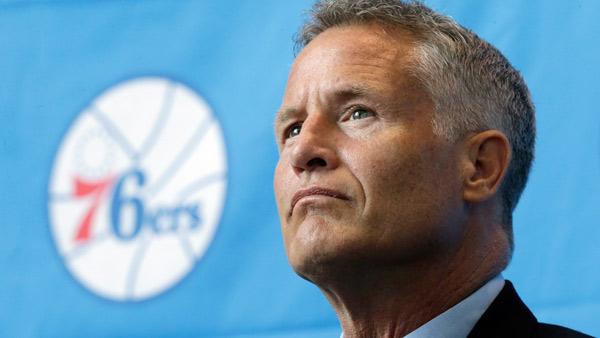 During Brett Brown's sit down with members of the media yesterday, you couldn't help but notice his intense focus on conditioning.  It was a topic of conversation he focused on earlier in the week when he appeared on The Chris Mannix Show as well.
Clearly, this is something Brown strongly believes in.
"When I accepted the position, where I went first was at their fitness," Brown said yesterday.  "We put a huge weight on them trying to lose weight, get their skin folds [body fat measurement] right, and come back in a career best shape."
"That is a difficult and borderline unrealistic request from a coach that was hired in the middle of August," Brown went on to say.  "I think they have done a really good job with the time frame that they have had."
"They have been in the gym since September 9th, led by Thaddeus [Young], Spencer [Hawes], and Evan [Turner]," Brown said.  "I'm proud of what they've done so far, from an attendance perspective and a fitness perspective."
Why such a focus on conditioning?
"How can you go away from fitness, how can you go away from defense, and how can you go away from running?" Brown said.  "I feel like we can control those types of things."
Brown said that while all of his stops have influenced him, he really got that the fitness focus from his time in Australia, specifically from the Australian Institute of Sport.
"You look at cutting-edge technology out of sports science, and the Institute of Sport is among the leaders in the world, very globally recognized as cutting-edge," Brown said. "You start realizing that could perhaps provide you with an edge you need. Those experiences were my influence from that side of my coaching."
Getting players in peak physical condition certainly can have an impact on the court.
Over the past few years, there has been some speculation that Evan Turner has not always come into camp in optimal shape.  Whether that is true or not, I decided to go back and look to see if his performance late in games has suffered at all.
In the table below I take a look at two key metrics: field goal percentage and turnover ratio.  Now, these are not necessarily great individual statistics, particularly field goal percentage, which I've always said is a fairly rudimentary measurement of efficiency.  However, in this instance, it measures what I'm trying to find out.  When a player starts getting tired, two things tend to happen: his shot starts falling short and he gets careless with the ball.  Hence the focus on these two statistics.
(They also tend to become a step slow on defense, but that's a little bit harder to quantify).
In the table I'm looking at what Evan Turner did during the first 3 quarters of a game and comparing it to what he did in the 4th quarter and overtime.  I'm looking at these both for the past year and for his career to date.
| Season | FG% - Qt 1-3 | FG% - Qt 4 + OT | TOV% - QT 1-3 | TOV% - QT 4 + OT |
| --- | --- | --- | --- | --- |
| 2012-13 | 42.8% | 39.0% | 10.1% | 14.7% |
| Career | 43.2% | 41.7% | 10.3% | 12% |
Last year, the difference was rather staggering.  His field goal percentage fell nearly 4% off of what he was doing during the first three quarters of the game.  His turnovers also increased fairly dramatically, at nearly a 5% higher turnover rate, which would be a nearly 50% increase over his rate through three quarters.
(Note: The formula I used for turnover ratio is slightly different than the one used on basketball-reference.  On basketball-reference, assists are not counted in the possession calculation for turnover rate, whereas on the stats I'm using they are counted.  So the stats above will be slightly lower numbers than what you'll find on basketball-reference.com, or any site that uses the same formula).
To make sure that this wasn't a fluky one year epidemic (even one with a fairly large sample size in terms of field goal attempts and ball handling responsibility), I went back and looked at the rest of his career.  The drop off in efficiency and the increase in turnovers wasn't as dramatic, but it was still there, and fairly consistent.
Now, there may very well be more at play here than just conditioning.  Anything from lineup differences to offensive roles changing to a change in shot selection.  But over 3 years worth of data, there's enough to at least draw a correlation, one strengthened by those who have had questions about his level of conditioning at times even without the data.
Another piece of supporting evidence is how much Turner struggled on the second night of a back to back. The table below takes a look at some of Turner's stats based on how much rest he had before the game.
| Days Rest | Games | FG% | 3pt% | PPG |
| --- | --- | --- | --- | --- |
| 0 | 22 | 37.1% | 26% | 12.1 |
| 1 | 38 | 43.4% | 44.4% | 13.6 |
| 2 | 17 | 45% | 33.3% | 14.4 |
| 3 | 5 | 39.3% | 50% | 13.4 |
His performance with 3+ days rest may very well be statistical noise, as 5 games is not much in terms of a sample size. It could also be struggles related to too much rest and being out of rhythm. Regardless, Turner struggled mightily on the second night of a back to back (12.1 points per game, 37.1% fg%, 26% three point percentage), got significantly better with a nights rest, and improved even more with 2 nights rest.
That's not to say Turner has been in bad shape at times throughout his career.  That's to say that Turner could probably have been in better shape.  More importantly, that's to say that conditioning can have an pretty big impact late in the game.
Which was exactly what coach Brown was trying to say.
Brown focuses on Khalif Wyatt's condition as well.
One of the players Brown focused on as needing to get in great shape was rookie Khalif Wyatt out of Temple.
"I think he's tempting. There's a tantalizing part of him," Brown said about Wyatt.  "you get down to a speed issue and an athleticism issue. For him to be as good as he can be, he needs to [be] thin, and [have] low skin folds, and [extract] as much quickness as he can."
Arnett Moultrie and Royce White are other players who could benefit from Brown's focus on conditioning.  Moultrie admittedly came into camp somewhat out of shape last season after suffering an injury during the draft process, and White's battle with the Rockets over protocol placed him off of the basketball court (at game speed, at least) for long stretches of the season last year.
Royce White will be at training camp
One of the other nuggets to come out of the session was that Royce White will be at training camp, which starts this weekend at St. Joseph's University.
White, the 16th overall pick in the 2012 draft, didn't appear in a game for the Houston Rockets last season after the two couldn't come to terms on the protocol for dealing with his anxiety disorder.
The news that he was in town hasn't been a surprise, as White has mentioned several times on twitter the workouts he has been going through with his new teammates.
"It's exciting to see what could happen if the physical side of getting him in great shape can collide with his talents," Brown said about White.  "He is slowly getting to a level that we want to try to bring him to."
The enthusiasm of Nerlens Noel
One of the things that I noted during Brett Brown's introductory press conference a little over a month ago was how excited he was to talk about Nerlens Noel.
The same thing happened again yesterday.
Brown didn't speak much about Noel, but when he did, he was effusive in his praise of the Sixers young center.
"When I see him, I see a wide eyed, bouncing, competitive, can-be-what-he-wants-to-be player," Brown said about Noel.  "Now you feel the weight and responsibility to develop him, and give him all that you can.  I just feel like there's a real freshness to his face, there's a bounce, a spark in his personality.  He's endearing.  I think he has a chance to be really special."
But it's that responsibility that Brown feels that consumes his thoughts.
"This is probably the most important meeting we're having," Brown said, describing the meeting on how to handle Noel's rehab.  "It's easy to motivate people that are playing, and to monitor people that are playing.  It's really hard to take a 19 year old kid that's come out of Boston, that all of a sudden has been paid a lot of money and put into the city of Philadelphia.  [To] make sure that we help him stay on track, and we help him understand what it takes to be a pro and the long path that's ahead for him."
Timeline for winning?
Brown was also asked the inevitable question about what he views as the timeline for when the focus shifts from player development to winning.
"I don't know.  I don't even know how to answer that.  I really don't know," Brown said.  "People don't understand how hard it is to be the last man standing."
"The mindset, the physicality, the fitness, the luck that you need to play at that time of the year is a lesson all by itself," Brown said.
"I feel like we're not skipping steps [on the rebuild].  I feel like we're not cheating the system, we're going about it like we intend on building something," Brown declared.  "That's why they hired me, that's what I said I was going to do, that's what I intend on trying to do."