Sixers owner Joshua Harris is executing his vision
Updated: Monday, September 30, 2013 10:13 AM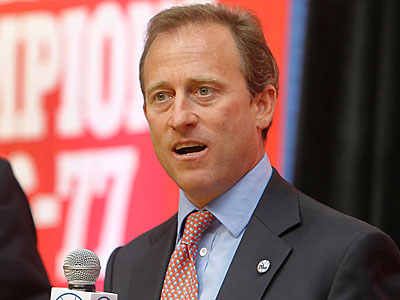 Joshua Harris talked to the media over the weekend, giving a sort of state of the Sixers address.
The discussion was mostly the reiteration of stuff that he has said before, but it was refreshing to hear.
"Apollo owns 41 portfolio companies, including companies like Hostess, and Caesar's [Entertainment Corporation], and Norwegian Cruise Lines," Harris said when talking about how he has time to manage both the Sixers and the Devils.  "What we do is we bring in top tier management and we work with those management teams to ask the right questions, put the right incentives in place for them to, in essence, to create value for those franchises, and then hold them accountable."
"I'm not involved in the day to day operations of those companies, and the same is true for the Devils and the Sixers," Harris explained.  "Sam [Hinkie] runs the player side of the business, then coach Brown on the court is the general, then Scott [O'Neil] runs the business side and he reports up to the board, which I chair."
"What you find is the way you get the best people is to empower them," Harris said when explaining his managerial philosophy.  "If I was meddling too much, someone like Sam or someone like Scott wouldn't really want to work for me.  They'd want to go somewhere else where they can have more flexibility and freedom."
It's basically what I said last week when talking about the impact Harris owning the Devils would have on the Sixers.  It has none.  His job is to hire the right people and provide those people with the resources needed to win.  If he's doing more than that, he's causing more harm than good.
This was the summer where Harris feels like he hired the right people to start building the foundation.
"There's 29 other owners, and everyone wants to win and everyone's smart and everyone's resourced, so it's all about getting an edge," Harris said.  "I think the edge starts with putting the right people in place in management.  When we were able ot get Sam Hinkie and Scott O'Neil and then coach Brown, these are people that are A players.  I feel very, very excited about those moves. "
"I think that we're really putting the pieces in place to build a strong foundation for a consistently winning, competitive, championship team," Harris said.  "That's always been my goal, I've always had that vision, so now we're doing it."
Why did he wait until this past offseason to put that foundation in place, nearly two years after coming to an agreement to purchase the team?
"When I first bought the team there were elements of some of the decision making that I noticed were not how I would have done it, but at the same time we did so well that first season that I chose to stick with the plan," Harris said.  "The second season was a big disappointed, and that I think made me feel empowered that it was the right time to make a bunch of changes."
"I've always had the same vision, but I took it a little more slowly than I would have given the success in the first season."
That was perhaps the harshest he has come out against the previous administration, which if you read between the lines may tell you something about how last spring unfolded.
He also reiterated the focus on fitness.
"You have to work on other edges.  We continue to talk broadly about analytics, sports science, health fitness and nutrition," Harris said.  "These are all things [about] extending peoples careers, getting them on the court earlier [recovering from injury], keeping them on the court.  These are edges that are, over time going to, in my opinion, make us successful and make us win.  I'm very confident we're going to get there."
"I understand where we are, I understand where we're going, I'm going to push everyone to get there as quickly as possible," Harris said about the state of the team.  "But I think we all have to be realistic."
Harris went to length to compare it to his day job with Apollo, where they are trying to position themselves for multiple opportunities, and want to be aggressive when those opportunities present themselves.  He reiterated that last years acquisition of Bynum was one of these possibilities, even if it didn't necessarily work out, and that they will continue to be aggressive when these opportunities present themselves.
One difference between his day job and owning the Sixers that he did point out was that everybody has an opinion about what he does with the team.
"In our chemical companies, nobody really cares what the price of polypropylene is," Harris quipped.  "But everyone from my son over there, to my uncle, to my cousin, to my mother, to all of you guys, everyone has an opinion on the player decisions.  Some of the decisions that you make play out in the media a lot, and very quickly."
Brett Brown talks about shooting
Brett Brown also had a chance to talk to the media about shooting, and had some interesting things to say.
"We're trying to get a routine to their feet, and a routine to their hands, and then teach them a knowledge on where they need to be," Brown said, discussing the need to improve their work before receiving the pass.  "I think if they can do all that it equals preparation, and I say percentages go up if you can keep hammering those types of things in."
But he also commented that he's not three-happy.
"We need to get to the paint. I understand the benefit of the three line, but we are going to be smart with where we get threes and how we encourage threes," Brown said.  "How deflating is it to a team that just busted their tail playing defense and someone just jacks up a quick three that's really not their shot? I don't care what analytics has to say about that. I get it as a head coach: that is not going to be a good shot from time to time."
It's easy to read a lot into that, but it may be jumping the gun.  The immediate thing that jumps out in that quote was the shot towards analytics, something that seems very odd considering management's focus on analytics, something that clearly would have been discussed extensively during Brown's hiring process.
That being said, I would urge you to read the context behind the quote.  He is discussing not only quick three-pointers, but quick threes from players who may not be all that strong in that respect.  Analytics will point out that a shot at the rim is the most valuable shot in the game.  And the transition three pointer is generally not well regarded.  So his point is generally one that people who believe in advanced stats will preach, which makes it curious that he would even bring up analytics in that quote in the first place.
It's also worth noting that San Antonio has been, consistently, in the top 10 in the league in three point attempts.  They have also consistently been even better than that in three point percentage, which is more the point Brown was trying to hammer home.
James Anderson starting?
Over the first two days of training camp, James Anderson has been running with the first team, alongside Michael Carter-Williams, Evan Turner, Thaddeus Young, and Spencer Hawes.
That is, of course, rather interesting for a player who has not played more than 12 minutes per game in any of the first three years of his career.
But, with the Sixers dearth of perimeter shooting, it may be necessary in order to properly evaluate some of the young pieces on the team.
Noel's recovery
According to Nerlens Noel, his recovery is going very well for somebody only at the 7 month mark of their rehab process.  He says he is able to do consistent running up and down the court, although cutting is currently limited, something that is to be expected at this stage of his rehabilitation.