Scott Brooks Firing, Brett Brown's Job Security, and Keeping Track of Cause and Effect
Updated: Wednesday, April 22, 2015 08:04 PM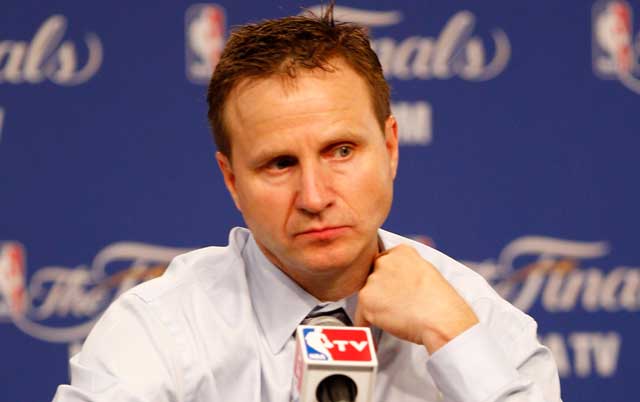 Earlier today, The Oklahoma City Thunder fired head coach Scott Brooks.
Brooks had been with the Thunder for parts of 7 seasons (6 full seasons, 1 partial season after he took over for P.J. Carlesimo during the 2008-09 season), compiling a 338-207 (.620) record over that time. The Thunder won at least 50 games 4 of his 6 full seasons with the team, including a 119-45 record in the two seasons before injuries ravaged the 2014-15 Thunder squad.
The decision to fire Brooks brings up something I always find interesting: how are coaches actually evaluated? Does how well they do their job actually factor into the evaluation? At all?
This isn't to say that Scott Brooks is a perfect coach. Or even a good coach. There have been few coaches who have aggravated me more over the years than Scott Brooks has, with his uninspiring late-game offensive sets and questionable rotations.
To be fair to Brooks, some of that aggravation is a direct result of expectations. Because of how great Oklahoma City is, because of how terrific Durant, Westbrook, and Ibaka are, Brooks was under a microscope. Nobody should cry a river of tears for Brooks, as that .620 winning percentage, a record achieved in large part due to the players on his roster, will always be on his résumé. But with those expectations came increased scrutiny, with every mistake and questionable decision inspected, dissected, and criticized.
It's the price you pay for being relevant.
Truth be told, Brooks was probably not as great as his record indicated, nor was he as bad as some of the NBA's die-hard fans painted him to be at times. Overall, if I had to classify him, he was average.
Which means the Thunder looking to upgrade isn't the worst idea in the world. I do think you can upgrade from Scott Brooks.
My problem with the firing is not whether Brooks was irreplaceable, or that the move is a huge risk, but the timing of it.
Scott Brooks is the same flawed coach that Scott Brooks has always been. His basketball acumen, his style, his decision making ability, none of that has changed. This wasn't a case of a coach drastically underachieving.
Sure, the end of the season collapse that saw the Thunder go 4-7 down the stretch was disappointing. But no coach, who has a track record and who you have confidence in, should have his fate determined by 11 games. I would also argue that, considering the circumstances, I think the fact that the Thunder stayed in contention for as long as they did was more surprising than the fact that they collapsed down the stretch.
What has changed, and what is the difference between 59 wins and contending for a title and 45 wins and just missing the playoffs, has been something out of his control: health. When Kevin Durant played, the Thunder had an 18-9 record. When Durant was on the court, the Thunder had a +19.8 net rating. When Durant was on the court, the Thunder looked like the Thunder.
(Note: this is also why the Thunder's head coaching position is perhaps the most desirable to become available in recent memory. A team this talented, this far into their lifecycle, and this likely to succeed in a coach's first season does not become available regularly. This is a once in a lifetime chance for most coaches on the open market).
So why now? Do NBA front offices really struggle this much to separate cause and effect? Or was Oklahoma City not happy with Brooks to begin with, and just used this as an opportune time to move on? Was Sam Presti this desirous to shift blame away from his questionable trade deadline acquisitions of incredibly flawed players onto his coach?
None of those reasons inspire a heck of a lot of confidence.
If Presti were looking for a reason to dump Brooks, but couldn't do so before this season because the team was winning, then shame on him. If the Thunder could have done more with a better coach, but chose not to because they didn't have the balls to fire a winning coach, then that's an issue. You don't limit Westbrook and Durant's prime because you're scared to make an unpopular or difficult decision.
If Scott Brooks was fired because of the Thunder missing the playoffs, then that's really disheartening. I'm a fan of holding people accountable for what they can control. The Thunder's fall from 59 wins to 45 wins had virtually nothing to do with a change in the effectiveness of Scott Brooks as a coach. If they liked Scott Brooks before this season, but thought they had to move on because the Thunder missed the playoffs, then they really failed to see the forest for the trees.
And, finally, if Sam Presti made Scott Brooks a scapegoat, then that's potentially the worst situation of them all. Again, this is dependent on whether Presti himself liked Brooks, but it's a lose-lose either way: if Presti didn't like Brooks, he wasted time with a coach he thought was replaceable. If he did like Brooks, but cowered to public pressure, then he got rid of a coach for the wrong reasons.
There is no way Sam Presti comes away from this having made the right decision for the right reasons.
(There is one final scenario, which is that the firing is Durant/Westbrook motivated. But if that's the case, and I don't know the situation in Oklahoma City well enough to suggest that it is, then it probably would have been prudent to change coaches, systems, and philosophies more than 1 year before Durant can leave in free agency).
The scenario ties in nicely with the Pelicans giving Monty Williams a mandate to make the playoffs, or lose his job. With no allowance for injuries.
Seriously?
So let me get this straight: since Kevin Durant got injured, Monty Williams is worth keeping around. But had Kevin Durant stayed healthy, then Monty Williams needed to be replaced?
The Pelicans are really determining who guides their budding young superstar based on the health of a player on a different team?
There's this crazy notion that in order to hold people accountable, you have to draw lines in the sand. That injuries can't be an excuse, as if an injury to multiple superstars shouldn't have an impact. That's incredibly silly.
Hold.People.Accountable.For.What.They.Can.Control.
Enter the Sixers and Brett Brown
Which all ties in nicely with the Sixers situation with head coach Brett Brown.
Only 2 years into his NBA head coaching career, Brett Brown already has 127 losses on his résumé.  Only one other coach in NBA history had more losses through his first two seasons in the league and survived to coach a 3rd with the team: Ron Rothstein.
And he coached an expansion team.
There have been a few other coaches who have been close, "highlighted" by Mike Woodson (125 losses in his first two seasons at Atlanta), and Tim Floyd (102 in his first two at Chicago, but that included a strike shortened season. His 22.72% winning percentage was just a tick over Brown's 22.56%), but Brett Brown's record to start off his coaching career is virtually unprecedented.
Yet there isn't a peep about his job being in jeopardy. Not from the fans, not from the media, and not from the team. If anything, there's more talk about Brown deserving an extension beyond the 4 years he originally signed for than there is about the Sixers moving on from Brett Brown.
On a team that many fans and media members view as unlikable, Brett Brown is the one character in the Sixers organizational chart that fans are sympathetic towards.
"I'm very happy with what Brett's doing," Sixers co-managing owner Joshua Harris said at his press conference last week. "We haven't started any of those [contract extension] dialogue's yet, but it's certainly not out of the question."
Which is the way it should be. Brett Brown, objectively, has done a fantastic job. His young players are playing hard, consistently. His young players are listening, they're developing, they're building good habits despite being woefully out-manned every night. And, for a team that many predicted could challenge for the worst record in league history, they're overachieving.
Yet Brown wouldn't be the first coach who became a scapegoat as teams looked to shift blame onto a head coach who was left without the bullets to compete. But the 76ers — along with the media and the fans — have kept their eye on what Brett Brown can control, an admirable quality from a front office, and one that is seemingly in short supply in this league.
The way head coaches are rated — by fans, by media, and by NBA decision makers — is terribly flawed, at best, and self-serving or out of touch, at worst. It's crazy that one of the most important positions in sports today is left to the whims of luck. That an injury could save, or cost, a coaches job.
In no universe should Kevin Durant's injury cost Scott Brooks his job, nor should it have saved Monty Williams his. Which, again, isn't to say whether either of those two deserved their fates, just that the "why" and the "when" is incredibly ill-conceived and dangerous.
Evaluate coaches for what they can control, throw away the noise, and take that incredibly important position a little bit more seriously.