Sam Hinkie and shedding the analytic label
Updated: Friday, May 22, 2015 10:09 PM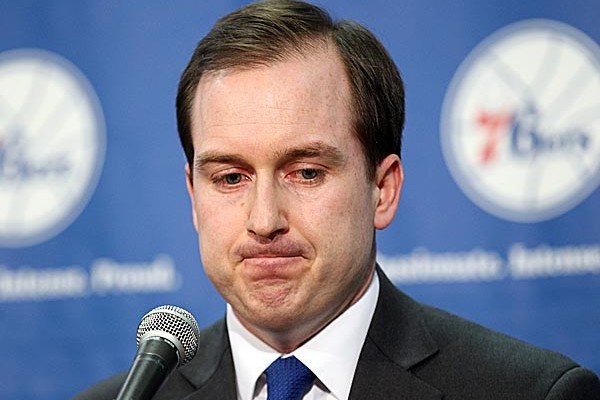 Earlier today, David Murphy wrote an article for the Daily News about how difficult it is for innovators to be accepted in Philadelphia.
In the article, which deals with the Philadelphia mentality and how out of town owners (Lurie) have had the most success, Murphy mentions how the new and radical ways of Hinkie have led to doubt and hate, which isn't all that surprising to those of us who have followed the team in the 2 years since Hinkie took over.
The article brought me back to one written by Rich Hofmann (the elder) 2 years ago when Hinkie was hired. This is the part that stuck out.
"Hinkie, by all accounts, is a video fanatic who spends a large percentage of his time scouting the game in a traditional way – but his embrace of advanced basketball statistics leads some to marginalize him as a nerd."
It's funny to think about this now, knowing what we know about Hinkie. Just this week it was reported that Hinkie was the only GM to personally make the trip to China to see Emmanuel Mudiay play. 30 teams, and only one GM went to China. On Tuesday while at the draft lottery I asked Hinkie whether, hypothetically, if the report were true, would it surprise him? His response was a smile that suggested "I won't confirm that, but …".
Having spent some time around the NBA draft and formed a pretty good network of friends, both in the states and overseas, I frequently get updates on Hinkie's travel plans. "Just an FYI, but I saw Sam in a gym in Turkey" was a text or DM I received more than a couple of times this season. I've been told that Hinkie has been over to Sevilla, Spain to see Kristaps Porzingis play in person at least a half a dozen times. Himself. This isn't games he's watched on tape, or scouts he's dispatched across the Atlantic. This is his own travel time.
I've talked to general managers around the league and virtually to a T they will tell you Hinkie travels as much as anybody in the league. Today, for example, he's in Santa Monica watching a workout with Rondae Hollis-Jefferson, Rashad Vaughn, Pat Connaughton, and others. The notion that he is "just a numbers guy" only exists in media circles, including one ridiculous claim that Hinkie never even watched practices, a ridiculous extension of a movie creation.
(Note: I saw Hinkie at practice more times than I can recall. The media member who made the claim? I can't recall ever seeing him at a practice).
That's not to really say Hinkie is special in that regard. All general managers are watching tons and tons of basketball, both in person and from behind a computer screen. In fact, that's the point: Hinkie's more like a "normal" executive than some seem willing to admit.
But why does that notion of "analytics" vs "basketball guys" even exist it all? Is it, like Murphy intimates, that fans and media are scared of somebody they perceive to be smarter than them? I find that hard to believe, as I think most fans, and hopefully media members, have been admitting that almost all decision makers are smarter, at least in their respective sport, than they are themselves. Not every coach can be Rich Kotite, after all. More likely than it being simply "smart" vs "dumb" is his method being new and different. Familiarity breeds comfort.
Is it because Hinkie, at about 5'8″, doesn't look like a basketball guy? Is it because he never played the sport at a high level? Do you have to have played the sport at a high level to know the sport? Does not having played the sport at a high level mean you *have* to be just a "numbers guy" to have success? The history of great players who became high-level executives certainly doesn't paint a very positive track record.
Is it simply ammunition for people who don't like Hinkie to use against him? Is this a situation where they disapprove of the method Hinkie has taken to rebuild the team, and advanced statistics just happens to be an easy criticism they can cling to?
Or is the advanced statistics the very reason that some of those people dislike him in the first place? Is Hinkie not getting a fair shake in the minds of these fans and media members because of his openness to using statistics that they're not familiar with? Are we really not at the point where we can grasp that, when Hinkie says that statistics are just a part of the puzzle, that it's reality? Are we still painting this ridiculous either/or picture that simply doesn't exist? Are we so quick to take the most talked about aspect of a person, the cover of his book, so to speak, and not investigate any further?
None of these are necessarily new questions, or new explanations. It's also, like most things in life, likely a combination of the three.
Nor is it something I expect to be fixed, perhaps ever, unless the Sixers win a championship during Hinkie's tenure. It's just something I find odd.