Joel Embiid will miss the rest of the season with a torn meniscus
Updated: Wednesday, March 1, 2017 03:29 PM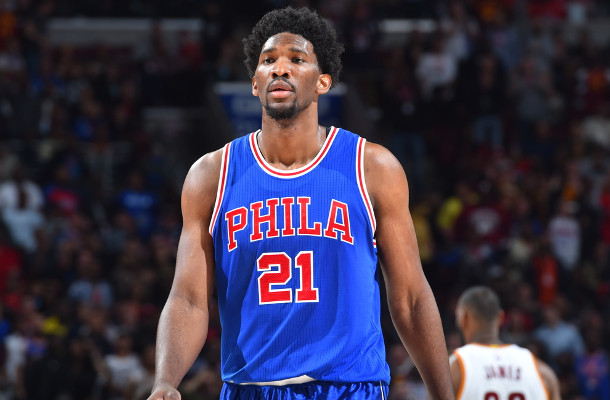 Sixers center Joel Embiid has been ruled out for the remainder of the season, the team announced Wednesday afternoon.
Embiid has missed 17 of the last 18 games after hyperextending his left knee January 20th against the Portland Trailblazers. After missing three games because of the knee, Embiid played in a nationally televised game against the Houston Rockets on January 27th, his last appearance of the season.
Embiid was initially diagnosed as having a bone bruise, which was thought to be the cause of the pain and swelling which was keeping him out of the lineup.
It was later discovered that Embiid also had a torn meniscus in the same knee. At the time the team believed that the meniscus injury was a pre-existing condition and not the cause of the swelling.
However, while Embiid's latest MRI reveals that "the bone bruise has improved significantly", the "previously identified meniscus tear appears more pronounced in the most recent scans," according to a press release sent out by the team. The full press release is included below.
Embiid's status was changed to being "out indefinitely" earlier this week while the team awaited results of the latest scan.
Embiid, 22, averaged 20.2 points, 7.8 rebounds, 2.5 blocks, and 2.1 assists in 31 appearances. Despite missing over half of the season he is still considered a frontrunner to win Rookie of the Year.
Embiid, drafted with the 3rd overall pick in 2014, missed both the 2014-15 and 2015-16 seasons due to surgical procedures to repair a broken navicular bone in his right foot.
Press release from the 76ers
PHILADELPHIA 76ERS MEDICAL UPDATE

As previously announced, Sixers center Joel Embiid underwent an MRI on his left knee

Monday

afternoon, allowing the team's medical staff an opportunity to provide an update on the results.
"The assessment of

Monday's

follow-up MRI of Joel Embiid's left knee appears to reveal that the area affected by the bone bruise has improved significantly, while the previously identified meniscus tear appears more pronounced in this most recent scan," said Sixers Chief Medical Director and Co-Chief of Sports Medicine Orthopedics at New York's Mount Sinai Medical Center Dr. Jonathan Glashow. "We will continue to work with leading specialists to gather additional information through clinical examination and sequential testing to determine the best course of action and next steps."
Embiid's status is changed from out indefinitely to out for the remainder of this season.
"Our primary objective and focus remains to protect his long-term health and ability to perform on the basketball court," said Sixers President of Basketball Operations Bryan Colangelo. "As our medical team and performance staff continue their diligence in the evaluation, treatment, and rehabilitation of Joel's injury, we will provide any pertinent updates when available."