Sixers vs Heat Preview: Can they beat the Heat again?
Updated: Wednesday, March 1, 2017 08:55 AM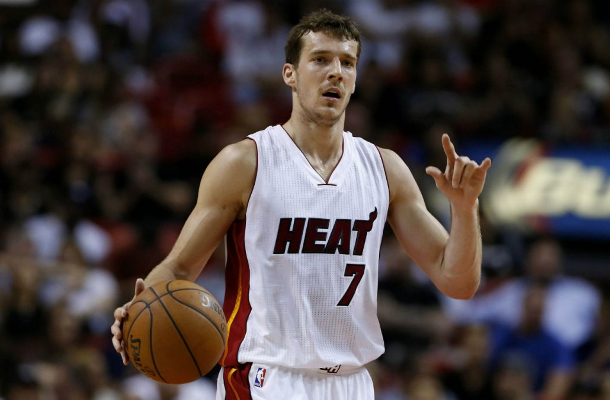 The Sixers played the Warriors competitively on Monday night, keeping the game close for much of the contest before eventually falling, 119-108, to the NBA-leading, and two-time Western Conference Champion, Warriors.
Up next will be the Miami Heat, a team that the Sixers beat just a few weeks ago at the Wells Fargo Center, snapping Miami's 13 game winning streak. Can the Sixers do it again?
The Details:
What: Sixers (22-37) vs Heat (27-33)
Where: American Airlines Arena, Miami
When: Wednesday, March 1st, 7:30 pm Eastern
Watch: Comcast SportsNet
Projected Starting Lineups:
Sixers: T.J. McConnell, Gerald Henderson, Robert Covington, Dario Saric, Jahlil Okafor
Heat: Goran Dragic, Dion Waiters, Rodney McGruder, Luke Babbitt, Hassan Whiteside
(Note: Official starting lineups are released approximately one hour before the game).
Injury Report:
Sixers: Ben Simmons (out, fractured right foot), Jerryd Bayless (out, wrist), Joel Embiid (out, knee), Tiago Splitter (out, calf)
Heat: Chris Bosh (out, blood clots), Josh McRoberts (out, left foot), Willie Reed (questionable, calf), Justise Winslow (out, shoulder).
About The Opponent:
Miami's had a weird go of it of late.
They were the hottest team in the league when they came to the Wells Fargo Center on February 11th, riding a 13 game winning streak that vaulted them from being in the conversation for the #1 overall pick to playoff contention.
After Miami had their streak snapped with a 117-109 defeat to the Sixers they followed that up with a loss to the Orlando Magic, then rebounded with quality wins against the Houston Rockets and the Atlanta Hawks (and Indiana Pacers) before falling to the 24-35 Dallas Mavericks. The NBA makes no sense.
Since there is the obviously well-established trend that the Heat can't beat below .500 teams, the Sixers should have a great shot tonight in Miami.
Miami's starting lineup of Dragic, Waiters, McGruder, Babbitt, and Whiteside has actually struggled, relatively speaking, for a team that is playing so well of late. They have a -1.8 net rating on the season and are just about even, at -0.1, in the 144 minutes they've played together since the team starting its winning ways back in mid-January.
The main thing holding back that group has been its defense, as they've allowed 109.3 points per 100 possessions since January 17th, which would qualify as the 9th worst defense in the league over that span. The perimeter defense, for the most part, has been fine, with that starting lineup allowing just 34.5% on three-point shots, but opponents are shooting 53.4% inside the arc. That's not going to get it done.
Miami's been particularly susceptible to post-ups on the season, allowing opponents to shoot 48.8% on such opportunities, the 7th worst mark in the league. They've also struggled with big men on pick and rolls, mostly because they foul as much as virtually any other team in the league.
Individually, Miami's rebound has been fueled by the Goran Dragic / Dion Waiters backcourt, as the pair have combined to average 42.8 points per game over Miami's last 19 contests, a span in which they have gone 16-3. Hassan Whiteside is averaging nearly 14 rebounds per game over that stretch.
Key Matchup:
T.J. McConnell was able to harass Goran Dragic the last time these two teams met, forcing him into 7 turnovers. Dragic got his, with 30 points on 12-21 shooting, but McConnell finished with 10 assists to only 1 turnover in his own right.
Slowing down that backcourt will be key. Head coach Brett Brown has perhaps the best, and deepest, collection of perimeter defenders he's had during his time with the Sixers, and how he utilizes McConnell, Henderson, Covington, Luwawu, and Anderson will be interesting to watch unfold. He has the option to give Dragic and Waiters different looks defensively, and I'd suspect he'll try a few different strategies tonight.
Outside of that, keeping Whiteside off of the offensive glass will obviously be important for the Sixers, and something they've struggled with. Whiteside leads the NBA with 3.8 points per game off of offensive rebounds. Whiteside is averaging 5 offensive rebounds per game against the Sixers so far this season.